The North American telehandler market saw a double-digit increase in fleet size compared to last year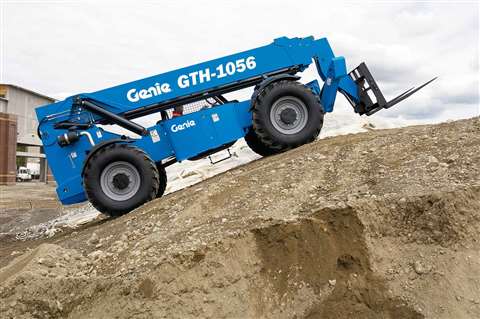 The 2018 Telehandler30 has some jaw-dropping figures on it. Ten of the 33 listed companies experienced double digit growth over the last year and six of those 10 grew by substantial amounts. Of our top five companies, two grew by more than 30 percent, and our top two spots were also in double digits. Overall, the list represents a 16.24 percent increase in fleet size over 2017's and the total number of telehandlers represented on the T30 resides at 68,306 units.
Taking our top spot, again, is the world's largest rental company, United Rentals. The company increased its telehandler fleet by 13.3 percent to 24,826 units. This rise also includes absorbing fleet from United's buyout of Neff back in 2017.
"We're continuing to experience strong customer demand for telehandler rentals, with good utilization and rate performance," says Brent Kuchynka, United's vice president, corporate fleet management. "This has been the case for the past year, and we don't anticipate any change for the foreseeable future. Telehandlers are versatile machines, which has sustained their popularity as a fleet category across all sizes and capacities and in all key verticals."
Of our top five companies, H&E Equipment Services saw a staggering 33.65 percent uptick in telehandler units while Ahern Rentals increased its tele offerings by 31.27 percent.
Don Ahern, chief executive officer and chairman of Ahern Rentals, said the company has had a great start to the year and the market is strong.
"We are seeing the highest levels of demand for compact and mid-size telehandlers – predominantly the 5k, 10k and 12k telehandlers," Ahern said. "The next 12 months look incredibly positive, although I am concerned about a possible unforeseen downturn between 1.5 to 3 years from now."
Many companies reported significant strides in oil and gas, housing and masonry.
New York-based Able Equipment Rental knocked its previous year's figure out of the park. The company increased its telehandler fleet size by 57.69 percent from 104 units to 164.
"In the next 12 months, Able sees the demand for telehandlers increasing, probably by at least 10 percent," the company tells ALH. "We continue adding to our fleet because of this demand, including the addition of several JCB and Manitou straight-mast models, along with Manitou's lineup of MRT Privilege Plus machines."
Another regional player, Illini Hi-Reach, upped its fleet by more than 15 percent. President and Chief Executive Officer Larry Workman says he has seen the market improve year-on-year since 2012.
"The most active are the 6ks and 10ks with 15k demand increasing quickly," Workman says. "We expect strong demand for the next 12 months."
Further north, Canada's Manulift says customers across many trades are experiencing the advantages of having telehandlers, which has boosted its business significantly.
"The market has been amazing," says Michel Robert, head of marketing communications for Manulift. "We had a 30 percent increase from 2017 and demand is still growing."
Robert says companies such as PCL and Aecon as well as institutional organizations like the Canadian Army are interested in telehandlers.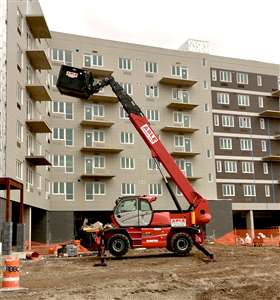 As cliché as it is, the jack-of-all-trades telehandler just continues to gain momentum. As it stands, it looks like we'll see another increase next year; stay tuned.
To read the full table, see our May/June issue.