Funding secured for Canadian REM
By Andy Brown23 August 2018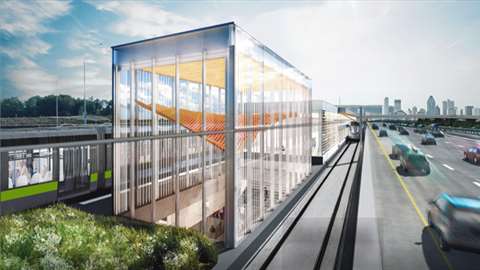 The Réseau express métropolitain project (REM), a 67km, light rail, high-frequency network with 26 stations in Montréal, Canada, has completed its funding.
This occurred when Canada Infrastructure Bank and CDPQ Infra, a wholly owned subsidiary of Caisse de dépôt et placement du Québe, reached a business agreement on a CAD$1.2 billion investment by Canada Infrastructure Bank. The money means that the project has now reached its funding target of CAD$6.3 billion.
The REM is a new, integrated 67km public transit network intended to link downtown Montréal, the South Shore, the West Island, the North Shore and the airport through the operation of an entirely automated and electric light rail transit (LRT) system.
"We are pleased to participate in the funding of this important public infrastructure project," said Pierre Lavallée, president and CEO of Canada Infrastructure Bank. "Public transit is one of our priority areas. Our role is to invest alongside private sector and institutional investors, and other public-sector partners to facilitate the development of strategic projects like the REM."
The Canada Infrastructure Bank's CAD$1.2 billion investment will take the form of a 15-year senior secured loan at a rate starting at 1% escalating to 3% over the term of the loan. Given that the Canada Infrastructure Bank's investment takes the form of a loan, CDPQ Infra's equity stake in the REM project will be approximately 70% and the Government of Québec's stake will be 30%.
Construction of the REM began in April 2018. The first trains are scheduled to run in the summer of 2021.