Greiner Industries completes hospital HVAC lift
By D.Ann Shiffler29 June 2021
Greiner Industries worked with Zartman Construction to place a 9,400-pound HVAC unit at a Pennsylvania hospital.
Generally, hospital jobs are always a challenge due to the nature of what hospitals do. But when you have to set up your crane directly in front of the emergency room and boom out over a helicopter pad, there's a whole new dimension to the challenges.
Greiner Industries recently partnered with Zartman Construction on the Geisinger Health hospital project in Danville, PA.
Zartman used its Grove GMK 5250 with 229 feet of main boom and 115 feet of jib to set the steel at a 215-foot radius.
Greiner then brought in its Demag AC500-8 in to set the new HVAC unit.
"We used 308,000 pounds of counterweight with 255 feet of luffing jib," said Crane Division Manager Dan Haulman. "We set the HVAC unit, which weighed 9,400 pounds and measured about 30 by 7 feet, at a 265-foot radius."
The Demag AC500-8 was rigged with 63 feet main boom at a 73-degree boom angle.
Ground stabilization wasn't an issue, and the only underground utilities were directly in the middle of the street.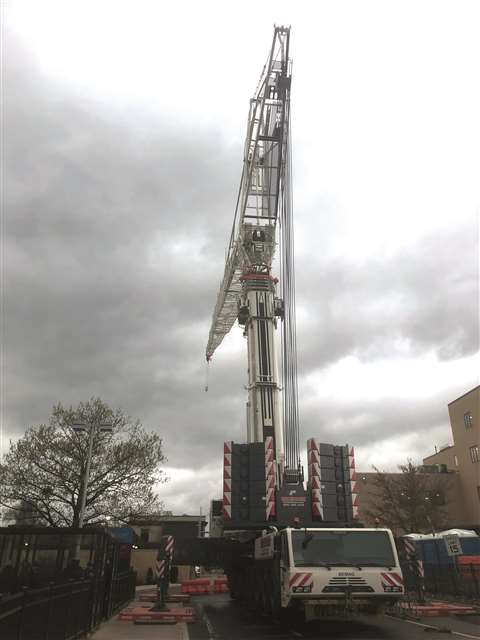 Jobsite challenges
Zartman Construction had stored the HVAC unit in its yard, which was only a few miles from the hospital. The Zartman team hauled it to the jobsite when Greiner's team had the crane rigged and ready to go.
"Schedule and jobsite space are always an issue when working at a hospital," said Haulman. "We had to coordinate all lifting with Lift Flight, since we were lifting directly over the helicopter pad."
Another challenge was that the crane was set up directly in front of the ER.
"Thankfully we were able to leave one entrance open to the ER the entire time during the project," Haulman said.
Another unforeseen challenge was windy weather.
"Even though the manufacturer's wind restrictions are quite high for that much boom, we still lost a day due to high winds," Haulman said.
But better safe than sorry, he said. But even with losing the day to the wind, the job took three days.
"Setup was Day 1, we lost Day 2 due to wind and on Day 3 we made the lift and then dismantled the crane," he said.
Zartman used its GMK 4115 to install the luffing jib on Greiner's Demag AC500-8.
"We've only had our Demag AC500 for about a year," said Haulman. "I am continually impressed with this machine. It was able to handle this lift with reduced counterweight. This means less trucking to the jobsite. Which in turn enables us to be more competitive in our pricing. Big thanks to Empire Crane for being our dealer on this machine."