Grube and Steffien add Tadano to fleet
By Niamh Marriott21 September 2021
German-based hall and steel construction company Grube and Steffien Hallen und Stahlbau has taken delivery of a Tadano HK 40 as the first new crane in its fleet.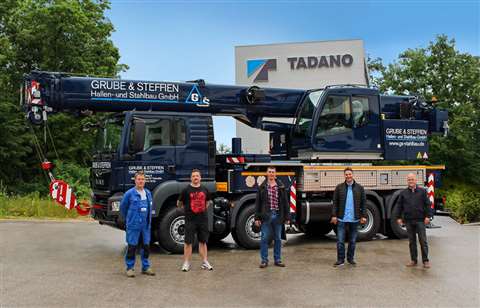 "The crane can be put on the road with a 4 tonne counterweight without the need for a permit, and that's precisely the kind of the flexibility we need," said managing director Sven Steffien.
The HK 40 comes with a strong boom and with 4 tonnes of counterweight, the crane can lift up to 7.6 tonnes with the boom at full extension (35.2 metres).
These lifting capacities are more than adequate for everyday work in steel hall construction, such as lifting and positioning sectional steel frame constructions or facade or roof panels, says the company. 
The family company specializes in steel halls and construction, although its range of services includes manufacturing and installing roof and wall systems, as well as glazing for commercial and private buildings. The company manufacture the steel elements themselves and offer a comprehensive service from planning to handing over the keys to the building.
"As companies go, we are on the small side, so a new crane is a huge purchase for us. That's why we didn't want to take any risks. The HK 40 is a proven model with well-engineered technology that is renowned for its reliability, and we need a crane that is both robust and stable," explained Steffien.