Habau uses nine Wolff tower cranes
By Christian Shelton11 March 2019
Austrian construction company Habau, together with its subsidiary Östu-stettin, used nine tower cranes on a job site in Vienna. The cranes, all from Swiss-headquartered tower crane manufacturer Wolffkran (Wolff), worked on The Ensemble – a new residential district located on the site of the former Postbus centre, near the Danube Canal, in Vienna.
The nine cranes helped build ten residential buildings, a supermarket and a 500-space car park. The cranes were all from Wolff's Clear series. This series, Wolff explained, was designed to maximise efficiency of transport and assembly time. Due to the use of fewer components, the cost of the cranes is lower, too, it added.
The cranes comprised the 6023, 6031 and 7032 models. They were set up with hook heights from 46.5 to 68.8 metres and jib lengths between 40 and 55 metres. They were used for handling construction materials and concreting work, lifting loads up to 12 tonnes.
All nine cranes were placed on two-part Wolff foundation anchors. This, the company explained, enabled Östu-stettin to use its own Wolff reusable anchor spigots.
According to Wolff, one of the greatest challenges was during the planning phase. This, it explained, was because the optimal positions in which the tower cranes had to be located to effectively serve the job site had to be carefully considered. The hook heights had to be kept as low as possible, too, in order to reduce costs.
According to Wolffkran, the process of setting-up the cranes was straightforward as there was plenty of space on the empty building site. Dismantling them, however, was trickier as it had to be carried out amid the newly constructed buildings and without interrupting the ongoing construction process. Dismantling took place in stages, using several mobile cranes (with capacity up to 350 tonnes). These were positioned either between the new buildings or in the job site access area.
Although the Wolff cranes have now been dismantled, construction of The Ensemble is expected to continue until 2019.
Wolffkran at the International Tower Cranes Conference 2019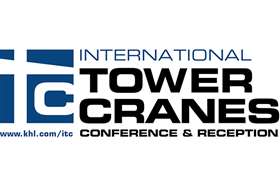 The sixth International Tower Cranes Conference (ITC) will take place in Vienna, Austria, on 26 and 27 June 2019. The event will include a tower crane tour of the city on the 26th, followed by a welcome networking drinks reception. The conference itself takes place all day on the 27th and is followed by a farewell networking drinks reception.
Dr.–Ing. Mohamed Abouelezz, general manager, MENA and SE Asia, Wolffkran, will deliver a presentation at the event titled 'a digital approach for successful job sites and tower cranes optimisation'.
Wolffkran is also a gold sponsor at ITC 2019. This means they will have a table top display where members of the company will be available during lunch breaks and at the drinks receptions to answer any questions you may have for them. Other gold sponsors include Jaso, Liebherr and Terex.