Hitachi in electric development deal
By Sandy Guthrie22 October 2018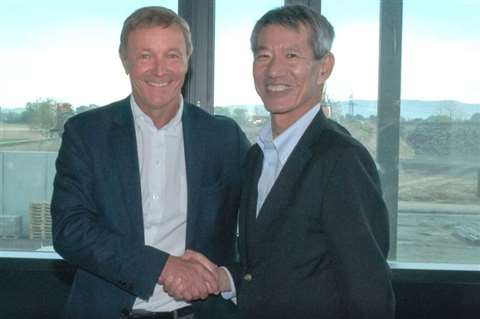 A new company for the development of electric construction machinery and special application products for further expansion of the European market has been set up by Hitachi Construction Machinery with KTEG Kiesel Technologie Entwicklung.
Hitachi said it had been developing electric construction machinery to help reduce environmental burden and lifecycle costs for a long time.
It has developed wired electric excavators with small to medium-sized equipment as a base, supplying more than 100 – mostly in the Japanese market so far. In addition, it has supplied wired electric ultra-large hydraulic excavators to mines, while Hitachi Construction Machinery said it had been involved in the development of battery-powered electric excavators from an early stage, starting with the ZX70B in 2006.
With the European market having some of the strictest regulations in the world regarding global warming prevention and the low carbon society, Hitachi said it made electricity needs particularly strong in this region for both cars and construction machinery.
It said KTEG had a wealth of knowhow for regulating and commercialising electric construction machinery in the European market.
Hitachi said that to respond to the various needs of customers in the European market, it was typical for distributors and remodelling companies to develop and sell special application products for specifications that could not be handled by standard models.
It pointed out that KTEG had developed large demolition specification equipment and other special application products based on Hitachi Construction Machinery hydraulic excavators.
With the establishment of this new company, the electric technology of Hitachi Construction Machinery and technical know-how of KTEG will be brought together to use the components on current equipment, and Hitachi said this would make the creation of "electric construction machinery that respond to the needs of customers" possible.
The Hitachi Construction Machinery Group said it would continue to co-operate with various business partners through open innovation, constantly considering solutions for customer issues, including improving safety and productivity, and reducing lifecycle costs, as well as reducing environmental burden as they developed products with high added value.
The new company – EAC European Application Center – will be based in Stockstadt am Rhein, Hessen, Germany, headed by Kiesel president Toni Kiesel.
An initial investment of €500,000 will be split 49% Hitachi Construction Machinery, and 50.1% KTEG, and is scheduled for within 2018 on the approval of the competition authorities of Germany and Poland.