Interview: Jean-Claude Fayat
By Chris Sleight10 June 2015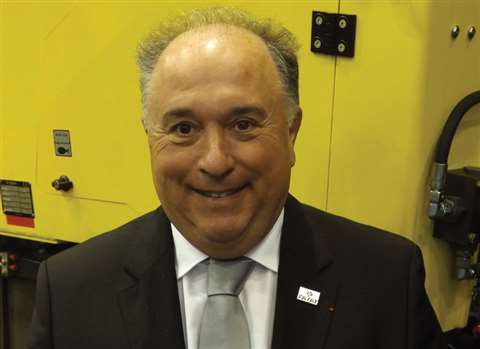 The Fayat Group is one of the big names in road building equipment, with manufacturing facilities and sales operations around the world. According to president Jean-Claude Fayat, the family-owned business is still very much in expansion mode, with new facilities planned, and ambitions for key countries.
An important turning point in Fayat's expansion came in 2013, when it acquired most of Terex's road building equipment portfolio in the Americas. This included a range of products to suit US tastes and requirements as well as a factory in Porto Alegre, Brazil.
Mr Fayat said the deal had undoubtedly contributed to the group's success in the US. "It has helped, but it is difficult to measure," he said. "The market is growing, and the acquisition of Terex (Roadbuilding) has helped because we had a weakness in the asphalt segment. That has given us some good dealers in asphalt and also some key knowledge. So there is the effect of the growing economy as well as our own actions."
Acquisition has played a big part in the Fayat Group's growth over the years. Arguably the defining deal was its acquisition of compaction equipment manufacturer Bomag in 2005, which gave it a leading position in that sector and a breadth of road building equipment in its portfolio which only a few could match.
But organic growth is also a key ingredient for the company, and an important project this year will see it start work on a new facility in India. "We are going to start a new plant to manufacture mixing plants in India," said Mr Fayat. "That will start in June in Ahmadabad. We already had a commercial subsidiary in India, but now we will start production"
Decentralised
And Mr Fayat said that this ever-expanding footprint was prompting the company to take a more decentralised approach to its operations. "You have to adapt your product to the local needs.
We try to keep a standard base and then adapt to the local requirements, because what they want and what they need in China is different to Europe. And even in Europe, it is different from one country to another. Between South and North Europe, for example, have very different machine requirements.
"This is our philosophy and why we have factories on each continent and in major markets like China, Brazil and the US, and in India in the future. If you are not local, you have no chance. If you ask a French or German engineer to try to understand what the Chinese want, I'm not so sure you'll be successful."
But while the Fayat Group pushes out into new markets, there are other manufacturers, particularly from China, which are also growing and which have their sights on Fayat's traditional markets. iC asked if their presence was being felt.
"In Europe, no. Worldwide, yes," said Mr Fayat "It will be tough for the Chinese manufacturers to compete in Europe in the same way it is tough for us in China. They will need to understand the requirements and the high level of technology we need in Europe. And to understand is one thing, but to be able to do it is another.
"In China we do not face a technology problem. The machines they need are simpler. But for engineers to do something simpler than they are used to doing is difficult."
And back in Europe, Mr Fayat said that while there was a lot which manufacturers can offer in terms of new technology, be it, machine control, remote asset management and greater connectivity between machines, the market was sometimes slow to adopt these technologies.
"It is a long road of education," he said. "Some customers are already very fond of the technology, but globally speaking it is a matter of education. Even in Europe the drivers are not always very skilled, and if you put them in a machine which is too complicated, you can create inefficiency rather than efficiency," he concluded.