Krebs moves with Cometto
By Alex Dahm27 February 2019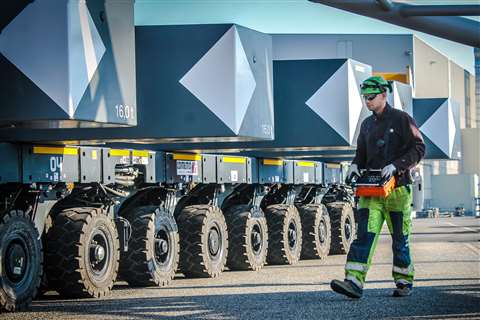 Self propelled modular transporter (SPMT) is vital to the business of a specialist company working for Liebherr and others in a north German port.
SPMT from Cometto is used by Krebs Korrosionsschutz in its business to move cranes and components around factory and yard in Rostock and Lubmin as part of Liebherr's manufacturing process.
Krebs, which has worked for Liebherr-MCCtec Rostock for many years, uses 24 axle lines of Cometto MSPE. It is divided into four 6-axle bogies, each with a maximum axle load per line of 48 tonnes. There are two 202 kW power packs.
In production at Rostock are large Liebherr offshore cranes, including the 5,000 tonne capacity HLC 295000. The SPMT is used to carry components and move them into position for assembly. When this crane is ready for mounting on the jack up rig, it will be lifted using another large Liebherr crane, the 1,600 tonne capacity TCC 78000, described as the most powerful rail mounted crane in the world.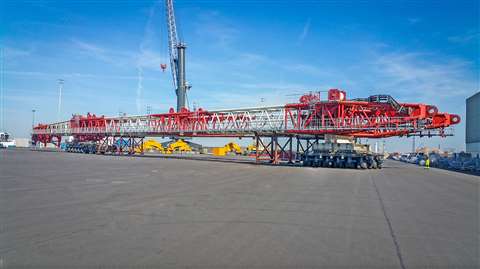 The boom of this crane was moved on the MSPE transporter. It was 105 metres long, 15 m wide and weighed 362 tonnes. Jörg Neuhäusel logistics project leader at Krebs Korrosionsschutz, explained, "The boom was moved on the 24 axle lines of the Cometto self-propelled MSPE in a so-called open assembly, arranged side-by-side. The two vehicle combinations were 60 metres apart.
"The steering was changed from transverse to longitudinal drive specifically for this application and programmed so that the chassis could implement the turns separately and one after the other. This ensured that the load remained exactly in position and that there was no relative movement," Neuhäusel continued.
The TCC 78000 will also be used at the international port of Rostock for handling break bulk loads other than the Liebherr port cranes.
Commenting on the equipment Neuhäusel said, "Cometto vehicles are cutting-edge technology. They also have the advantage that they can, among other things, be loaded directly into a container. This enables us, for example, to carry out jobs for another Rostock-based client at their subsidiary in the United Kingdom."