L&T to build light rail network on Mauritius
By Mike Hayes18 August 2017
Larsen & Toubro has won a contract to build the first light rail system on the African island of Mauritius.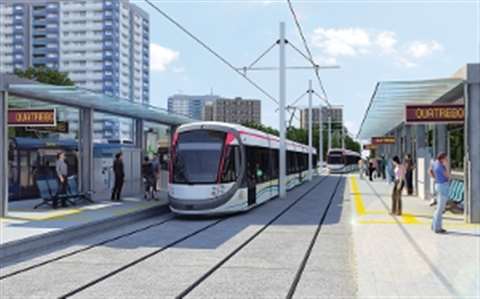 An artist's impression of the proposed Light Rail-based Urban Transit System for Mauritius
Within the US$526 million contract, the Indian construction firm will lay down 26 km of rail, and construct 19 stations, two of which will be state-of-the-art elevated stations.
The scope of the contract also includes the construction of viaducts and bridges, DC electric traction systems, ticketing and passenger information systems and signalling systems.
L&T is also tasked with the procurement of rolling stock, along with the construction of depots.
The project is planned for completion in 48 months, but L&T has given a commitment to complete a 13 km priority section of the line in 24 months.
The project is to be fully funded through a Government of India grant and line of credit.
Rajeev Jyoti, CEO of the Railways Strategic Business Unit at L&T, said, "This order is perfectly in sync with our strategy to expand L&T's Railways business into markets beyond India and we are extremely happy to have found a foothold in the African continent."