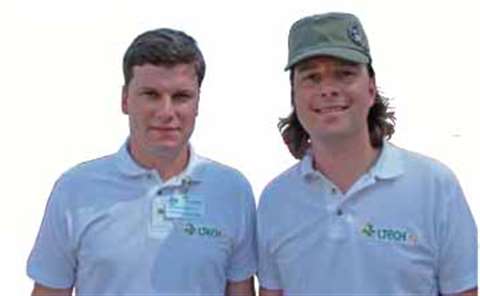 Dimitry Malvinskiy, is a firm believer in giving customers what they want, and "what they don't know they need". Speaking to AI at the recent I CTT Show in Moscow, Russia, Mr Malvinskiy says the company has steadily built up not just its rental fleet but also its sales stock.
"When we started we had just two machines in our rental fleet, and, besides my brother [company founder Mikhail Malvinskiy] and myself, we had just two employees. Now we have over rental 500 machines and 100 employees.
"Besides which, on the sales side we have over a year's worth of stock. This means a customer can get the equipment he needs, when he needs it," he says.
Add to that turnover of €15 million (US$20.2 million) in 2006 and an expected four-fold rise this year, and you have a company that's expanding very rapidly indeed.
Achieving such rapid growth has meant concentrating on "offering the best machines available", says Mr Malvinskiy.
These include Haulotte, Genie, UpRight, JLG, Dinolift, Hinowa and MEC access booms and scissors, together with Safi, Scanclimber and Tractel hoists and MOOG underbridge inspection units. And that, he says, is "the key" to LTech's success.
Mr Malvinskiy thinks product diversification is another key growth driver. LTech now offers Faresin telehandlers alongside John Deere skid steer loaders, for example, while the latest addition to the access side of the business is a range of Wumag truck mounted machines, the first of which, a 27 m unit, was handed offer at the CTT show.
While the company may be looking to expand its product offering there are some sectors it won't be buying into.
This includes the crane and earthmoving equipment rental sectors (although it does offer Valla industrial yard cranes), which are "too well developed."
With a rental fleet of 500 machines LTech could be in danger of over stretching itself financially. However, with utilisation rates "around 90%" Mr Malvinskiy sees no problems. "Our rates are quite profitable", he says.
"For example an electric 12 m scissor lift rents at €1500 [US$2000], plus VAT [18%] per month, while a Dino 180T(XT) goes for €3500 [US$4690] plus VAT per month." However, the rental market is becoming more competitive. He told AI that the access market I has seen an influx of inexpensive new and second-hand machines from Sweden (of all places), which is driving down the price of new machines and starting to affect rental rates.
There were also rumours at the show that China's GJJ, among other manufacturers from the country, may try dipping its toe in the market in the near future.
But Mr Malvinskiy knows what his customers want.
"Our rental fleet is totally Leading new. The key to success is down to parts and maintenance. Service is what our clients want, and then there's training, which we also supply."
The company favours importing new machines not just because their customers want them, but because new models are better equipped to operate in Russia's extremely low winter temperatures.
All this effort and attention to detail is what Mr Malvinskiy believes has allowed the company to win an impressive list of big name clients. These include energy producer Gazprom, furniture retailers Ikea and Castorama, Moscow's airport authority and most of the major foreign contractors active in Russia.
According to Mr Malvinskiy, Russian contractors both buy active in Russia.
According to Mr Malvinskiy, Russian contractors both buy and rent machines from the company.
"At the moment they are more in the rental channel. This is because these types of machines are new to them. But [Russian contractors] can be unpredictable too, in terms of the number of machines they want.
"They start a job, see the machine works and then come back for another one, then another. Other contractors work in a more methodical manner. Turkish contractors for example, who do most of the sub-contracting for the major players, know what they need and want from the start."
The company has other expansion plans. It hopes to establish LTech Leasing – a direct leasing operation – and it also sees potential in the south of Russia.
There is no doubt Russia's construction equipment market is booming at present. Sales grew by +25% in 2006, according to the latest report from PMR Publications, making the sector worth €1.57 billion (US$2.1 billion).
No surprise then that LTech also sells all the machines it offers as rental products. In 2006 it sold 200 units.
It has already passed that mark this year and Mr Malvinskiy expects sales to reach "at least" 500 units by year-end.
"I think the access market in Russia [for sales] is worth about €100 million a year at present. Obviously we'd like to see that grow, but it is a difficult market to predict because you don't know where it will be.
"But there's the chance of the 2014 Winter Olympics being held in Sochi, and all the main markets – oil and gas, non-residential and residential, airports, road and rail bridges – are booming", he says, "So the future looks positive." AI