Linden Comansa luffers work on Bangkok towers
By Christian Shelton25 May 2018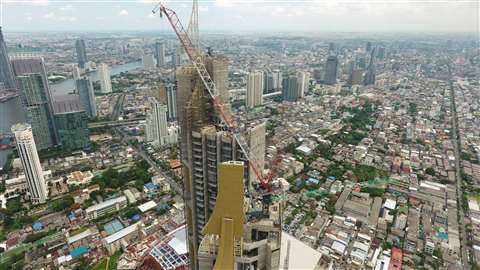 Construction company Italian-Thai Development (ITD) is using two Linden Comansa luffing-jib cranes on the construction of a high-profile mixed-use project, featuring two towers, in Bangkok, Thailand.
The two luffers ITD is using are an LCL165 and LCL190 supplied by its Thai distributor Smart, which also carried out their maintenance and service.
The LCL165 is working on top of the shorter tower, which has a height of around 269 metres and 52 floors. The LCL165 has a maximum load capacity of 8 tonnes and was assembled with an internal climbing system. The system braces the crane against the internal structure of the building and, according to Linden Comansa, enables the crane to be climbed, raising its height easily and safely, as the building grows in height. Additionally, the climbing system means the crane only needs six tower sections rather than 50 – which it would have needed had the crane been erected externally, said Linden Comansa.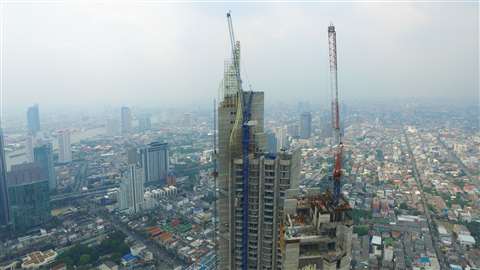 The LCL165 is currently finishing the installation of the crown's cladding and will then be disassembled.
The second luffer, the LCL190, has worked on the second tower since January 2016. When complete the tower will be the tallest building in Thailand, Linden Comansa said. It will have 70 floors, with a pinnacle atop, and a total height of 318 metres. The LCL190 has a maximum load of 12 tonnes and was also assembled with the external climbing system, reaching a final tower height of 287 metres.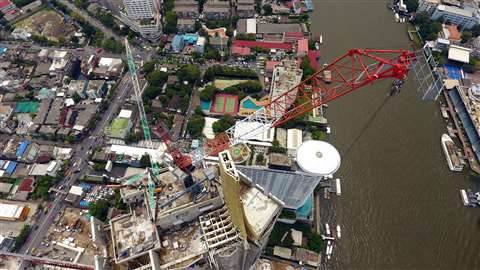 In order to lift and move the loads to these heights without problems, Linden Comansa said the LCL165 and LCL190 cranes were fitted with optional hoist cable drums, with capacities for 1,000 and 1,280 metres respectively.
According to Linden Comansa, ITD was working to a tight deadline as the project was scheduled for completion in 38 months from the first foundation work to completion. This meant that the cranes had to work up to 20 hours a day and at high speeds. For this the cranes were equipped with high-speed hoisting motors. These enabled the LCL190 to reach a speed of up to 303 metres per minute and the LCL165 to reach a speed of 310 metres per minute. As a result, the tower construction could grow at a rate of up to one floor every four days, or seven floors each month.