Lombardi Lift shows new prototype
By Lindsey Anderson01 December 2016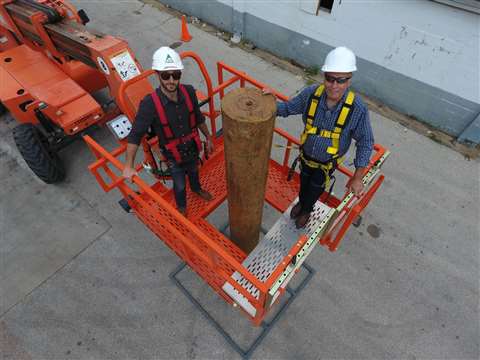 Lombardi Lift recently demonstrated its newest prototype. The unit can be attached to aerial and telehandler booms and can be used in palce of a standard personnel basket.
"The Lombardi Lift is a drop-in replacement for current aerial work platforms that maintains existing functionality while providing unique new capabilities that allow greater accessibility and create a safer work environment. There is no comparable design currently in the world market," the company said in a statement.
The unit can be configured into L, U and warp-around shapesand even can surround a vertical structure, such as a telephone pole, to provide 360-degree access. The platform can adjust to match various structure widths and depths, as well as provide an ability to move vertically along the structure.
"Simultaneously accessing two or more sides of a structure with the Lombardi Lift minimizes the need to reposition the boom base during a job," the company said.
The original Lombardi Lift was designed and patented in 2007. The prototype was constructed at Diversified Product Development, an engineering and manufacturing company specializing in heavy industrial equipment.