MEWPS in Southeast Asia
By Euan Youdale18 September 2018
The Southeast Asian market for MEWPs is becoming one of the biggest talking points in the industry. AI finds out why.
While China still has plenty of challenges for those seeking to expand in the country, it has developed enough to be a recognised and established MEWP market. Now, the access industry is looking around for the next step. Undeniably, Southeast Asia fits that category.
Demonstrating the importance of the region outside the mature market of Singapore, IPAF held its Asia Conference and Showcase in Kuala Lumpur, Malaysia, during July. It is the first time such an event has been held in the country and some 300 delegates, mostly from around Asia, gathered to see a wide range of presentations touching on key aspects of the industry.
The day kicked off with the launch of Malaysia's guidelines for Safe Use of Mobile Elevating Work Platforms. The comprehensive guidelines were produced by IPAF, The Master Builders Association of Malaysia (MBAM), CIDB Malaysia, and the Malaysia Department of Occupational Safety and Health (DOSH). The guidelines are a first step towards the introduction of working at height safety regulation.
It was swiftly followed by a Memorandum of Understanding (MOU), signed by IPAF and MBAM, with the aim of developing quality training for MEWPs in Malaysia. It was witnessed by the conference's guest of honour the government's deputy director general off occupational safety at DOSH, Haiji Kormain bin Haji Mohd Noir.
The event was accompanied by a two-day exhibition of MEWP manufacturers and other related suppliers, and a gala dinner that took place on the evening of the 18 July.
Aver Asia
Rental companies in Southeast Asia tend to have been founded in the region, rather than being expansions of established players based outside the region. None more so than Aver Asia. It was founded by Ang Poh Kiang in Singapore in 1999 and became a Genie dealer in 2006 with less than 10 Genie machines in its ownership. Over 12 years, the company has grown its rental fleet size to about 3,000, of which 90% are Genies. Aver Asia also partners with brands like Airman, Doosan and Hercules to provide a range of other products.
In 2016, Aver Asia received accreditation as an IPAF approved training centre and signed a memorandum with Institute of Technical Education (ITE) to set up a training facility in ITE College West in Singapore. The company has always kept an eye on Southeast Asia, and today has expanded its footprint outside its Singapore headquarters to include 15 depots in Malaysia, Indonesia, Myanmar, Thailand and Cambodia.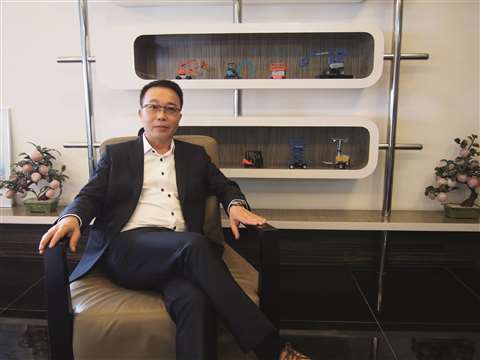 Ben Koh, COO of Aver Asia, is a veteran of the sector, having spent more than a decade promoting aerial platforms across the region. "If you grew up in Asia like I did, seeing workers scale towering timber scaffolding and later metal cages on construction, marine, oil & gas or power plants was a common sight."
Not anymore, "MEWPs have slowly replaced these rickety structures and continue to gain popularity across Southeast Asia."
The change has come from a growing demand for safer working at height, more efficient equipment and increased productivity over the last 15 years. It was Singapore that kick-started the MEWP evolution, says Koh, with the construction of Suntec City in 1992, a mall in the Marina Bay precinct that houses the iconic Fountain of Wealth and more than 380 retailers.
Singapore continues to lead the way in the use and development of MEWPs, and sits among the developed MEWP nations, but its neighbours are following closely on its heels.
It is being led by cultural change, and apart from construction sector, Asia is seeing an increase in the cost of living, a demand for infrastructure and the ongoing social development in its countries. "When the industry grows, it brings foreign investment and with that comes a culture of safety and efficiency, rather than using conventional methods such as timber or bamboo scaffolding," explains Koh.
On the subject of rental, he adds, "Contractors are engaging more with the rental houses for their projects. Competitiveness of the total project cost, high labour costs, shorter project timelines and land rent has resulted in contractors renting equipment rather than owning it."
"I would say Malaysia, Indonesia and Vietnam are currently some of the fastest paced when it comes to MEWP development. There are also bright spots, one of which is Myanmar. This is a country with a lot of potential now. It is not the fastest in terms of MEWP development but with the change of Government and a transition period, I think the pace will pick up."
One of the challenges currently facing the region, and the rest of the world is the lack of skilled field service staff to support MEWPs. "The standard of living in the region has gradually increased and fewer people want to work under the sun. The language issue also means field technicians may not understand the manuals or procedures."
In Singapore Aver Asia is working with the Institute of Technical Education (ITE) to provide a three-year programme to final year students. "I have a 10-year vision for Southeast Asia. We know that there is a lot of room for development in some of the countries, which have huge geographical areas. So, our vision is to 'think global, act local.'"
Comparing the 12,000 access platforms in Singapore, Malaysia, has around 4,000-5,000, and a much lower proportion of those are new. However, Malaysia is seen by many as the next big MEWP market, following the rise of Singapore, also helped by its central location in Southeast Asia
Aerial Lift
It is a view strongly echoed by Kang Han Fei, who has been working for International parts specialist TVH since 2000 when he started up TVH Malaysia. Then, in 2007, he moved to TVH Singapore when TVH took over a parts company there. He is now back in Malaysia, as the managing director of TVH Group's new Malaysia subsidiary Aerial Lift & Equipment.
The difference is that, while TVH Group is a parts company, with a large MEWP rental division (now known as Mateco), Aerial Lift's primary goal is equipment sales to rental companies as an official JLG distributor. Although it does have a re-rent division with a fleet of about 100 units. "We started talking about opening an equipment division for MEWPs in 2015 and then in 2016 we opened our premises. TVH was already offering spare parts for MEWPs so we had good knowledge of it." Kang adds, "This is a different approach. We are a bridge between JLG and the rental companies. Our plan was to copy what we have done in Mexico, which was a big success."
Kang believes there are 34-40 rental companies in Malaysia, with a total of around 4,600 units. Including the much smaller rental companies, there may be about 5,000 – 5,500 units in the country, a vast majority of which are used. "Over the next five years TVH Malaysia plans to sell about 1,000 units each year into the country. In about five years' time we can easily be at 10,000 machines. That excludes truck mounts."
Traditionally, Malaysia is a truck mount market, and these product types still amount to about 50% of the aerial platforms in the market. That is set to change as scissors and booms become widely adopted and the country takes on a more familiar MEWP model.
The trend is similar with self propelled booms versus scissors. The company carried out a survey in 2015, in which booms outsold scissors. In April 2018 it repeated the process and found it had switched to 45% booms, 55% scissors.
The reality is the market in Malaysia is mainly a used one. "We came here more on the potential. It is still a very small market but the potential is there. There are too many used machines in the market and this is pushing the price down. That will change, people will start to realise that the price cannot come done anymore."
Another significant opportunity comes from the current used market, much of which is made up of machines bought from Australia. "Australia has a 10-year ruling, then they sell their equipment offshore - Malaysia is one of the dumping grounds.
"By next year it will be difficult to get 10-year-old machines because of the 2009 financial crises in the US. They don't have many machines from that time, as the manufacturers didn't produce many. They will have to buy 2011 or 2012 machines, which will be more expensive and less difference in cost to new machines."
The company will then offer its service and after sales support to make that cost difference seem even less. "We are not coming in with the objective of making a lot of money. We are trying to create good habits.
Tong Heng
TH Tong Heng Machinery's 1,000-strong aerial platform rental fleet, puts the company in the top three operators in the country.
Chan Jia Yuan, is executive director at the family owned company, started by Chan's father in 1994. It is about to open a state-of-the-art specialist depot on a 0.5-acre site in Johor Bahru, a city in the far south of the country, separated from Singapore by a road bridge. The new site is opposite the existing 1-acre depot which will be used for smaller rental products, such as generators, welding machines, lighting towers and air compressors.
Beyond that there is a two-acre crane depot and another six-acre site in Central Asia, which exclusively caters for MEWPs. The company started out in 1994 supplying earth moving machines, then moved into cranes and power generators, then MEWPs in 2012 - Chan believes this was the year the Malaysian MEWP industry truly began.
The new premises will have complete service provision for platforms, including sales, service and spare parts. "It is not only for our use, it is a walk-in centre for customers who own JLG's or any type of MEWP. It's a one stop solution for rental, parts, training and sales."
Tong Heng is also a JLG distributor. The difference to Aerial Lift's JLG distributorship, is the focus is on sales to end users, like contractors or hotels, for example, not, in the main, rental companies
But the main source of revenue is from rental, with 1,000 MEWPs in the fleet, that's 60% boom lift and 30% scissor. "When we entered the MEWP industry, we realised people start with scissors rather than boom lifts. So, we thought we would do it differently with boom lifts in the main and scissors as a support."
Three years ago the company had 300 machines in its fleet. "Every year we aim to purchase 150-200 units. To make sure we have significant growth. I would say we need to have 20-25% growth each year in our fleet."
Nevertheless, rental rates are getting lower due to growing competition, again particularly from rental companies in the mature market of Singapore. "We have a lot of projects coming up so they tend to bring more machines into the country."
The latest MRT and LRT projects are on track. "But everyone is on observation mode, because of our recent change in government. We do to not know if projects will continue or if they will be cancelled." A couple of projects like the high-speed rail line between Singapore and Malaysia have already been put on hold.
Tong Heng covers the whole of West Malaysia, with the three previously mentioned depots for Johor, Kuala Lumpur and Penang. Another is likely to be on the east coast of West Malaysia in Kuantan. But there are no depots in East Malaysia. "The East is a very different market and we don't have depots there yet. Our strategy is to cover the whole of Malaysia before we go out of the country."
Partnership potential
As we have heard, the majority of the machines in the company's fleet are used. They come from the US, Australia and some from Europe but not from the mature market of Singapore. "Competition with Singapore rental companies is high."
In turn, Tong Heng then sells on its used equipment to places like India and other Southeast Asia markets like Vietnam and Philippines, which are 'used-used markets'.
These standards will help develop the market towards more new machines. Currently Tong Heng's fleet is made up of about 20% new machines. By 2024, the company hopes to have 3000 units its fleet with 40% of them new.
On the subject of consolidation. "A few years back, there were companies that looked to buy us but my boss refused to sell because he thought we were still too young. But now, from my point of view, I would not reject the idea of partnerships with companies that want to invest in Malaysia.