Making a show: Intermat 2018
A comprehensive guide to what you can expect to see from crane and transport industry manufacturers and service providers exhibiting at the Intermat show in Paris in April. ICST reports.
If you are interested what's new in cranes and specialized transport equipment then take a trip to Paris, France, for the 2018 Intermat exhibition. The show for the world's construction industry runs from 23 to 28 April at the Parc des Expositions in Villepinte, north east of the city.
Around 1,500 exhibitors from 40 countries will demonstrate the latest in cranes, trailers, components, accessories and associated services. For the last event in 2015 the organiser claimed it attracted more than 180,000 visitors from 167 countries.
To help visitors find what they are looking for the show will be divided into four areas. Most relevant will be the Lifting, Handling and Transportation hub. The others are Earthmoving and Demolition; Roads, Minerals and Foundations; and Buildings and Concrete.
The 2017 uptick in Europe's construction and infrastructure sectors is helping to boost the tower crane market, among others. Tower crane manufacturer Potain, owned by Manitowoc in the USA but with its headquarters and roots in France, marks its 90th anniversary in 2018. A focus for Potain will see it feature solutions for the Grand Paris Project, which will accelerate the transformation of Paris ahead of the 2024 Olympic Games.
The following is a roundup of new products and services on show in Paris.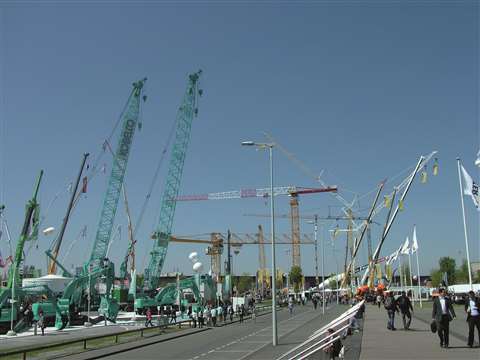 Wheeled mobile cranes
A highlight of the Liebherr stand will be the 450 tonne capacity LTM 1450-8.1 with its 85 metre boom and eight-axle carrier. First seen in prototype form at the 2016 Bauma show in Germany, this crane is strong enough, in many applications, to compete in the 500 tonne class, Liebherr says.
It can travel at 12 tonnes per axle with its boom and all outriggers on board. Also included are 16.00 size tyres, the hoist winch, 16 x 8 drive, retarder and Telma eddy current brake. Transport between jobs is simplified and erection and dismantling is faster and easier. For work in confined space it has the VarioBallast system where the ballast radius can be reduced, by infinite hydraulic adjustment, from 7 to 5 m.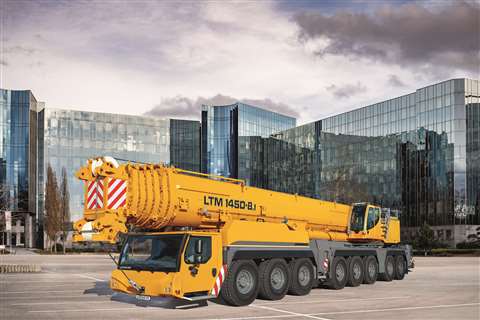 The 450 tonne capacity Liebherr LTM 1450-8.1 wheeled mobile hydraulic telescopic crane is designed for flexibility and economy
Erection and dismantling of large tower cranes is a typical application, the manufacturer says, as is refinery and chemical plant work. On full main boom it will lift 20 tonnes. A folding jib from 7 to 35 m long can be specified and configured for wind turbine maintenance. A fixed lattice jib can be erected from 7 m to 56 m long and can also be attached at an angle of 0, 10, 20 or 40 degrees, Liebherr said. The luffing lattice jib can be configured at between 14 and 84 m long.
Maximum ballast is 135 tonnes. The slabs are also compatible with the LTM 1350-6.1, the LTM 1400-7.1 and 9-axle Liebherr mobile cranes.
Power for the entire crane is from one V8 Liebherr diesel engine which develops 505 kW (687 hp) and is mounted in the carrier. The engine is built to meet Stage IV and Tier 4f exhaust emission standards. It is also available in a Stage III version for threshold countries, Liebherr says. A mechanical drive from the engine runs the hydraulic pumps in the crane upper. An eco mode on the engine allows it to run economically when operating the crane, when idling or when it is travelling.
The transmission is a 12-speed ZF-TC Tronic automated manual gearbox with torque converter for low speed manoeuvring. A hydrodynamic brake integrated in the gearbox acts as a retarder and a Telma eddy current brake can also be specified.
Marking a return to rough terrain cranes for Liebherr is its 90 tonne capacity LRT 1090-2.1, on show here but first seen in public last year in the USA at the ConExpo show. A 100 tonne capacity model, the LRT 1100-2.1, is also available. The 90 tonner has a 47 metre boom.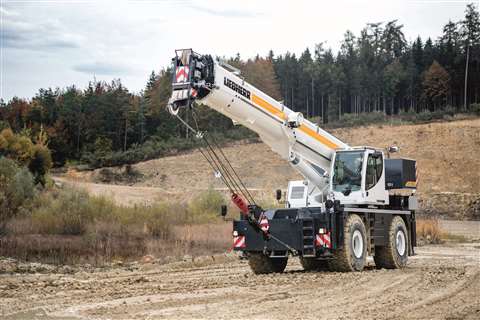 Cummins engines and Dana transmissions are used on the Liebherr LRT series rough terrain cranes
Features include the VarioBase outrigger positioning system, a 194 kW Cummins diesel engine, a Dana transmission, and a wider cabin. While the USA accounts for around half of the world market for RT cranes, there are also buyers in Europe and other regions. The LRT models were launched by Liebherr as the first mobile cranes built to global safety standards, complying with all global regulations, including the US standard ANSI B30.5, The European EN 13000, Australian Standards (AS) and the Russian GOST standard, Liebherr said.
Crawler cranes
The one crane on show from Japanese manufacturer Kobelco will be a 90 tonne capacity CKE900G lattice boom crawler. It can have up to 61 metres of main boom and its maximum boom and jib combination length is 51.8 + 18.3 m. Visitors will also be able to get more details of the new 300 tonne capacity CKE3000G lattice boom crawler announced in early January 2018.
The 673E telescopic boom crawler crane from Sennebogen is an updated model. Work has been done on the upper and for the operator includes the Max Cab which is 70 mm longer than the previous one. It has a climate-controlled seat and the joysticks are designed in-house.
The new 673E has more space between the upper and lower to allow better access for maintenance. The metal walkways are now designed to stay on the crane during transport which helps with set up and dismantling time. Time is also saved when mounting the fly jib as it is now a swing away type. Power is from a Cummins Stage V diesel engine.
The first unit is the one on display. It will be in the colours of French rental company Enco and will be delivered there after the show.
Also new from Sennebogen is the 70 tonne capacity 670 duty cycle lattice boom crawler. It fits in the range between the 655 and the 690. Typical application for this heavy duty model are dragline, grab and clamshell for earth removal.
Another Sennebogen on show will be the 6113E, a wheeled version of the usual model with crawler tracks. On wheels it also has
pick and carry duties. It is often fitted with an elevating cabin (to a height of 6 m) to give the operator a better view of the operating environment. Maximum capacity is 27 tonnes. At the moment power is from a diesel engine but within the next two or three years Sennebogen said it will have prototypes of battery powered machines.
Tower cranes
On show from Liebherr will be an improved version of the 172 EC-B 8 Litronic, an 8 tonne capacity flat top tower crane. Its maximum jib length has been increased by 2.5 metres to 62.5 m and the jib length can be set in smaller increments, now of 2.5 m. Capacity at jib-end is 1.8 tonnes and the maximum is 8 tonnes.
At Intermat it will stand on the new 16 EC tower system inside which runs a built-in LiUp elevator for the operator. It can also be mounted on 16 HC, 17 HC and 21 HC tower systems. Its maximum free-standing hook height is 71.4 m. The 16 EC 160 mast system nomenclature denotes a 1.6 x 1.6 m dimension while the 160 is for the tonne-metre rating.
In line with the access regulation for tower crane operators in France, there are around 30 LiUp elevators in the country, Liebherr says, with more being ordered for delivery this year. LiUP runs off a lithium-ion battery with an energy recovery system and it fits both the EC and HC tower systems. When installed on the inside of the tower the rails do not have to be removed when dismantling and assembling the tower crane.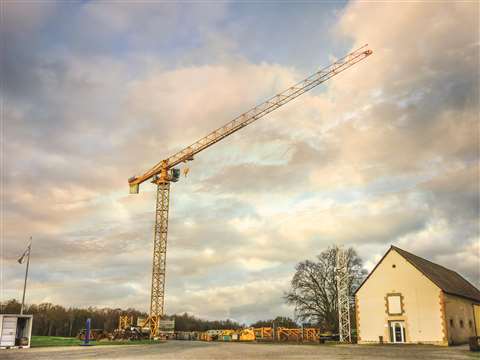 Manitowoc's new Potain MDT 389 flat top tower
Potain tower cranes will be the highlight of the Manitowoc stand. Models on show will include the flat top MDT 389 and the self-erecting Hup.
The MDT 389 is the largest flat top model with the company's Crane Control System (CCS), which is available on all Potain top slewing tower cranes and also on Grove mobile cranes. There are two versions of the MDT 389: a 12 tonner, and one that lifts 16 tonnes. Both can have jibs up to 75 m, at the end of which the 12 tonne version lifts 3.4 tonnes while it is 3.3 tonnes for the 16 tonne version.
The Hup self erecting tower crane range at present consists of the Hup 32-27 and Hup 40-30. First shown at the 2016 Bauma exhibition, Hup lifts 4 tonnes and the rear slewing radius is 2.25 m, allowing them to be positioned closer to buildings to maximise the use of space on sites in urban areas where space is restricted. Similarly, even though the Hup is taller than its predecessor, the Igo 36, it occupies the same footprint.
Flexibility on the Hup models is provided by being able to luff and set the jib at elevations of 10, 20 or 30 degrees, and the fact that the tower or mast has two height settings.
A pair of new tower cranes will make their debut from manufacturer Raimondi in Italy. French dealer GP Mat International will show them on its stand in the exterior area 6 stand CO87. The LR330 luffing jib tower crane was announced in February. It is an 18 tonne capacity model with a maximum 60 metre jib. Capacity is 3.3 tonnes at maximum radius.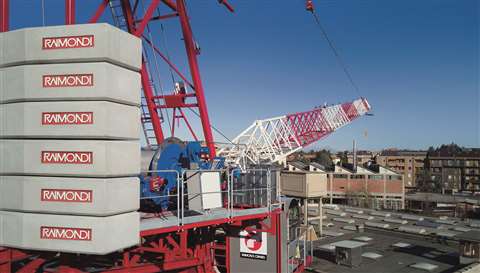 Raimondi LR330 erected in Legnano, Milan, Italy
The other unit will be an MRT234 shown with an operator elevator. This model was launched in 2017. It has a maximum jib length of 70 m and lifts 12 tonnes on four falls of rope. In Ultralift mode, the MRT234 can lift 2,250 kg at the maximum radius. Eight different jib length configurations, from 70 to 28 m, are available to meet a range of jobsite requirements. Hoist winch options are a standard 45 kW version; or a more powerful 55 kW model.
Tower crane manufacturer Wolffkran is a first time exhibitor at Intermat in 2018. A recently opened subsidiary in Paris will provide sales, rental and service to the French construction market. On display at the outdoor stand will be the Wolff 7534 clear flat top crane. New in 2016 the 7534 Clear is a model in the 315 tonne-metre range. Two versions are available, the 8.5 tonne capacity 7534.8 Clear, and the 7534.16 Clear, which lifts 16.5 tonnes. At the end of a 75 metre jib the capacity is 3.4 tonnes on two falls of rope.
Winch options on the Wolff 7534 are 45 or 75 kW, offering hook heights of 190 and 460 metres (on 2 falls of rope), respectively. Maximum hoisting speed under partial load is 185 m/min. Gerd Tiedtke, Wolffkran product manager, said, "We are also working on a completely new double-reeved winch that will be even stronger."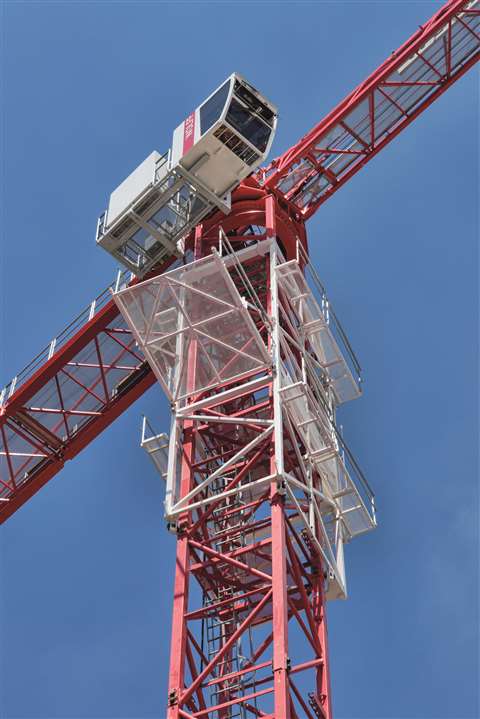 The Wolff 7534 clear, in the 315 tonne-metre range, is available in 8.5 or 16.5 tonne versions
Transport equipment
A highlight of the Faymonville stand at E5 H 026 will be a double extendable 6-axle CombiMax trailer with PA-X axle and a 2-axle CombiMax bogie with pendular axles.
PA-X is a pendular axle with many applications, from the MultiMax semi-low loader to the modular CombiMax. Rainer Noe, Faymonville product manager, explains its features, "Of course, it had to be made as low as possible, which has been fully achieved with a loading height of 790 mm. However, the PA-X has a lot more to offer and it enables an unbeatable stroke of 600 mm and a steering angle about 60 degrees."
Another feature is what the manufacturer claims as the largest excavator trough on the market. At 4,240 mm long, 440 mm deep, and 900 mm wide it gives a height advantage when moving large excavators under low bridges.
Also on show is the MultiMax semi low loader, described as a multi-functional all-rounder for the construction industry. It is an extendable 1 + 3-axle trailer with wheel recess and hydraulically widening load area. Widening is from 2.54 to 3.2 metres via a remote control or directly on the trailer.
MultiMax Plus is a lighter design with a fifth wheel load of 18 tonnes and an axle load of 10.5 tonnes. Gooseneck options offer 150 or 220 mm construction height. The version on display will have special ramps, a lifting platform and a steel mesh floor suitable for transporting aerial access equipment, the manufacturer says.
From Cometto there will be a 4-axle MSPE modular self-propelled trailer, which is typically used for industrial installation, roll-on roll-off operations, and heavy cargo. The electronic system and Cometto software allow a maximum ± 135 degree steering angle. The MSPE Evo3 offers a capacity of 70 tonnes per axle line.
On its stand 5B Ext 028, specialized transport equipment manufacturer Goldhofer said it will emphasise versatility, among other things. Rainer Auerbacher, Goldhofer international sales director, commented, "As one of the global market leaders in the field of heavy-duty road haulage and oversized cargo transportation, we will be presenting our regular customers and new prospects with two vehicle concepts which have one thing in common: the versatility needed for full and effective support in the face of today's demanding requirements in the construction and engineering industries."
On show will be the Goldhofer AddDrive 6, a six-axle version of the system used to combine trailered and self-propelled modules in one vehicle. AddDrive can be installed in trailer and semitrailer combinations, for example, with drop decks and long-load turntables. The drive can be selected via radio remote control to give a maximum travel speed or extra traction, according to conditions.
Wheel recesses on this Goldhofer reduce the loaded height when carrying large mobile construction machines
Goldhofer will also display the STZ-L4 trailer with wheel recesses. It is designed to carry large self-propelled construction equipment where the wheel recesses in the bed of the trailer reduce the overall height. The STZ-L4 can also quickly be converted so that the deck is level to accommodate tracked vehicles or other large and heavy loads. Payload is 43 tonnes or by adding MPA technology it increases to 50 tonnes, where regulations allow.
Components and accessories
On the engine front things are hotting up again with the impending arrival of Stage V exhaust emission requirements. Manufacturers are busy preparing and promoting new models to comply with the new European regulation.
Manufacturer Cummins said its engineers have completed 100 Stage V installations, 30 of them being brand-new ones. These include cranes, fork lift trucks, container handlers, excavators, and several other types of equipment.
Cummins Stage V engines have power outputs from 74 to 503 kW (100 to 675 hp). They are designed to have fewer parts for more reliability and to be lighter and smaller. That also means there is less to cool and installation is simpler and cheaper for equipment manufacturers. Improved fuel efficiency with extended service intervals means lower running costs.
For crane applications Cummins is promoting its Stage V-compliant B6.7 straight-six engine. That series, and the L9 Stage V products, will be certified and ready to start production in April, Cummins said, eight months before the legislated date.
The most powerful Stage V B6.7 engine produces 243 kW (326 hp) with a peak torque of 1,375 Nm which is 30 % more than the Stage IV version, Cummins said. Power at the top of the L9 range is up from 298 kW (400 hp) to 321 kW (430 hp) with the Stage V unit. Peak torque is also up, by 13 %, to 1,846 Nm.
Cummins' F3.8 and B4.5 Stage V engines will also be more powerful. The 3.8-litre is up from 97 kW (130 hp) to 129 kW (173 hp) and the 4.5-litre hits 149 kW (200 hp), up from 129 kW (173 hp). Peak torque from the smaller unit is up by more than 20 %, to 620 Nm, and an 11 % increase moves the B4.5 up to 780 Nm.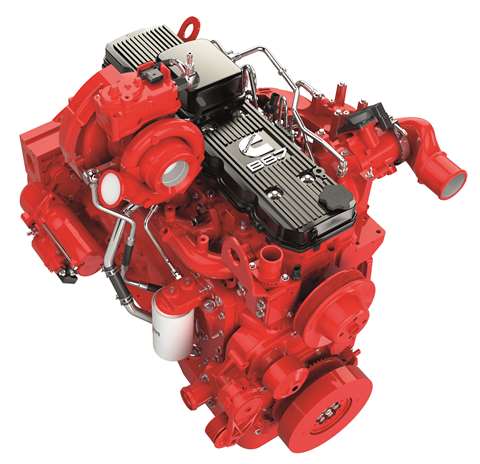 Liebherr, which makes its own engines for its cranes, is promoting its remanufacturing (Reman) programme for engines and other components. Reman units are available through the official dealer network. Three levels of refurbishment are available according to cost and life expectancy. Remanufacturing an existing component instead of making a new one typically means an energy saving of 70 % and allows 75 % of the existing material to be reused, Liebherr says. On display will be a cross-sectional model of a V12 diesel engine.
Services
Alongside cranes at Intermat 2018 Manitowoc will highlight its range of support services, including Manitowoc Crane Care which includes spare parts, guarantees, aftersales services, on-line support and technical training. Visitors can also learn about the EnCore programme for rebuilding and refurbishing cranes under a guarantee from the manufacturer. The Lift Solutions programme will also be represented, which offers engineering services for designing customised cranes for complex job sites.
First time exhibitor Pix4D will present its mapping solutions for earthworks, as-built surveys, inspections and site documentation. On its stand 6K040 Pix4D will demonstrate its flagship product for construction, Pix4Dbim mapping software, and present the latest enhancements. Pix4D will also show its latest innovation, the Crane Camera solution, a pioneering surveying way to get drone data without a drone for daily construction monitoring in 2D and 3D.
Pix4D is pioneering next generation of 3D mapping solutions by introducing a new way to automate object recognition and 3D modelling, using drone-captured imagery and machine-learning photogrammetry.
Software
Crane Planner 2.0 is a new software that can be used to plan lifting operations with Liebherr crawler cranes LR 1100 to LR 1300 and the duty cycle models HS 8100 HD, HS 8130 HD and HS 8300 HD. According to Liebherr, it can be a useful tool, especially when there are challenges on site to be considered, such as lack of space, difficult soil conditions or limited crane capacity. The company says it helps in selecting the right equipment for a particular application. In doing so, it saves time and money and also ensures that safety standards for challenging heavy lifts are observed.
Crane Planner 2.0 combines detailed, interactive 3D models with planning data, calculating capability based on the machine's load moment limitation (LML). Changes to the geometry of the crane trigger a new calculation by the software. Also provided are warnings of potential collisions between the crane, the load and the surrounding area, or non-compliance with safety distances.
Using the Quick-Config function a job planner can reconfigure dimensions of the crane during the planning process, for example, main boom length and have the system recalculate the entire lift. The Rigging Editor function allows generic definition of lifting accessories where the planner selects from six templates and defines specific heights, lengths, widths and weights of the lifting devices involved. Using this data the system calculates the resulting forces, angles and lengths, taking into account the originating geometry for the evaluation of potential collisions. Data can be exported in a lift plan and pdf reports using this can be generated in combination with technical drawings.
Materials
In the materials sector, steel producer Arcelor Mittal has extended its range with three new grades: Amstrong Ultra 700MCL, 900MCL and 960MCL.
Commenting on the new products Geert Van Heirseele, Amstrong product manager, said, "The new Amstrong Ultra 700MCL is particularly suitable in fatigue-exposed, multi-directional, highly-loaded applications – such as with truck-mounted cranes."
According to Amstrong, the new grades help to allow development of cranes that can reach further and lift heavier loads. Guaranteed mechanical properties include toughness in both the rolling and the transverse directions, good surface characteristics, flatness, bendability, weldability and exceptional durability, the company said. It is available in widths up to 2 metres.