Mammoet receives first Liebherr LTM 1650-8.1 mobile crane
By Leila Steed26 October 2020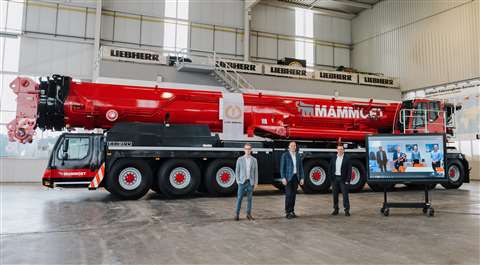 Crane manufacturer Liebherr "delivered" the first unit of its new LTM 1650-8.1 wheeled mobile telescopic crane to heavy lifting specialist Mammoet.
In Mammoet's black and red colour scheme, the new mobile crane built in Ehingen, Germany, was handed over to its Netherlands-based owner via a virtual handover as a result of the Coronavirus pandemic.
Speaking during the online exchange, Jan Kleijn, Mammoet COO, said, "We are delighted to take delivery of the first ever LTM 1650-8.1 from Liebherr. The performance, mobility and economy of this new crane model will enrich our fleet, giving Mammoet the flexibility to gradually replace our 500 and 700-tonners with this new Liebherr 8-axle crane. The crane handover is also a sign of the strong, long term relationship between our two companies, which are leaders in their respective industries."
The successor to Liebherr's LTM 1500-8.1 model, the LTM 1650-8.1 mobile crane was first unveiled at the Bauma construction equipment exhibition in Germany in 2019. Its lifts 700 tonnes and can be supplied with telescopic booms of either 54 metres or 80 metres. It also incorporates the VarioBase variable outrigger span system to maximise available capacity.
Peter van Oostrom, director global projects and assets at Mammoet, said, "The main highlights of the new crane include the simple, fast setup and dismantling of the rear support box. It also has standard ballast slabs, which are compatible with other Liebherr cranes, ranging from 350 to 1,200 tonne models. That increases the flexibility of our fleet and is extremely cost-efficient".
Christoph Kleiner, managing director, sales, at Liebherr, said, "We have designed a worthy successor to the LTM 1500-8.1. We also appreciate feedback from crane operations and the advice that we received from Mammoet to enable us to extract the maximum from eight axles. Close collaboration with our customers in our product development process is extremely important to us."