Mega rail build for Grove
By Laura Hatton21 July 2014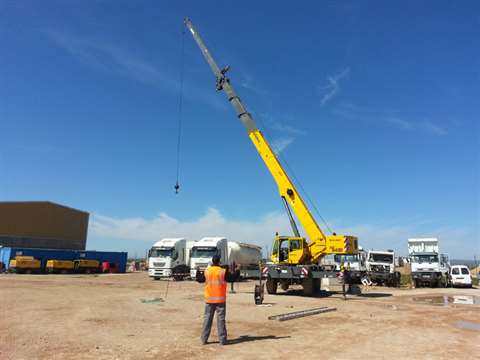 Eighteen Grove rough terrain cranes have been put to work in tough desert conditions on a new 130 km rail line construction project in Algeria.
The €1.4 billion (US$ 1.9 billion) rail road project will include the construction of 31 bridges, three tunnels and the renovation of three railway stations. The cranes will be used seven days a week over a period of five years to complete the project, a spokesperson said. They were supplied by Italian rental company O.MEC for main contractor Condotte d'Acqua, an Italian construction company.
On site at the time of writing in July were nine RT540Es, two RT550Es and seven RT880Es. Work for the rough terrains includes positioning steel rebar that is being used to build the viaducts. Challenges for the cranes will include tough weather conditions of upto 40 degree Celsius heat and working through the rainy The railway line will run between Tlelat and Tlemcen in the north of Algeria, near the Moroccan border.
Gianfranco Bronzini, founder and owner of O.MEC, said, "Such a huge project in a challenging environment needs special attention and the right equipment. We have used Grove cranes for many years and they have proven to be the strongest and most reliable machines around. There's also a wide range of capacities and options available. Plus, our close relationship with Manitowoc's Italian office and [Grove's Italian dealer] FIMI gave us the confidence and support that we could deliver what this project needs."
Federico Lovera, Manitowoc EMEA product manager for rough terrain and truck cranes, said, "Major projects with tight deadlines in difficult locations put a lot of pressure on operators. We want to make it easier to use our cranes and quicker to set-up, even for challenging lifts. Our robust rough terrain range is a perfect fit for this work and we are confident they will help to complete the work on schedule."