Merlo expands telehandler fleet
By Lindsey Anderson20 May 2009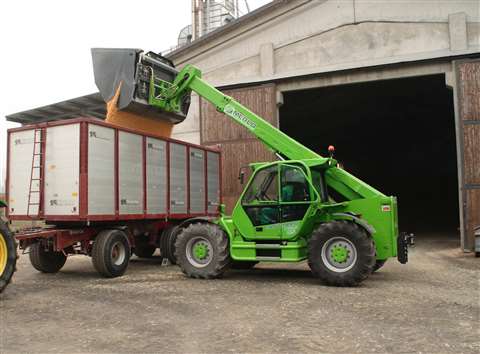 Canadian rental company, Manulift, has brought in a new telehandler from Italian manufacturer Merlo. The new Panoramic 55.9CS has a capacity of 5511 kg (12125 lb) and a reach of 8.5 m (28 ft).
The telehandler features a Deutz 140 hp turbo motor, an anti-torsion steel belt, class 1 hydrostatic transmission and 360-degree visibility. According to Manulift, the unit's boom has an independent hydro-pneumatic suspension and an exceptionally soundproof cabin which gives operators more comfort during longer working periods.
The first Panoramic 55.9CS was delivered to Alsace Holstein Farm in Quebec and a second shipment is on its way to Manitoba. The capacity and range of the telehandler make it popular with not only agriculture sectors, but also recycling centers and heavy construction.