Mini excavators: Small machines, big influence
By Joe Sargent02 April 2019
Mini excavators are a sought-after tool in the construction industry's arsenal and their popularity seems to be continuing to grow.
Latest data from specialist forecasting and market research company Off-Highway Research shows that sales of these machines made up nearly 23% of the approximately
1 million units of construction equipment sold worldwide in 2018.
In Europe, sales of mini excavators were said to make up 38% of the almost 180,000 units of construction equipment purchased in 2018, making them the single most popular item across all equipment types. The second most highly sold in terms of units, making up a total 17% share, was a collective grouping of other sized crawler excavators.
Key role
One company looking to make its mark on the European market is Kubota.
Business development manager for Kubota UK Glen Hampson said that the mini-excavator segment of the total market was critical for Kubota as a business. He said that last year, Kubota saw the UK mini excavator market grow by just under 6%. He attributed this fact to the demand from housing and infrastructure projects in which, he said, mini-excavators had a key role to play.
The company announced its new 3.7 tonne excavator for 2019 – the KX037-4 – at the beginning of the year, replacing the KX101-3a4. The new machine claims multiple improvements on its predecessor, aiming to enhance everyday efficiency, ease of use and compliance with construction industry regulations.
The KX037-4 is powered by a Stage V-ready 17.8kW Kubota engine to meet EU standards, and is said to deliver power, economy and lower emissions.
Hampson said, "This model was created to improve everyday efficiency and ease of use, while improving compliance with industry regulations. In the context of the industry, we are confident that it is a competitive model in our comprehensive line up of machines."
The excavator also has auto-shift and auto-idle features as standard, which Kubota says offer smoother operation when dozing and turning, and reduced fuel consumption with lower noise levels and emissions.
The new model also offers a proportional controlled Aux1 oil flow, with 11% greater flow than the previous model. A proportional Aux 2 is available as an option. Kubota says that in addition to this, large capacity variable displacement pumps enable smooth, synchronised operation of the boom, arm and bucket, returning greater productivity.
Other improvements on the former model include zero tail swing, four top frame tie-down points for transportation, Kubota's engine safe start system, a hydraulic lockout on the left console, and optional safety valves for the boom arm and dozer.
Customer value
Caterpillar is developing its lightweight mini excavators. It is working on a new model range for the mini excavator sector in which the company said it was striving to achieve optimum customer value.
Cat's new models include the 301.5 in the 1.36 tonne class with a standard tailswing and canopy, plus the 301.6 variant with a cab. Also in the range are the 301.7 CR 1.54 tonne machines with canopies, the 301.8 which has a standard tail swing and the 302 CR, an excavator rated in the 1.81 tonnes class, available with either a canopy or a cab.
In 2016, the company announced it was winding down its alliance with German-based Wacker Neuson, so the new 1- to 2-ton class machines will all be designed and built by Cat.
All the new models use the Cat C1.1 engine, a three-cylinder diesel rated at 14.3kW, available in configurations that meet EU Stage V emission standards as well as the requirements of less regulated countries.
Cat has said that the C1.1 featured a power-dense design and delivered consistent performance through a wide speed range. Fuel efficiency was also said by Cat to be enhanced with engine idle control and automatic shutdown systems.
The new mini excavators use an efficient, fuel-saving, load-sensing hydraulic system with an electronically-controlled variable displacement piston pump capable of oil flows to 66 litres/m.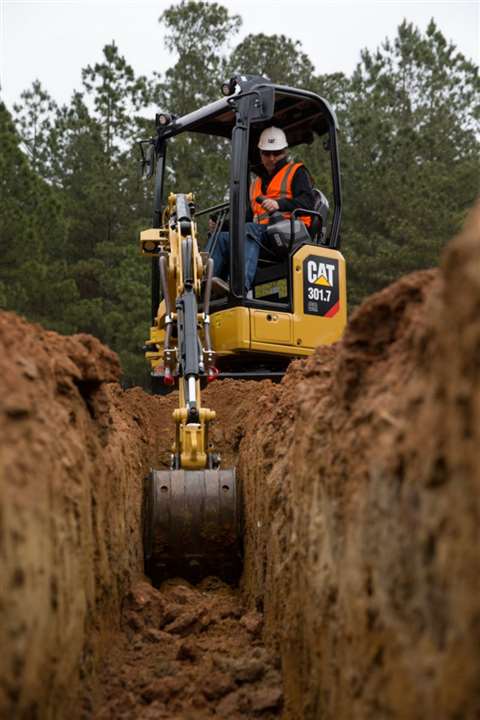 Cat said that these flow rates, coupled with high main-relief pressures, provided the new models with the hydraulic capacity to generate high digging and lifting forces, as well as to handle powered attachments.
For added versatility, the standard auxiliary hydraulic system – complete with quick disconnect lines – provides one-way, two-way and continuous flow. Manual couplers, a thumb-ready package, and a certified lifting eye are available for all new models. Front shovel operation, a capability that lends an extra measure of precision when digging around utilities, can be accomplished with both pin-on and coupler-mounted buckets.
Sam Mottram, global commercial manager for mini excavators and small tractors at Cat, highlighted that the increasing use of different attachments and complex tools meant that a higher rental rate could be charged for machines that are compatible with more attachments and tools. This then meant that the customer had a higher chance for good return on investment.
Describing Cat's philosophy for the new mini excavator range, Mottram said, "We've focused everything around three key elements – reduced cost of ownership; improved performance; and true industry-first features."
Mottram also said that the company's new range would also run across a range of 7 to 10 tonnes machines. In this class, Cat said that it had achieved noise reduction of around 40% compared to previous models, with this change designed to improve operator comfort.
There are six new models in the 7 to 10 tonnes range the 307.5 a standard tail swing model with a fixed boom; the 308 CR, a compact radius model with a swing boom; the 308 CR VAB, featuring a variable angle two-piece swing boom; the 309CR, a compact radius model with "high flow" auxilliary hydraulics; the 309 CR VAB and the 310, which has twin blade cylinders for heavy duty dozing.
All of Cat's new excavators in the latest series will feature a monitor inside the cab which will display and keep track of much of the machine's functionality.
Chinese-owned Sany also recognised that the global demand for mini excavators was strong but that Europe had the strongest pull.
The large global demand was also mentioned by Jaroslev Fiser, product line director for Bobcat in Europe, said, "In the early phases, emerging markets normally get acquainted with MEX (mini excavator) products through the use of second-hand machines imported from other countries. In later phases, they fully accept the concept and the MEX markets in these countries start to grow.
"Eastern Europe is currently experiencing this transition. Markets are growing at a very high rate – 70%. We are seeing this mainly in Poland, Romania, Hungary and the Czech Republic."
Fiser names the UK, Germany and France as Europe's leading purchasers for the company, with Belgium, the Netherlands and Luxembourg the next biggest players.
Raising the bar
Bobcat has launched a new range of mini excavators in the 2 to 4 tonne size class. The R-Series comprises five models – the E26, E27z, E27, E34 and E35z.
Bobcat said that the new models offer a best-in-class mix of high digging forces, superb stability and smooth controllability of working functions, complemented by low weights for easy transportation.
Fiser said, "The current Bobcat compact excavator line-up has been one of the most respected products in the industry. Now backed by nearly five years of development work, we are raising the bar even further and we are confident that we are now offering the best-in-class machines available."
Among the benefits of these new models, new joysticks have been added and optimised metal travel pedals. The new joysticks are said to offer further enhanced controllability and smoothness of working functions. The operator also benefits from up to five independent auxiliary hydraulic circuits and a new Selectable Auxiliary Control (SAC) system for customisable joystick controls.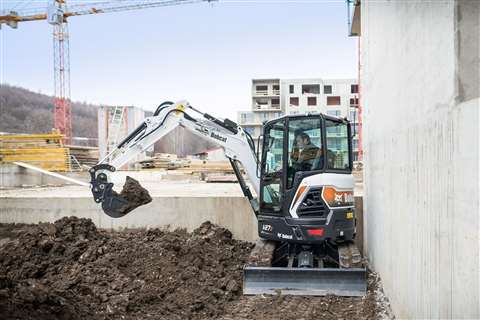 The new E27z model is said to enhance the performance characteristics of Bobcat's current E26 machine, with the largest cab for this size of machine on the market.
As a true Zero House Swing (ZHS) machine – which means there is no tailswing when turning – even with the optional heavy counterweight, the E27z claims to offer high flexibility of movement when working close to walls, coupled with 360° stability and low weight for easy transportation.
With the optional long arm and a premium cab, the E27z offers the digging output and operator comfort of much larger excavators, said the company, making it a machine of choice for construction companies operating in urban environments.
Bobcat is launching what it claims is the world's first commercially available, fully electric, zero-tail swing mini excavator.
The E10e model has no emissions and features low noise operation. With a width of just 72cm, the new E10e can easily pass through standard doors and in and out of lifts. This makes it an ideal option for indoor applications such as demolition work and basement construction.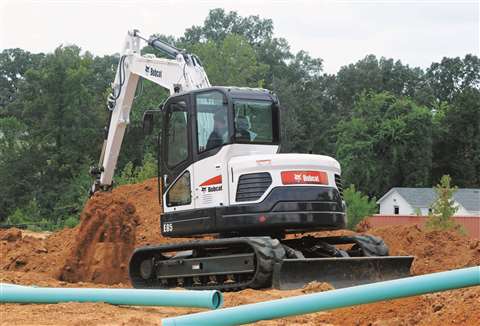 By coupling the E10e to an optional external Bobcat super-charger while operators are on normal work breaks, the E10e will then have the capacity to operate for a full 8 hour working day.
The machine will be launched at Bama 2019 and the Mini-Excavator Product Line Director at Doosan Bobcat, Jaroslav Fiser, said, "At Bobcat, we are strongly dedicated to meeting these specific business opportunities and we are aiming to lead the industry in innovation within the mini-excavator segment with our newly developed, zero-emission E10e, based on our legendary E10 ZTS mini-excavator."
Elsewhere, Doosan is launching new versions of the company's DX62R-3 and DX63-3 6 tonne, and DX85R-3 8 tonne mini-excavators that meet Stage V engine emission regulations.
The new Stage V DX85R-3 8 tonne reduced tail swing (RTS) excavator from Doosan is powered by a Yanmar 4TNV98C Common Rail direct injection diesel engine, providing 44.3kW of power at a rated speed of 2,100rpm. The machine meets Stage V emission requirements through the use of exhaust gas recirculation (EGR) and diesel particulate filter (DPF) aftertreatment technologies.
The new Stage V versions of the 6 tonne DX62R-3 RTS and DX63-3 conventional tail swing models are powered by the same Yanmar 4TNV98C diesel engine, providing a 22% increase in engine power over the previous generation models.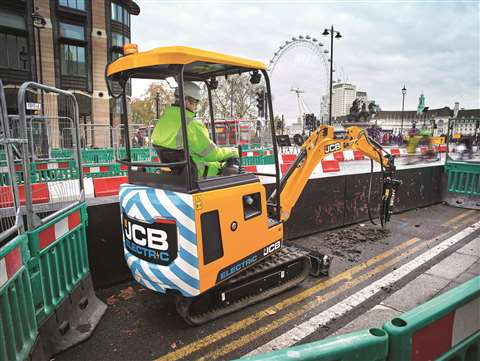 As well as the increase in engine power, another of the features on the 6 tonne excavators is the hydraulic performance, with a maximum flow rate of 132 litres/m. The hydraulic system incorporates a load-sensing system which guarantees high hydraulic performance and allows smooth and efficient combined operations.
Designed for comfort, the new cabs have the same space available in the operator cabs on the DX62R-3, DX63-3 and DX85R-3 mini-excavators. These are similar to those found on much larger medium and heavy-duty machines. The cabs have a larger entrance and exit, ensuring it is easy for operators to get in and out of the machines.
With a lot of the focus being on emissions within Europe, and regulations being tightened to Stage V, mini excavators look to be one of the prime equipment sectors to see electric power introduced.
Zero emissions
One such example has been delivered by UK manufacturer JCB, with the company's first fully-electric 19C-1E, which produces zero emissions and promises to be the quietest excavator the company has ever produced.
The machine was demonstrated at the UK's Executive Hire Show earlier this year, when it was the first piece of equipment ever permitted to operate inside one of the exhibition halls. The excavator is said to be ideal for work inside buildings and tunnels, and in emissions-sensitive inner-city environments.
Running on three lithium-ion battery packs, the machine can hold enough charge for a full shift, with a 12-hour charging capability when using the on-board charger with 110V input, or less than two hours with the fast-charge option.
While embracing electric solutions, JCB is also driving forward its diesel range by completing its mini excavator line-up with the new 15C-1 model. At 1.4 tonnes, this machine's features include an 11.7kW engine, a 100% steel body and 500-hour greasing intervals to reduce downtime.
As the 14th and final model in JCB's latest mini excavator range, the 15C-1 is due to go into full production this month.
Eco designs
Volvo CE is offering an upgraded excavator, the ECR88D, which has a short swing radius and is powered by a four-cylinder 43kW engine that is Tier 4 Final/Stage V compliant.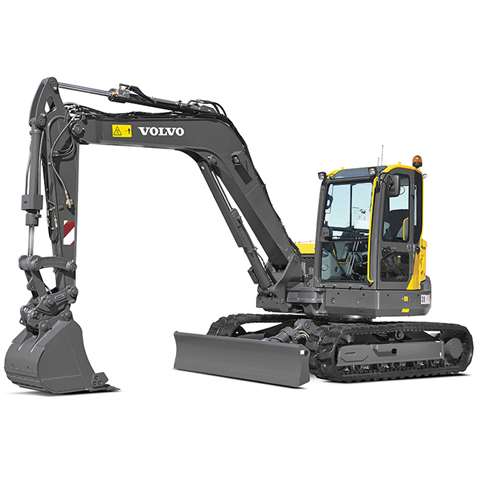 The machine's DPF cleaning interval has been increased to 6,000 hours, reducing the cost of ownership. This is helped by the auto-idling system, which lowers the engine speed when the controls are inactive for a specified time pre-set by the operator – between three and 20 seconds.
The ECR88D comes with an automatic engine shut-down mode that can be set to trigger after a period of inactivity between two and 60 minutes. Also new is the eco mode, which optimises demands on the hydraulic and engine systems.
Cost advantages
Gaston le Chevalier de la Sauzaye, product manager for the mini excavator range at Case, said, "In Europe, our mini excavators account for around a quarter of our sales, and the plan is to continue to increase year-on-year sales of this range."
He said he believed that customers were not yet pushing for electric power.
"There is a growing trend in the electric mini excavator industry for specific applications, such as light indoor demolition jobs, but as of today, we think there is no total-cost-of-ownership [TCO] advantage for the majority of our mini excavator customers.
"The higher purchasing price, together with a varied operating cost, depending on the cost of electricity in each country, makes electric-powered machines less appealing. Batteries can only be recharged a limited number of times, and as replacement batteries are expensive, this also increases the TCO."
At the smallest weight class of mini excavators, Case has its CX17C and CX18C machines. The CX17C has a zero-tail swing design, and both excavators are said by the company to boast a solid 5% improvement in hydraulic flow for digging efficiency, compared with Case's B-Series machines.
Case has again upped the specification on its middle range of mini excavators, with their maximum reach said to be improved by 10% over the previous series, and an efficient hydraulics system helping to increase cycle times.
On the CX33C and CX37C excavators, the engine automatically returns to idle speed after five seconds of inactivity, reducing fuel costs and noise disturbance. And at the upper end of the mini excavator class, machines including the CX57C and CX60C offer a more spacious in-cab environment, with all-round visibility, adjustable seating and what the company claimed was the best digital display on the market for operator comfort.