More mixed: Transport 50 in 2020
By Alex Dahm17 August 2020
In its 16th iteration the IC Transport 50 ranking of the world's largest specialized transport companies shows good growth but also a few surprises. ICST reports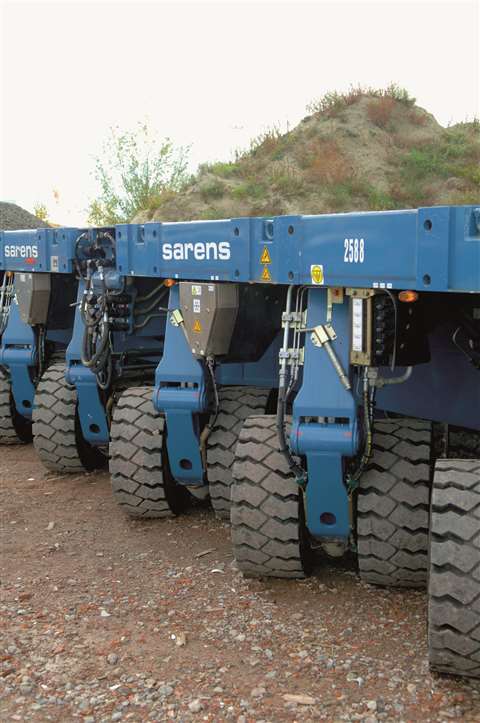 In its 16th iteration the IC Transport 50 ranking of the world's largest specialized transport companies shows good growth but also a few surprises. ICST reports.
Yes, the 2020 table overall is up, by a good 6.7 per cent. Within that, however, there are some elements in decline. Last year the table was basically up in all areas whereas in 2020 there is more of a mix of ups and downs. An element of correction and smoothing out can also be sensed.
It presents a less unanimously positive impression than last year, which may be unsurprising because of that virus ravaging the world for the last few months of the period measured for the T50 (12 months to July). As in all other areas and industry sectors it has had an impact, often negative but not always. Social distancing and other lock down measures have played their part but the specialized transport industry's designation as a critical industry has allowed work to carry on through the crisis.
Other events have also impacted the 2020 ICST Transport 50 ranking. At the top of the table Mammoet's acquisition of ALE is the big news. Its impact has benefited all who followed behind the top 2, i.e. all the other companies in the table, allowing them the potential to move up at least one place, all things being equal, although of course they are not, so it hasn't been as simple as that. It never is.
So, Mammoet not only retains its top spot but massively consolidates it with the added capability of the ALE heavy fleet. Three years ago ALE pipped Mammoet to first place for the first time in the history of the Transport 50 table. Buying the company was one way to stop that from happening again.
As with the IC50 ranking for crane-owning companies, the ALE acquisition has certainly put some distance between first and the new second place company, Sarens. Last year the disparity was that Sarens' capability was just over 60 % of Mammoet's. This year, however, With Mammoet and ALE combined, Sarens' capability is just under 40 % of Mammoet's.
Moving down the top ten, next is All Erection which has jumped to third from sixth place, ahead of Fagioli in fourth and Landstar in fifth, both of which are in the same places as last year. Daseke has gained a place in sixth. Barnhart at seventh made a strong gain from tenth, presumably at least partly because of its acquisition of fellow US heavy lifting and moving specialist Burkhalter.
Entering the top 10 at eighth is NTC Logistics from India previously in 11th place. ATS Specialized drops a place at ninth while Maxim storms into the top 10 from 14th.
Totals
In terms of the overall table, compared with last year, as mentioned there are ups and downs. The total capacity of modular equipment in the top 50 companies is down, by 2.4 %, but specialized trailers are up nearly 3 % to a total of 763,884 tonnes.
Also down is the number of depots, by 1.29 %, to 2,381, whereas last year it was up nearly 7 % to 2,412. The number of people working at the top 50 companies, however, has gone up by nearly 6 % to a total of 47,784, up from 45,133 last year which, in turn, was up a massive 14.86 % from 2018. Finally, there were 24,317 tractor units at the top 50 companies, 5.57 % fewer than the 25,752 of 2019 but this figure seems to regularly swing quite a bit.
All this seems like an unusual amount of change. Perhaps it is the start of more to come or maybe things will settle down a little on a smoother and clearer path post Covid-19.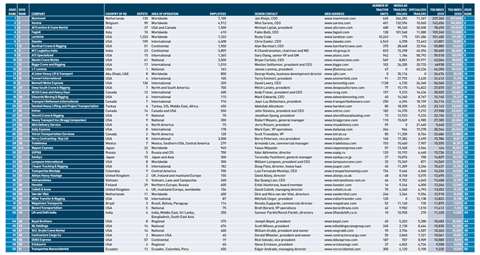 NOTES ON THE TRANSPORT 50
The Transport 50 Index is calculated using the total carrying capacity in metric tonnes of all specialized transport equipment in a company's fleet. The two main sections are specialized trailers and modular trailers and SPMT.
It is very much a work in progress and will always be evolving and changing. We largely rely on the submission of entry forms completed by the companies listed. We are always interested to hear from companies that have not yet entered the Transport 50. If yours is one of them, please let us know and look out for the 2021 Transport 50 entry forms and calls for entries on the KHL web site during the second quarter of the year. You are welcome to inquire at any time about the next T50. Already a valuable reference, with your help the Transport 50 will continue to improve.