Multitel announces Bauma launches
By Euan Youdale26 February 2019
Multitel Pagliero has confirmed which new models it will unveil new at Bauma, taking place in Munich, during April, including truck mounts and a tracked platform.
The MZ 250 is a new entry in the 3.5 tonne GVW articulated series. The 25m working height platform is mounted on a compact 3000mm wheelbase Iveco Daily.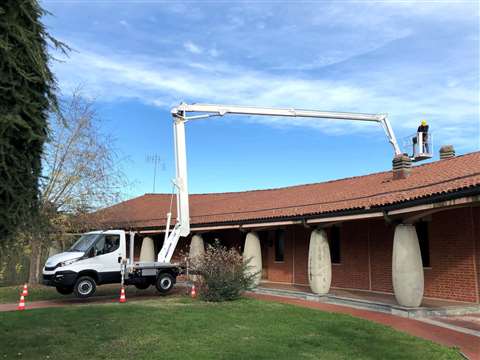 Designed with great manoeuvrability in mind, combined with a wide envelope thanks to its up and over and outreach capabilities, the articulated jib adds versatility for a range of applications. The platform can work at a negative level of a -2.5m and offers its Multitel Self Adapting (Musa) outreach system, which adjusts the working envelope automatically based on the basket load and the outrigger position. This maximises the outreach at any given time.
The new MTE270 EX will extend the aluminium telescopic range, again on a on 3.5 tonne chassis. This model extends the existing range which includes 14m to 27m machines. It offers a generous 250kg basket capacity, while the rear outriggers remain permanently in line with the vehicle and the front outriggers can be deployed in the line, extended on one side or on both sides. With the outriggers all in line the platform offers the full 16m of outreach over the rear and 9m to the side. With an extended outrigger, the side outreach is increased to 13m, achieved thanks to the MUSA system.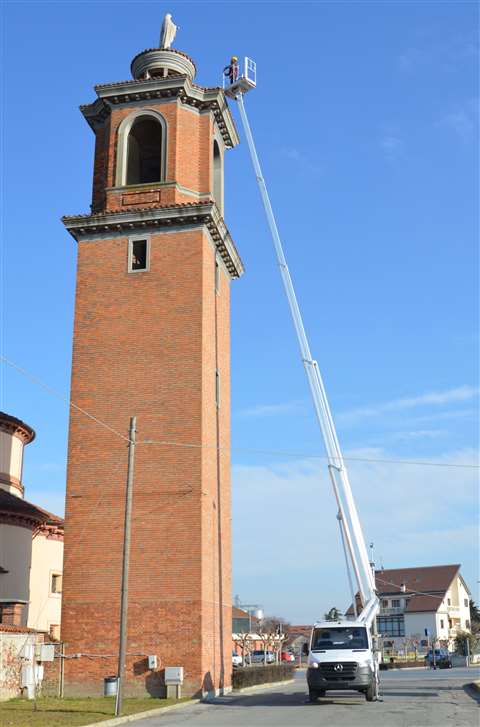 The MTE270 EX has a strong aluminium alloy sub-frame, cold extruded aluminium alloy boom sections, single button automatic outrigger stabilisation and single button automatic return to transport position, all of which make it a very user friendly as well as a high-performance platform.
It is available mounted on a MB Sprinter or on Iveco Daily and can be supplied with a selection of customised options.
Lithium launch
Another launch will be represented by the MT204 Lithium, powered by an on-board battery pack. It based on the existing MT204EX, with front extendable outriggers, 20.4m working height and a maximum outreach of 14.3m. Maximum basket load is 300Kg, with an outreach of 8.2m, and 12.9m with 80kg. It is mounted on a standard Iveco Daily 35 S 13 or MB Sprinter and stays below the 3500kg weight limit with fuel and driver. The MT204H unit is powered with a conventional engine to travel to site, while a second alternator recharges the battery pack and powers the vehicle's lights.
On site the platform can be deployed on its outriggers, using either the vehicle PTO or on-board batteries. Thereafter the platform will give a full day of work powered by the on-board deep cycle flooded batteries. The lithium batteries power a variable speed electric motor, which, in turn, powers an hydraulic pump to drive the platform.
The company will soon add new models to its Eco Hybrid range.
New tracks
In addition, Multitel will launch a new tracked platform, the SMX210, to complete the crawler range. The SMX 210 offers a 21.2m working height, a unique 9.5m outreach, with a 10.2m up and over capability. The fixed stabilization area is compact with a 3.5m x 3.5m footprint. Stowed dimension are 1.97m x 4.53m x 1.08m, with a total weight of 3500kg.
The SMX 210 comes with none marking tracks as standard as well as automatic stabilisation, from the basket. A lithium-powered version will be available n the fourth quarter of this year.
Next up, the MJ226 is one of three platforms within the 3.5 tonne telescopic boom and Jib range manufactured by Multitel. The MJ226 provides a maximum cage load of 250kg, with a horizontal outreach of 9.2m with 250Kg in the basket and 12.4 m with 80kg. With the aluminium subframe and extendable outriggers, the model offers a variable working envelope and can be mounted on a common 3.5 tonne chassis such as Iveco, MB Sprinter and Isuzu. The 1.4m x 0.7m aluminium basket has a 90°+90° rotation and electrohydraulic controls are standard option.
Multitel will also exhibit the well-established MJ685. The main steel boom is equipped with four telescopic extensions, while the jib is articulated and rotates 170 ° with respect to the main arm with a first steel element and two telescopic extensions in aluminum.
It boasts a maximum working height of 68.5m, a maximum outreach of 35.5m and a maximum capacity of 400kg. The basket, in profile, can be extended from 2.5m to 3.8m for 0.9m width and 1.1 mm of height. A winch option with a capacity of 800kg and remote control is also an option.