New Bobcat E19s for DEK
By Steve Ducker11 January 2018
Stavebniny DEK, the leading Czech building materials company, has purchased 10 new Bobcat E19 compact excavators for its rapidly expanding construction machinery rental service.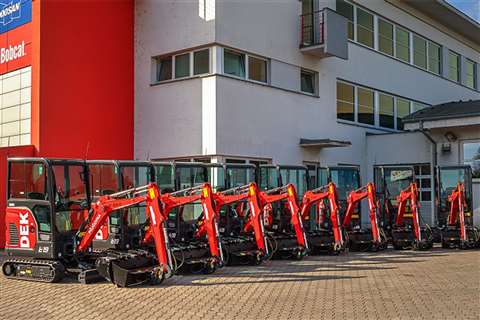 The company, based in Prague, has an annual turnover of more than CZK 11 billion (US$515 million) makes it a major player in the domestic market.
Its rental service now operates through more than 60 branches across the Czech Republic.
The excavators are being provided through authorized local dealer Bobcat CZ.
Their features include the ability to hydraulically retract the undercarriage to a width of less than 1 m (3 ft 3 in) to travel through restricted and narrow areas.
Other features include a heated cab, extended arm, wide blades, a suspension seat, and a Lehnhoff MS01 quick-coupler system.
"We chose the Bobcat E19 because of its high quality, which we have tried and tested for ourselves on the job site, and because of the advanced design and quite exceptional range of features," said DEK director Michal Svejcar.