New Demag AC 300-6 all terrain crane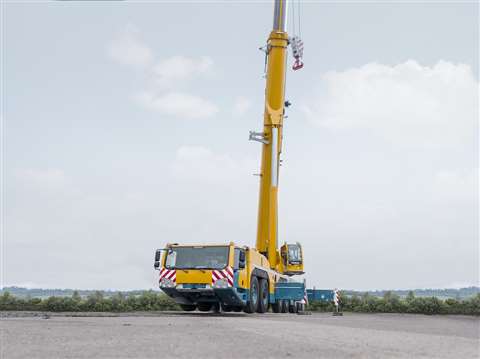 A new 300 tonne capacity all terrain crane has been announced by Demag. The six axle AC 300-6 has an 80 metre boom.
On main boom only, it can work at a height of up to 78 m or out to a 74 m radius. A typical application for this new model is tower crane erection. It will lift 15 tonnes with the boom fully extended. It is the smallest model in the Demag range to have a luffing jib, taking the maximum system length to 118 m. The luffing jib rigging system is the same as on the larger AC 350-6 and AC 1000-9 models.
Also similar to the 1,000 tonner, the new crane is a one-engine design. It has a start-stop system to minimise idle time, improve fuel consumption and reduce the number of engine hours for better resale value. The IC-1 Plus control system allows asymmetric outrigger positioning.
Spare parts inventory is also reduced, Terex said, because the new crane shares parts with the smaller, five axle, models. Also compatible is the 21 m double folding main boom extension from the 5 axle models.
The carrier is 3 m wide and 15.3 m long. Axle load limits can be met from less than 12 tonnes up to 16 tonnes. An extra payload capacity of 800 kg is also available for carrying lifting accessories, the manufacturer said.