New XL 80 Mini-Deck trailer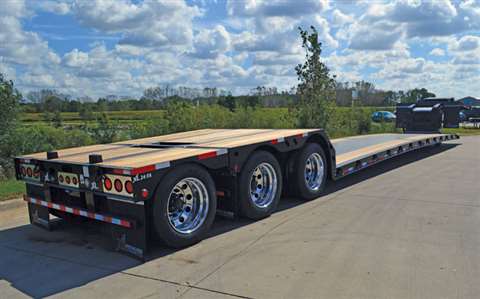 XL Specialized Trailers in the USA has added the new XL 80 Mini-Deck hydraulic detachable gooseneck (HDG) lowboy to its lineup.
Versatility is afforded by the use of a three beam design, XL said. Its loaded deck height is 12 inches (300 mm) with 4 inches (100 mm) of ground clearance and an empty weight that easily allows scaling to maximum payload, the XL Mini-Deck HDG is now available with a capacity rating of 80,000 pounds (36 tonnes) overall.
The 11 foot (3.3 m) long full-width platform has a low-profile hydraulic neck. It provides additional loading or storage space. A 13 horsepower Honda power unit allows users to raise and lower the neck to one of five ride height positions. Four-axle trucks are catered for by a 36 inch (900 mm) flip neck extension.
This 48 foot (14.6 m) trailer has 10 bent D-rings per side on the main deck plus two per side on both the upper and rear deck and two in the tail channel. Other features include 4 inch (100 mm) tapered front ramps, manual ride height control, LED lighting with an amber strobe, a liquid-filled air gauge, and an Air-Weigh digital scale. It prepared for a flip axle, to add additional axles to meet different regulations.
Rodney Crim, XL Specialized Trailers vice president of sales, said, "we know building more Mini-Deck solutions would also be useful for our customers. The versatility our Mini-Decks offer really allows them to do a lot with one trailer."