New software unveiled by Crosby|Straightpoint
Crosby|Straightpoint has launched its multifaceted INSIGHT software that allows users to monitor up to 126 load cells from up to 2,300 feet away, before and during a lift. The INSIGHT system is a center of gravity tool, presented as an all-round load monitoring product offering state-of-the-art technology in four main areas: multi-channel display and data logging; load visualisation; proof load testing; and center of gravity.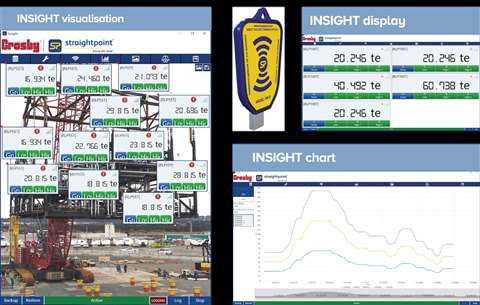 Using the multi-channel display and data logging mode, users can view and log load data from connected individual and multiple load cells, live on screen and directly into a .csv file for later analysis at speeds of up to 200Hz. The visualisation mode is designed for more complicated lifts and allows import of a photo of the lift in addition to drag and drop load cell displays. In other words, it makes the screen look like the lift. Proof load testing capability allows real-time graphing of load tests and auto-generates test certificates. Finally, INSIGHT can be used to weigh and calculate the center of gravity of large items and structures.
David Mullard, business development manager at Crosby|Straightpoint, said: "Each of INSIGHT's main features represents cutting-edge load monitoring technology in their own right, but what really distinguishes the system is its ability to perform all of those tasks—from multi-channel data logging to center of gravity—with one single software purchase and wireless dongle," said David Mullard, business development manager, Crosby|Straightpoint. "Compared to alternative solutions on the market, INSIGHT offers superior functionality and user-friendliness. What we're delivering is therefore unprecedented."
Mullard explained that INSIGHT is used to scan for wireless load cells within a 2,300 foot area, which allows an entire site to be monitored, or a select number of load monitoring products on a planned critical lift. Users can select load cells within the system based on their serial numbers. "