PVE in Dubai Creek Harbour
By Alex Dahm24 November 2018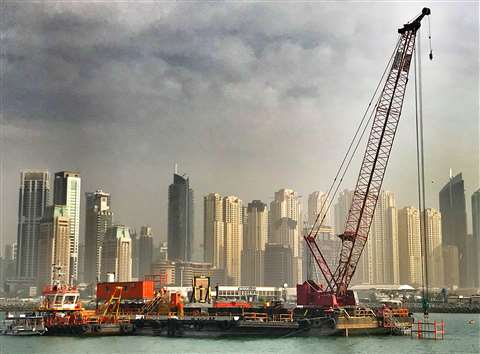 A Manitowoc 999 crawler crane owned by PVE Cranes is one of several cranes supplied by the Dutch specialist for a project in Dubai.
The 250 tonne capacity lattice boom crawler was mounted on a barge and rigged with a 30 metre main boom, runner jib, 100 tonne hook block and a ball hook, explained Joost Bömer, PVE Cranes managing director. As one of several cranes (150 to 600 tonnes capacity) supplied by PVE for the Dubai Creek Harbour development project, it was mainly used to place concrete blocks weighing 50 to 80 tonnes to construct the new quay wall. PVE engineers also organised lift plans and marine load charts for the job.
Dubai Creek is the cornerstone of Dubai's heritage. As a natural harbour, the Creek was historically a busy regional hub for trade, fishing and pearling – it was the original lifeline, from where Dubai began its expansion into the city we know today. Preserving both the cultural and environmental aspects of the site is at the forefront of the Dubai Creek Harbour development – integrating a smart, green city, while building on cultural heritage, said Bömer.
The development is next to Ras Al Khor wildlife sanctuary and aims to bring harmony between responsible city living and creating an awareness of sustainable biodiversity. Covering 6 million square metres, the development will include integrated and sustainable transport to connect people.
The project's scope of work involves the construction of marine works at Dubai Creek Harbour, Dubai. The phase 1 marine works include the advance promenade, docklands, creekside park, harbour promenade and marina 1A precincts. The project comprises construction of approximately 6 kilometres of hybrid gravity concrete block and rock revetment quay wall at the docklands advanced promenade and Phase 1 (marine 1a and harbour point) precincts, respectively. The project is close to ongoing land-based developments which requires close co-ordination with a number of contractors and an approach that minimises interface risk, Bömer explained.