Picture exclusive: Ashgabat Olympic Complex
By Chris Sleight04 March 2015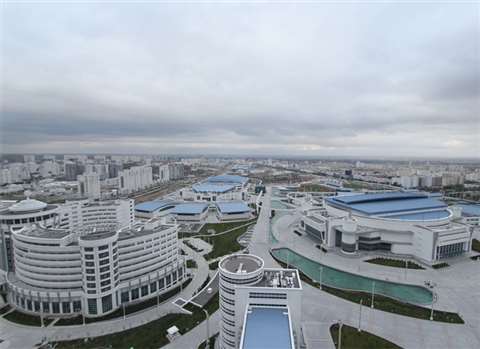 The Olympic Complex in Ashgabat, Turkmenistan might be the biggest building construction project underway anywhere in the world today. The three-phase project covers a 1.57 km2 site in the southern part of the capital city and comprises seven major indoor sporting venues with capacities from 5,000 to 45,000 spectators.
Also included in the project are outdoor facilities, hotels, restaurants, car parks, an Olympic Village with capacity for 12,000 competitors and a 5 km monorail to connect them all together. In all there are 52 major construction schemes within the overall project.
With a contract value of more than US$ 5 billion, all three phases of the project are being undertaken by Turkish contractor Polimeks on a turnkey basis, with Arup also contributing design services.
Work started in 2010, somewhat against the normal run of things, as at that point the city was not in line for any major sporting events. However, by the end of the year it had won the competition to host the 2017 Asian Indoor-Martial Arts Games. This is a new competition first held in 2013, combining the previous regional Indoor Games – comprising more than 30 events, including athletics, basketball, boxing, cycling and swimming – and Martial Arts competition, which comprises nine combat sports.
The 2017 event will be the first time in the history of either the individual or merged events that they have been hosted by a central Asian country.
Click on the image above to scroll through photos from the site
If you would like to read the full report, click here to arrange your FREE subscription to International Construction.