Powered access - scope for growth
A healthy future is predicted for the powered access industry, despite a backdrop of global uncertainty and probable economic slowdown according to several key speakers at the recent Summit of the International Powered Access Federation (IPAF), held for the first time in Dubai, UAE, on 6 March 2019.
During the morning session of the Summit, Murray Pollok, Managing Editor of International Rental News, presented some preliminary findings from the forthcoming IPAF Global Powered Access Rental Market report for 2019. In the US construction is strong but relative GDP growth softening; Europe construction growth of around 2% in 2019-21 with a slowing trend; in the Middle East construction is recovering and strengthening, he outlined.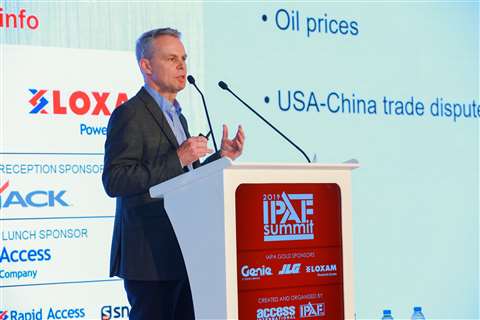 Worldwide equipment sales are at and forecasted to remain at or above its historic peak, he added. Europe likewise is strong but below its 2007 peak "and that's maybe not a bad thing". North American equipment sales are strong and still growing but forecasts are a "bit bullish", he added. China is seeing strong equipment sales growth, albeit significantly below the stimulus period around 2010, but this looks "healthy and sustainable" and less subject to a slump than was the case with government stimulus.
Rental is growing at rates that exceed both GDP and construction market growth across the board, Murray Pollok concluded, adding that rental penetration continues to grow even in mature markets such as North America, according to figures from the American Rental Association (ARA). Over half of all equipment used in US Construction is rented and both there and in Europe the trends are towards the sharing economy.
In Europe sustainability and environmental issues are particularly key, he said; the European Rental Association (ERA) is tapping into this trend and conducting a survey into rental in order to prove the benefits of renting in terms of minimising companies' carbon footprints, he pointed out.
In summary he said: "This all means it's a very buoyant time for manufacturers. Current investment levels are being projected forward five years and this is also being driven in part by a booming replacement market. China is certainly booming, but some players are exercising caution in terms of investment strategy as they predict forecasts are slightly over-inflated."
IPAF works together each year with DuckerFrontier to produce its own exclusive global rental market reports, and this year's preview of the 2018 study data reveals that the European market is likely to see average growth sustained at around 6%, he said with southern European countries under study up to 10%; Germany, France, Italy and the Netherlands at around 5-10%, Nordic countries only showing moderate growth owing to pricing pressure, with UK growth to slow to 1-2%, as Brexit uncertainty persists. US fleet growth is around 7%, with revenue up to 10% and similar is predicted for 2019-20 with uncertainty creeping in.
Adding an interesting geographical focus, Erhan Acar, General Manager of Turkish rental company Rent Rise, talked about the impact of new regulations on health & safety at work in increasing awareness of MEWPs in Turkey and neighbouring countries. Enhanced productivity and emphasis on marketing the rental model has seen a strong growth in MEWP rental markets year-on-year, he said. Turkey is also a great platform for investment into neighbouring countries, he added, especially Eurasia and North Africa, though political instability in neighbouring Syria and Iraq remains a drag on international investment.
Fleet size has grown but has plateaued at present, he said, though the new regulations should reinvigorate investment with forecasted growth of up to 20% over the next five years, he forecast. When comparing Turkish MEWP fleets by population as is the methodology in the IPAF/DuckerFrontier Rental Reports, then there is a "good indicator of market growth potential," he said.
Utilisation rates are comparably high in Turkey and the typical equipment type is electric scissor lifts, though he forecasted more boom lifts as a proportion of fleets in the years ahead. Big projects are also driving rental and training demand, including the new airport at Istanbul (an IAPA-winning project in 2018), the Socar Star oil refinery and the Akkuyu Nuclear Power Plant.
Turkish construction companies and equipment rental companies are currently operating in places like Georgia, Kazakhstan, northern Iraq, Afghanistan and as far afield as Paraguay, and this is something he foresees continuing in future. There have been some difficulties in convincing Turkish Government officials to accept accredited training such as IPAF operator courses, but the Turkish Rental Association is challenging this, he said, and from a small number of IPAF PAL Cards delivered in Turkey in recent years the number is now "quite significant" and set to rise.
Speaking from the perspective of a long-established rental business in one of the powered access industry's more mature markets, Peter Schrader, MD and COO of Zeppelin Rentals, talked about how his company has grown, particularly since the 1950s, through equipment rental and becoming Germany's main dealer for Caterpillar.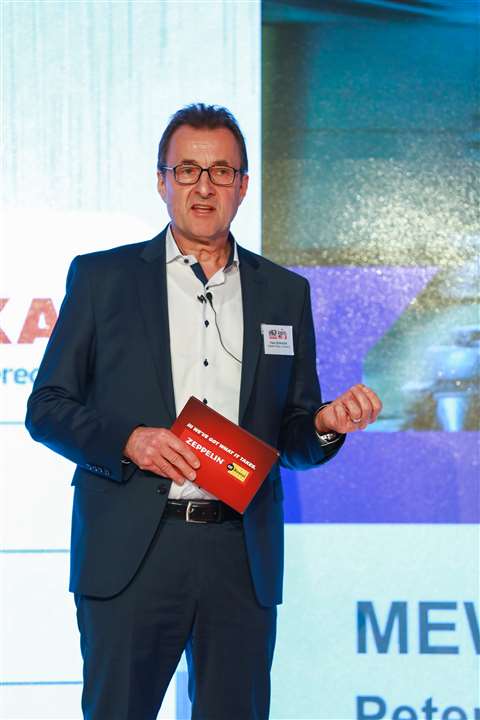 In the past 15 years Zeppelin Rentals has been moving away from construction as the dominant service sector, to create a more sustainable and balanced business model that has lent extra resilience, especially during the 2008 downturn, he said. New service lines include planning, site preparation, earth moving, installation and commissioning, as well as site solutions, were now key parts of the rental offer, and core markets include infrastructure, industry, logistics, public maintenance and events.
This diversification brings huge cross-selling opportunities, he pointed out, though he admitted that market fragmentation in Germany with "few true multinationals" does allow room for growth that other markets such as the UK or US do not. While currently MEWPs still make up only small proportion of the overall fleet, Zeppelin plans to invest in MEWPs, he concluded. "To become a true generalist; it is essential!"
The afternoon panel debate also talked about market development, this time in the UAE and wider region, and considered how digital technology could be harnessed to deliver futuristic rental depots, and whether the market was truly ready for such an approach in the Middle East.
David King, Group MD of the Manlift Group, said: "Manlift has been using Lean techniques to work smarter and safer, but also looking at new technologies including telematics and new power sources – those attending the depot site visit here in Dubai will see some of these futuristic initiatives in action."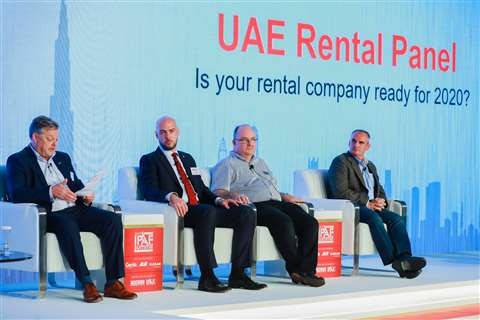 Alexis Potter, Regional Director, UAE & Oman, and Sales Director, Rapid Access Middle East & International, added: "Expo2020 has provided such a huge opportunity. Working with aerospace customers has taught us a lot about things such as telematics, preventing unauthorised access and other technology like that."
He also referenced Lean techniques and demand from the customer different machine power sources, "leading to a more transactional business but always with safety at the forefront". He claimed that the MEWP rental market in UAE was "ready for 2020 and the years beyond".
Nick Selley, Group Business Development Director for AFI-Uplift, slightly questioned that assessment: "Is the UAE market mature yet? I don't think it is quite. What about other technology that could enhance safety? Secondary guarding is used, but should it be mandated? Is the market ready for technology such as telematics; is it commercially justifiable? It is in the UK, and we would use it here, but I am not sure the market is quite ready for it here yet."
Dean Jones, General Manager of AJI Heavy Equipment Rental, countered: "As the youngest rental business in this family on stage, we only use brand new equipment, and we have used secondary guarding, telematics etc from the outset in 2016. We also only operate in the UAE, being a single-depot operation with around 400 units, so we hope we can offer a different perspective.
"Our customers are driving safety; it has evolved dramatically in five years and we need to make sure the equipment is safe, compliant, with secondary guarding, and that the guys using it are all IPAF trained."
Then, responding to question from a manufacturer in the audience, he added: "We are seeing Dubai become more of a completed city, so the emphasis is shifting from construction, and diesel-powered booms, to maintenance and refurbishment work and so we are seeing a real increase in demand for electric powered scissor lifts."