Pumps: Going with the flow
By Thomas Allen06 September 2017
Pumps are truly put to the test on construction sites, where they need to be sturdy enough to deal with a range of different – and often abrasive – materials, from different types of concrete to water that contains silt and other debris.
One of Bell Flow Systems' customers recently learned this the hard way, when their geared flow meters started jamming, which in turn created problems further up the line.
The cause of the fault was the silt and sand suspended in the water that was being pumped for borehole testing. Although the water was clean for the majority of the time, there was occasional contamination.
Bell Flow Systems suggested that the meter be replaced with their M1000 mag meter. It featured no moving parts, meaning that no damage would be caused to it by coarse materials in the water.
Boasting an accuracy of ±0.5%, the M1000 is available with wafer, DIN (German Institute for Standardisation) or ANSI (American National Standards Institute) flanged connections. It can also come with a hard rubber or polytetrafluoroethylene liner, Hastelloy C measuring and empty pipe electrodes, and pulse and 4-20mA outputs.
Abrasion was also causing the pumps to break down at Hungary's second largest power plant, Mátrai Erőmű Zrt, operated by energy company RWE-Power, in collaboration with electricity and gas supplier EnBW and the Hungarian electricity company MVM.
With an annual output of 950MW, the coal power plant provides approximately 18% of the country's electricity and is supplied with more than 8 million tonnes of brown coal from mines in nearby Visonta and Bükkábrány, 50km away.
Water management in Visonta posed a challenge. Béla Hernádi, manager of the dewatering division at Mátrai, said, "Pumps broke down every four weeks on average." And abrasion was considered to be the main cause.
Japanese manufacturer Tsurumi – which has headquarters in Düsseldorf – was called in to help. After visiting the site, the company developed a new water management system from scratch.
A number of pumping stations were configured for the three-step drainage of the mine. Submersible LH622 motor pumps were used to take on the main load.
Built by construction engineers with abrasion-resistant materials, such as spheroidal cast iron GGG45 and chromium cast iron, the LH622 pumps had 22kW motors that enabled them to move 3,750 litres/m of water to heights of up to 54m.
Dry operation
Birger Schmidt, from Tsurumi, said, "Thanks to position-independent injection lubrication, even the difficult snore mode or dry operation, when water levels are low, do not present critical conditions for these pumps."
Also, just 16 pumps were used in the new system – compared to the 31 that were previously employed – all of which were said to require minimal maintenance and repair work.
Aside from the LH622, the other pumps used also included the Slow Runner from the KRS series, which has a motor with 1,450rpm and is designed to minimise wear on the motor.
Also offering dewatering solutions, Atlas Copco recently added to its family of medium and large submersible dewatering pumps with the launch of its new WEDA+ dewatering pump range.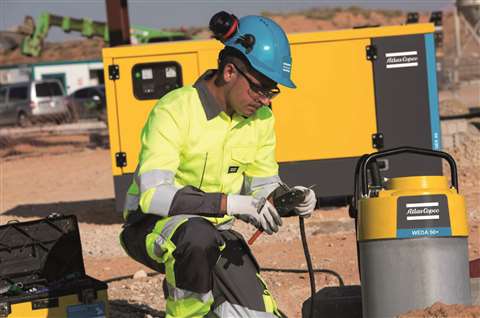 The five new plug-and-play models comprise the WEDA 50, which is available in normal- and high-head variants, and the WEDA 60+, which comes in normal-, high- and super high-head configurations.
The super high-head WEDA 60+ was said to be 15% smaller and 20% lighter than other pumps in its class.
While the new pumps still claim a number of proven features from the existing range, such as adjustable wear-resistant nitrile rubber diffusers and hardened high chrome clog-free impellers, they have undergone a full redesign. As a result, the latest pumps were said to offer up to a 20% reduction in energy consumption compared to previous models, as well as easier maintenance and increased capacity.
They offer flow rate capabilities of 1,020 to 2,425 litres/m and a maximum head of up to 69m.
Rotation control
Atlas Copco has introduced rotation control and phase failure protection across the new range, to overcome the risk of the impeller rotating in the wrong direction. In addition, the entry system can accommodate a wider range of cable configurations, with a motor design that offers greater efficiency and a reduced start current.
Meanwhile, the drive train features double row bearings for improved lifetime service, and the use of aluminium alloy in the pumps' construction provides higher corrosion resistance.
Wim Moors, vice president of pumps at Atlas Copco Portable Energy, said, "We have taken our portable and powerful electric submersible offering to the next level by focusing on efficiency and new features that will simplify the customer experience and enhance their productivity."
The pumps have a modular design and all the stainless steel fastenings are the same size, meaning that one tool can be used to change all the seals, impellers and other parts.
Also expanding their product portfolio is Grindex, which has introduced the Maxi SH electrical submersible pump.
With a 37kW motor and a two-stage hydraulic impeller that has been scaled up from the Master SH pump, it was said to be suitable for high-head drainage applications.
Fredrik Sylvander, from Grindex, said, "By adding only 30kg to the already lightweight 240kg Maxi H platform, we have been able to reach pump heads of 140m – an impressive performance for a pump with a small footprint that has to be easy to move."
This helps to avoid the use of oversized single pump solutions or several pumps connected in series for high-head applications, which can be complicated. The Maxi SH is intended to enable users to adapt their pump solutions to particular applications better.
In addition to the new launch, the Maxi H and Maxi H-Lite pumps have been updated with Octaline hydraulics, which is a wear-resistant closed impeller system made of Hard-IronTM.
"This concept has proven itself many times over since the introduction in 2008, in typical heavy duty dewatering applications all over the world," said Sylvander.
All Grindex pumps incorporate an impeller adjustment sleeve, which allows the impeller and suction cover tolerance to be adjusted to mitigate the effects of wear.
Earlier in 2017, Mody Pumps, which has a full-service sales and maintenance centre in the town of Tiel in the Netherlands, released a pump that complements its slim-line pump series.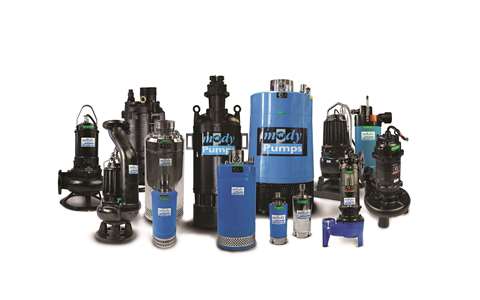 The G1506 Series delivers 112kW of power and has an almost 15cm high-head unit.
The slim-line series was developed for applications where the overall diameter of the pump is critical, such as when the pumps are fitted inside well casings or other confined spaces.
With robust Class H insulation and epoxy-coated stainless steel, these pumps are equipped to handle contaminated fluids, making them suitable for rugged dewatering applications on construction sites.
In the UK, Selwood has followed its £5 million (€5.8 million) investment last year with a commitment to invest another £8 million (€9.3 million) in its pump products this year.
As part of this investment, the company has made new additions to its product line, such as a high-performance electric drive version of its solids handling S150 Super Silent pump.
Said to be suitable for applications where power is available, the pump is driven by a 30kW IE3 motor that operates at between 1,000 and 1,800rpm.
Selwood plans to manufacture an initial run of 60 units in 2017, and said it had already seen keen interest from Europe, resulting in sales in Germany.
The company has also introduced an S150 pump powered by an Isuzu 4LE2X diesel engine, which offers an output increase of 26.7% compared to its previous models, as well as improved build quality, sound attenuation and lower emissions.
Selwood has added to its product line with the high-performance electric drive version of its solids handling S150 Super Silent pump
The new S150 units are complemented by the recently-introduced S150M, which is a new Selwood-designed and manufactured pump suitable for multiple uses, including sewage and sewer bypass, as well as over pumping, water and wastewater applications.
Chris Garrett, CEO of Selwood, said, "We are seeing the global market shift and grow in a way that reflects what we have seen in the UK – a general move to rental rather than capital purchase as the preferred option for companies driven by the need for operational efficiencies.
"We are particularly seeing this shift gather pace in Europe and North America."
Fireproofing
UK-based fireproofing specialist Graco has launched its new ToughTek F340e portable fireproofing pump, which it claimed provides a quick, easy and convenient solution.
Stephan Rindfleisch, Graco product marketing manager, said the pump was designed for small touch-up jobs in locations that are difficult to access, and is small enough to be transported in the back of a pick-up truck.
Able to handle a range of fireproofing materials, from low- to high-density, the small and very mobile unit runs on a single-phase 230V power supply, and is based on piston pump technology.
Graco said that because of the new unit's size and mobility, the ToughTek F340e could get closer to the application point.
Classed as a plug-and-play unit, it is operated by dialling in the preferred speed.
"Graco also offers a bigger brother to the F340e," said Rindfleisch. "The ToughTek F680e has a hopper capacity of 114 litres and a maximum output of 41 litres/m.
"It can take a hose length of 90m and can spray vertically up to 60m. The unit is still portable, although obviously with its larger footprint won't fit into such tight spots as the F340e."
Archimedes screw
The Archimedes screw pumps at the inlet of Severn Trent Water's Mansfield Sewage Treatment Works recently needed replacing, after 40 years of service, and the exclusive UK service agent for Landustrie Archimedes screw pumps, ECS Engineering Services,
was contacted to source and install new pumps.
ECS proposed the installation of three such screw pumps, each weighing more than 12 tonnes and offering a maximum capacity of 800 litres/s. With an expected service life of about 30 years, the screw pumps were said to be one of the most efficient methods for moving effluent water over a short distance.
The timeframe for replacing each 13.5m-long pump was around eight weeks, which began with the removal of the old screw pumps by crane. They were subsequently sent off to be recycled.
Once the bearings and drivers had been replaced, the new screws were lifted into the trough for installation. This was followed by the hand re-screeding process, which involved adding screed to the screw as it was rotated at reduced speed.
Finally, the trough was created with an optimum gap of 6mm between it and the screw flights, which was said to provide maximum pumping efficiency.