Quick recovery by ALE
By Alex Dahm13 September 2019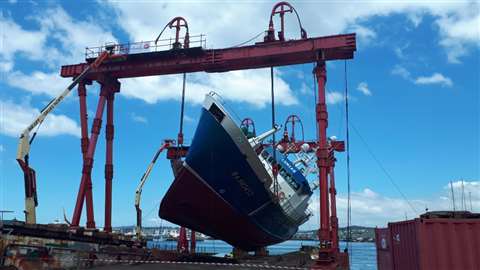 International heavy lift and transport specialist ALE had to perform quickly when it was called in to lift and rotate a 400 tonne ship.
UK-headquartered ALE had to mobilise specialist heavy lifting equipment for a job to right a fishing boat, the Lumian, in A Coruña, Spain, so that it could be repaired. The vessel weighed 400 tonnes and was 33 metres long. It had to be tilted or rotated upright on its longest axis and then moved and placed on its keel. Other companies had already tried and failed to complete the job, ALE said.
ALE was given 15 days to do the job. Limited space meant a large mobile crane would have interfered with other work in the shipyard. In addition, a steep slope had to be accommodated.
A pair of gantries was set up over the ship, each topped by two skid beams mounted with strand jacks, one each side of the ship. Sufficient control and accuracy of movement was provided by the individual operation of each strand jack. With the ship righted it was skidded and lowered to rest on its keel.
The equipment list was as follows: two A-frame heavy lift gantries; four SLS2000 strand jacks; eight skid beams; and eight 150 tonne capacity strand jacks.