Ramirent grows eco fleet with Niftylift
By Euan Youdale18 December 2020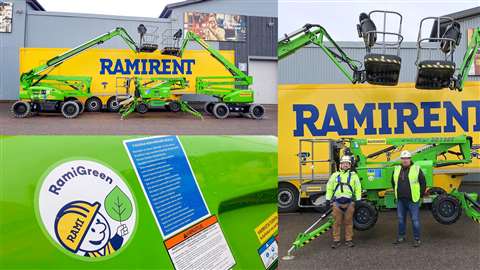 Finland-based Ramirent - which is owned by Loxam - has invested in a range of hybrid and electric Niftylift boom lifts.
The order followed the rental company's investment in the manufacturer's 28m working height hybrid HR28. The new additions to the RamiGreen fleet include the HR17 hybrid, HR21 hybrid, SD120T bi-energy and HR12NE electric models.
Juho Perälä, at Ramirent Finland, commented, "We have had the first two Niftys almost one year now and we haven´t had any fault operations with those. There is more and more demand from the customers for fully electric and hybrid machines.
"Demand will grow with the new low emission construction sites and through green deals which bigger cities have now signed."
Ramirent is aiming for 90% of its aerial lift fleet to be electric-, battery- or hybrid-powered by 2025, as part of its RamiGreen strategy. Other products in the eco fleet include compact loaders, fork lifts and lighting towers.
Sami Tainio, from Niftylift's dealer in Finland JS-Multi Service, added, "We are glad that the Niftylift machines have got a good feedback from our customers. The machines' efficiency and power recovery features enable longer working time and shorter charging time with the whole range of Niftylifts."
They are also equipped for cold climates, such as is found in Finland, with motor heaters, chargers and with protective control covers.