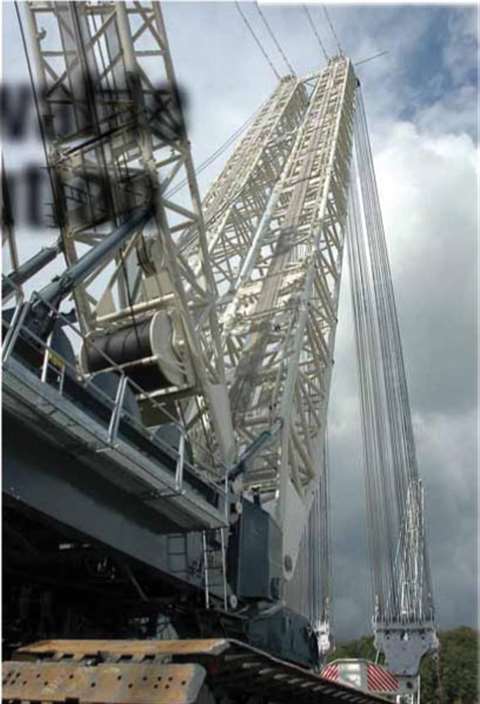 The crawler crane market has seen massive growth in the last five years and there is no sign of it slowing in the near future. Dominating that growth is the 300 tonnes and higher capacity sector, to meet the large-scale demands of power generation, petrochemical expansion and renewal projects. Euan Youdale reports
Explosive growth in demand for energy means huge growth in power plant construction, refinery expansion and alternative energy installations. It is forecast that the heavy crawler crane sector of the lifting industry will remain busy after other areas have begun to slow down.
Manufacturers are also noting rental companies' need for easier transportation and greater on-site flexibility, which has been borne out in many of the latest product offerings. In the mid-range capacity range there is strong demand from the piling industry.
As in all crane segments at the moment, the high demand is pushing crawler crane production, along with component suppliers, to the limit, causing long delivery times and multi-million dollar backlogs for the manufacturers.
World beater
At the beginning of October Terex Demag launched the biggest pick-and-carry crawler crane in the world. With a phenomenal 3,200 tonnes lifting capacity and a maximum load moment rating of 44,000 tonne-metres, the Terex Demag CC 8800 Twin offers time- and space-savings, compared with ring lift cranes and lifting platforms, according to the company.
The lifting power of the parallel double booms can quadruple the lifting power of the single boom CC 8800-1, on which the Twin is based. The modular boom design makes the Twin suitable for a wide range of applications, for example, in the petrochemical industry, power station construction or major infrastructure projects.
The main boom is up to 117 m long and can be combined with a luffing fly jib of up to 117 m, giving a maximum hook height of more than 235 m. For erecting components in petrochemical facilities a vessel lift attachment is available, made up of parts of the luffing fly jib. This makes it possible to erect distillation columns 100 m long, weighing 1,800 tonnes.
All the accessories from the CC 8800-1 can be used on the Twin, for example, the runner or the light fixed jib to 370 tonnes. All CC 8800-1s can be rigged with a Twin kit, and share all accessories, meaning a Twin kit can also be loaned to other operators of CC 8800-1s. Even without the Twin kit the Twin can be used as a "normal" CC 8800-1 with a maximum lifting capacity of 1,600 tonnes. For the really "big lifts" the Twin kit is taken separately to the construction site. This minimises long-distance transport and makes for economical utilisation. The redundant provision of components maximises availability on the construction site. For example, the crane has two identical drive units that operate independently, and a second independent control system.
Even if one engine or control system fails, for example, as a result of a lightning strike, the CC 8800-1 Twin can continue its work.
Talking point
Rüdiger Zollondz, product manager for Terex lattice boom cranes, says that one of the main features of the CC 8800-1 Twin is its ability to pick and carry in all its configurations, with a full load.
"Many of the Twin's characteristics are well known from our CC 8800. These include its transportability, with 3.5 m transport width, along with light components, most of them below 40 tonnes, together with boom combinations suitable for any application. Like the CC 8800-1 the Twin has redundant drivelines and the IC-1 control system with self diagnostics.
"The CC 8800-1 Twin suits a wide range of applications in the petrochemical industry, for the erection of nuclear power plants, or any infrastructure construction business. This machine can lift huge vessels that weigh 1,800 tonnes and are 100 m long, or lift reactors and generators into the RCV of a nuclear power plant. With a maximum tip height of more than 235 m, it reaches higher than any other crawler crane."
The Twin's design followed discussions with experienced customers in the heavy lift business over several years to establish what type of crane would be most valuable on their job sites.
Only alternative
As Zollondz explains, the CC 8800-1 Twin with its pick and carry capability is the only alternative to ring cranes and jacking towers. "Ring cranes and jacks have to be erected in place, with three to four weeks assembly time and again three or four weeks disassembly time. Jacking towers might take even longer as foundations and guying systems have to be prepared. People do not like these restrictions so a pick and carry crane is very advantageous."
The erection of large petrochemical plants can be speeded up significantly by the Twin's ability to pick a vessel outside and carry it into position within a day, Zollondz explains. The only pick and carry crawler on the market to come close, says Zollondz, is Terex Demag's 1,600 tonne capacity, 40,000 tonne-metre maximum load moment, model CC 12600 that was delivered in 1996. "The CC 12600 was always busy in the last ten years and is currently on a long-term job in the Caspian Sea."
The CC 8800-1 is successor to the CC 8800. Maximum capacity is 1,600 tonnes and maximum load moment is 24,020 tonne-metres. Launched at the beginning of 2007, it was prepared in readiness for its sister model, the Twin. CC8800-1 machines have already been delivered to Al Jaber and CCC.
High stability
Further complementing the crawler range is the Demag CC 2800-1 NT narrow track. Based on a conventional CC 2800-1, it is designed for the erection of wind turbines. It can travel from job site to job site on the typically narrow (5 m) roads fully rigged with a boom system compatible with the erection of wind turbines to 105 m hub height.
The NT has a Quadro crawler drive and quick connection for the super structure, while the standard carbody, with 8.4 m track width, has been replaced with a narrower 3.8 m track width, and comprises front and rear outriggers, with two sideways outriggers. Zollondz says the NT is designed with a low centre of gravity for high stability during travel on site.
Another new Demag crawler based on an existing model is the CC 6800, aimed at power plants and the petrochemical market. It uses a boom system with a 3.5m transport width, while its sister, the Demag CC 5800, has a 3 m transport width. The new model's jib fits inside the mainboom for transport, while the heaviest component is the 53 tonne superstructure. Maximum load moment is 13,840 tonne-metres. Zollondz says a "number" have been delivered to customers, including Mammoet and Sarens.
Easy transportation
Easy transportation of cranes is a vital consideration in the design process, explains Zollondz. High capacity crawler cranes are transported to jobsites around the world, making travel the most expensive element of the running costs. "Transportation regulations differ from country to country and customers in one country might have different requirements due to the different availability of equipment, for example, trailers. Unfortunately, there is no book that lists transport limitations worldwide, but there are some common limitations worldwide. Those being a maximum 3.5 m width, 4 m height with trailer and weight must not exceed 40 to 60 tonnes."
Zollondz forecasts a strong future for the global crawler crane sector. He says the market will remain at a high level, with 20% of the world's energy being supplied by renewable resources by 2020. "The world's demand for energy is constantly growing and the crawler crane market is growing with it. Furthermore we expect a trend towards nuclear power that will drive crawler crane sales in the future. Overall the market for bigger crawlers will be at a high level for some more years."
Link Belt's new 138 HSL is destined for a range of applications from steel erection to general construction applications
Piling on the pounds
Kobelco is also experiencing a global resurgence of interest in new crawler crane products. In the 2006 to 2007 financial year the manufacturer sold 730 cranes, with a sales value of US$460 million, an increase of 38%, or 200 units, over the previous year. A significant part of that revival, says Jos Verhulst, marketing manager at Kobelco, comes from the specialist piling sector. "It was notable that at the last Bauma exhibition in April, three of the Kobelco machines on display were specially equipped models for foundation engineering companies, several of which are making repeat purchases as they renew and update their fleets of piling equipment. The strong, simple, reliable construction of these duty-cycle cranes, with the ability to maintain continuous operation on long shifts is what makes them suitable," Verhulst adds.
Drawing particular attention at the Kobelco stand were the 80 tonne capacity BME800 HD piling crane with 12 tonne Junttan hydraulic hammer, sold to Stent piling, and the 180 tonne capacity CKE1800 with vibrating sheet-pile driver.
Commenting on the overall situation in the crawler sector, Verhulst says, "Both civil construction and petrochemical projects, largely funded by the booming oil and gas sector, are thriving worldwide and, as a result, worldwide demand for crawler cranes and other cranes is at the highest level over the past 15 years. It is difficult for production to keep up with the high demand, resulting in longer than usual delivery times. Based on the general expectations that oil and gas prices will remain high through 2007 and beyond, the demand for cranes is expected to remain strong for the foreseeable future.
"At the same time, due to the high oil and gas prices, development of alternative energy sources continues to be attractive, therefore demand for cranes for the erection of wind-farms is expected to continue as well."
Strong future
To help meet the strong demand Kobelco debuted its SL6000 at Bauma. The three configurations are; standard, heavy-lift and super heavy-lift. It offers a maximum luffing jib combination, in SHL configuration, of 84 m main boom plus 84 m jib, giving a 170 m total system length.
Another feature is Kobelco's unit assembly system, designed to optimise transport by ensuring that no individual unit is heavier than 45 tonnes or wider than 3 m, to meet worldwide transport regulations.
Kobelco is also targeting the 110 tonne capacity sector with its new CKE1100, which will be unveiled early in 2008. Its maximum rated capacity of 110 tonnes at 3.6 m and a 15.2 to 70.1 m lattice boom fits it between the CKE900 and CKE1350 models. Other boom options include a range of fixed offset jib extensions, up to a maximum combination of 61 m main boom with 21.3 m jib, giving a maximum working radius of 55 m and maximum hook height of 72 m.
A distinguishing feature of the CKE1100 is its retractable crawlers. Tracks can be retracted and extended hydraulically from the 3.5 m wide transportation position to a maximum width of 5.3 m. Overall weight is about 99 tonnes, giving a ground bearing pressure of 92.9 kPa (less than 1 kg per square cm) due to the long and wide footprint, measuring 900 mm wide. The main counterweight (34 tonnes) is in sections of no more than 10 tonnes and can be self-installed.
"This is a highly desirable and easy to use feature on a crane where frequent travelling or on site repositioning is required," Verhulst explains.
Bottlenecks
SilSoil, based in Madrid, Spain, has taken delivery of its eigth Kobelco BME800HD crawler foundation crane, which offers options such as up-rated winches, and has another on order for 2008.
The company is working on major infrastructure projects in and around Madrid and Barcelona, including motorway bridges, subways and high-rise building foundations Liebherr increased its turnover in the crawler crane segment by 50% in the 2006 financial year. To meet the extra demand production capacity was increased at the Ehingen plant in Germany through additional working hours and more outsourcing.
The increased production capacity, however, was hampered by bottlenecks in the acquisition of raw materials, especially steel, resulting in increased delivery times across the mobile crane range. In response the company commissioned a new 18,000 square metre crawler crane assembly facility, due to open in 2009.
Manitowoc Crane Group (MCG) also broke ground, on a US$7.4 million expansion to its Port Washington facility in Wisconsin, US.
The 23,000 square foot (2,137 square metre) addition will house a new machining centre as well as a 4,000 square foot (372 square metre) painting area. Following the work, the Port Washington factory will be responsible for building the entire lower works of Manitowoc's Model 16000, among others.
Central to the plans is the installation of a new boring bar, a large metal cutting tool, which will machine crawler side frames and carbodies. (see News).
Last year Liebherr completed the development of its heavy duty LR 11350 crawler, which joins the upper end of the range. It offers a maximum load capacity of 1,350 tonnes and a maximum boom length of 228 m.
"The first practical work carried out in wind power parks has confirmed, for example, that the LR 11350 can be used to install a complete, preassembled machinery nacelle for a 5 MW wind power generator on its tower. This involves raising an overall weight of some 325 metric tonnes to a height of 20 m," a Liebherr spokesman says.
Wind and walls
In the last six months Liebherr has announced two new crawler cranes. The 600 tonne capacity lattice boom LR 1600/2 was devised with the assembly of wind turbines and plant construction in mind. Maximum load capacity is available to a 10 m radius, on a 48 m main boom and with a derrick system, giving a maximum load moment rating of 8,085 tonne-metres. The maximum reach of 180 m is obtained using 96 m of main boom and an 84 m luffing jib with derrick system.
"This system length is ideal for plant construction, enabling the crane to work over the top of tall buildings. With a derrick boom of up to 36 m in length, the maximum 350 tonne derrick ballast is adjusted from 10 to 18 m radius as a suspended ballast without a guide and under full load. This design principle has already been tried and tested on other Liebherr crawler cranes with great success," commented Wolfgang Beringer, Liebherr spokesperson.
For wind turbine assembly the crawler's SL main boom can be erected to 102 m, without a derrick system. A 108 m SL system with 12 m fixed jib is also available, giving a maximum under hook height of 117 m, again without a derrick or second crane to assist.
Transportation costs will be reduced as the 74 tonne, 3.2 m-high basic machine can be carried on a 1 m-high semi low loader. The A-frame can also be removed, reducing the basic weight by 57 tonnes. "This option is available as standard and means that the crawler centre section and slewing platform can be transported as one and a quick connection can be saved," Beringer adds.
The SL system allows the boom sections to be inserted inside one another for transport, reducing overall transport volume, while the same head section can be used for all boom systems. In addition, the boom head adapter serves as a reducing section in boom extensions.
The first machines will be delivered in the first half of 2008.
More recently, at September's Matexpo 2007 exhibition in Belgium Liebherr unveiled its HS 825 HD Litronic heavy duty crawler crane. It is the most powerful in the 40 tonne sector, according to Liebherr. It is available with a self erecting standard lattice boom up to 47 m long. (See News.)
Stout capacities
In September US-based Link-Belt introduced its 80 US ton [72.6 tonne] capacity 138 HSL lattice boom crawler crane into the US market. (See News.)
Jeff Schmidt, the company's marketing information coordinator, says the new model adds increased capacity and easier transportability to the "market-leading" 138 HYLAB 5.
"We have also introduced the 230 ton (208.6 tonne) 298 HSL crawler crane as a replacement for the many aging 230 ton crawlers now in the field. Customer reaction to this crane has been overwhelming."
Schmidt explains that "stout" capacities and easy transport were the most important features of the two models. The counterweight removal system on all of Link-Belt's HSL models removes the hydraulic cylinders and integral frame in one piece with the counterweights to reduce transport weight. Both the 298 and 138 HSL have main transport loads under 90,000 pounds (40,823 kg).
"Customers are simply looking for the most capacity in the lightest, most mobile package. The 138 HSL will find a lot of work in steel erection, bridge, and general construction applications and, of course, the 138 has long been a fixture in oil fields and the petroleum industry in general. The 298 HSL is a big hit in the tilt-wall and precast industry. It's also being used in general contracting, bridge, and industrial applications."
Concerning the future of the market, Schmidt remains cautiously confident, but hints at a gradual downturn in domestic construction.
"Currently, the market is very strong and we see this continuing for at least the next 12 to 18 months. Although there may be softening of some areas of construction due to the present credit difficulties, we expect global demand, driven by the petroleum industry, wind energy construction, etc, to remain solid."