Repurpose It adds new Terex mobile screen
By Leila Steed15 September 2021
Australian recycling company Repurpose It has invested in a new Ecotec TRS 550 mobile screen from Terex.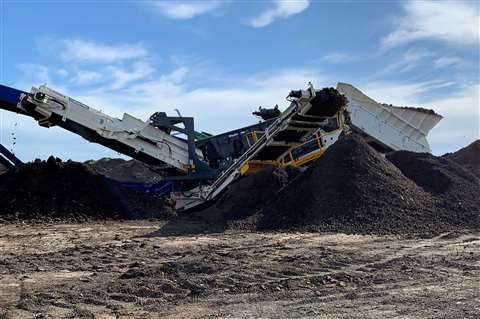 The company, which is based in Melbourne and produces soil and sand products from reclaimed contaminated construction and demolition waste, added the new screen as part of efforts to improve its operations and achieve its zero-landfill goal.
Repurpose It chose the Ecotec TRS 550 model to add to its operations.
The tracked, heavy-duty machine incorporates a steel apron feeder with 3D screening panels on the top deck.
These help to prevent blockages by ensuring that material passing through is of the correct grain size.
Terex said the screen panels stop long pieces or extraneous material from passing through to the tension shaft screen on the machine's lower deck. The flip flow mats of the machine's lower deck also means the Ecotec TRS 550 can process wet material.
According to Peter Cianciosi, site manager at Repurpose It, the new Terex screen has improved the efficiency of the company's recycled material production, allowing it to produce larger amounts of recycled sands and soils. 
Peter said: "We use a variety of raw materials that we receive from off-site, including compost and reclaimed soil.
"We get a lot of raw material that is very wet and difficult to process, but since using the TRS 550 our productivity has increased, as operators don't have to stop the process regularly to clean the screens." 
According to the site manager, the addition of the Ecotec TRS 550 is helping the company send less waste to landfill, which is increasingly becoming of key importance to Repurpose It's customers.
Peter said: "Our clients range from some of Australia's largest local government authorities and private waste operators, to our local community members seeking the opportunity to be part of the Repurpose It journey towards a zero-landfill community."
"It's therefore extremely important that we operate high-quality, robust and reliable equipment such as the TRS 550."