Riga Mainz in three-crane bridge lift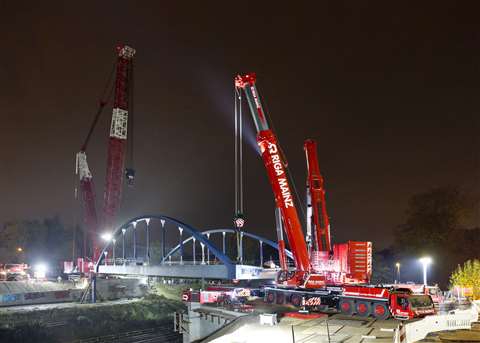 A 600 tonne crawler crane, a pair of large wheeled mobiles and some SPMT were used to lift and place a steel bridge over a railway in Germany. The 50 metre bridge weighed more than 400 tonnes.
Specialist contractor Riga Mainz completed the project in Essen in November. Track closure times meant that Riga Mainz had to stick to a strict schedule. Installation had to be done during two 3.5 hour time slots over two consecutive nights.
The initial plan was to push the bridge into position but this was dismissed because of the shape of the bridge and it spans the tracks at a sharp angle. An alternative solution was developed by Uwe Langer, Riga-Mainz managing director.
Three sets of self propelled modular transporter were used to bring the assembled bridge from its nearby construction site. On the SPMT the structure was 15 metres above the railway tracks.
On the opposite side to the bridge a 600 tonne capacity Liebherr LR 1600/2 crawler crane took around 190 tonnes of the bridge's weight, lifting at a radius of 42 m. it was rigged with derrick boom, ballast trailer and counterweight totalling 565 tonnes. The remaining 230 tonnes was carried by an SPMT module positioned at an angle under the other end of the bridge. The bridge was moved diagonally before being hoisted most of the way over the track and placed on two temporary pillars standing on the same side as the crawler crane.
For the second night of the project the team from Riga Mainz had assembled the two large wheeled mobile cranes. One was a 500 tonne capacity LTM 1500-8.1 and the other the company's newest addition, a 450 tonne capacity LTM 1450-8.1, on one of its first jobs.
The LTM 1450-8.1 carried around 110 tonnes, about the same as the LTM 1500-8.1 but at a slightly smaller radius. Crane driver Fred Wunsch was pleased with his new crane, commenting that it was, "Very easy to operate – just brilliant." In total an impressive 530 tonnes were supported by the three crane hooks when the bridge was hoisted off the SPMT module and the temporary supports and finally moved six metres and positioned on the abutments.
Uwe Langer commented on his new crane, "The crane has the longest boom in its class at 85 metres, more than outstanding lifting capacity values and a transport weight which is absolutely perfect. But it gets very close to the performance of the LTM 1500-8.1, so it also delivers excellent value for money."