Sany America debuts two crawler cranes
By Christian Shelton17 March 2020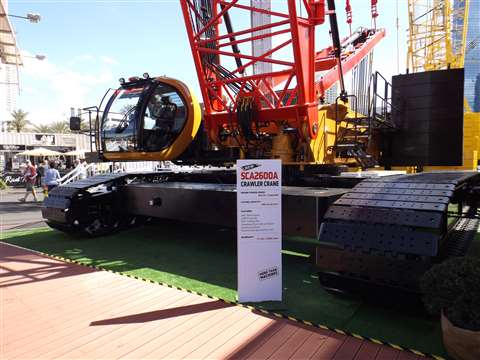 Georgia, USA-headquartered construction equipment manufacturer Sany America unveiled two new lattice boom crawler cranes for the North American market at the ConExpo trade show in Las Vegas, USA earlier in March. The models originate from the Sany Group's existing crawler portfolio but, according to the manufacturer, have been "specifically refined for the North American market".
They are the SCA1000A and the SCA2600A. Sany said they are specifically suitable for road and bridge construction, oil and gas projects, and other large commercial jobs. Larger of the two is the SCA2600, which liftS 286 US tons (260 tonnes) at 16.4 feet (5 metres) radius. Maximum main boom is 302 feet (92 metres) and there are 138 foot (42 metre) fixed jib and 207 foot (63 metre) luffing jib options. The engine delivers 450 hp at 1,800 min-1.
The smaller capacity machine, the SCA1000A (below), has a lifting capacity of 110 tons (100 tonnes) at a radius of 12.5 feet (3.81 metres).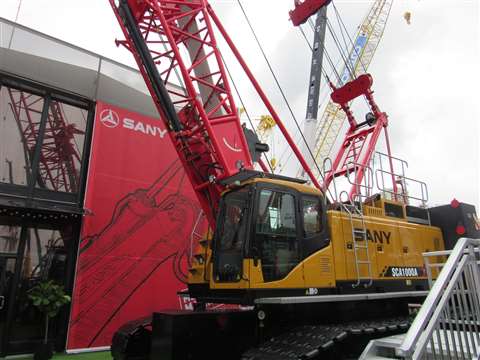 The new models come with all options and attachments included in the base price as standard, according to Mark Thurston, director of crane sales at Sany America. "The cranes are designed with best-in-class components from Cummins, Kawasaki, Rexroth and Zollern," said Thurston. "High-quality components coupled with enhanced designs ensure high levels of uptime and efficiency, which is critical to operators on the ground. We're confident in our machines."
Sany Cranes come with a three-year, 3,000-hour standard warranty.
The company said even larger tonnage crawler cranes will be available in North American later in 2020. In addition, a new line of rough terrain cranes is scheduled for release in 2021.