Steel plant gantry lift
By Christian Shelton08 July 2019
A steel plant in China used a model L1001-4-34 Lift-N-Lock gantry from J&R Engineering Co. to upright two new rolling mill stands which weighed 396 tonnes (406 tons) each.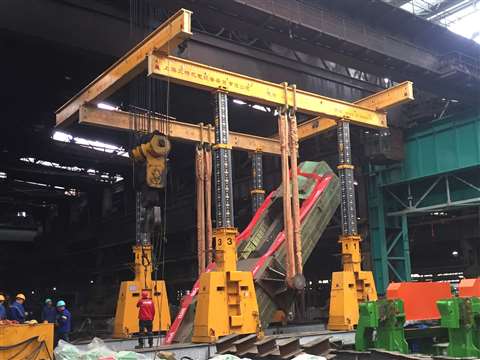 A rotating frame was attached just above the mill stand's centre of gravity
A 22 tonne (24 ton) rotating frame with trunnions was designed and manufactured to be attached just above the center of gravity of the mill stand for the up-righting process.According to J&R Engineering Co., this allowed the lifting slings to render on the trunnions during the up-righting. A 280 tonne (308 ton) overhead crane was also utilised to assist in tailing the mill and to control any unwanted movement of the mill stand as it was being up-righted. The total combined weight lifted (including the mill stand, rotating frame and four header beams) was 430 tonnes (474 tons).