Sustainability at heart of Icelandic masterplan
By Mike Hayes24 December 2021
KCAP proposal wins competition to develop huge parcel of land around country's Keflavik airport
An international team has been selected to create a long-term strategic masterplan for the development of Iceland's Keflavik International Airport and the surrounding area.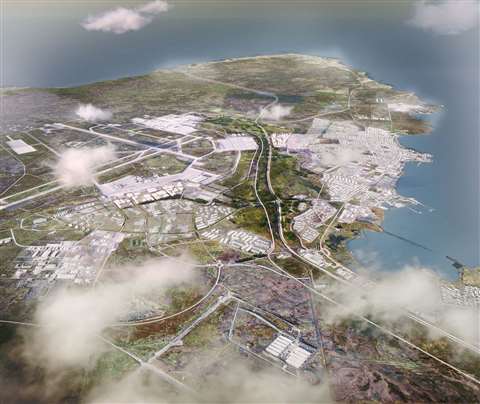 The proposal was selected by Kadeco, the organisation leading the development of the area on behalf of the Icelandic state, airport operator Isavia and the municipalities of Reykjanesbær and Suðurnesjabær.
The plan, put forward by a team led by international design firm KCAP, covers the development of some 55km2 of land, and has identified three 'catalyst sites' that will promote new industries, such as green hydrogen, electric aviation and marine aquaculture.
KCAP's plan was backed by companies including WSP, Felixx, MIC Mobility in Chain, VSO Consulting, Buck Consultants International and Buro Happold.
With sustainability at the heart of KCAP's masterplan proposal, Kadeco also highlighted the group's ambitious landscape strategy, with a huge reforestation strategy to both aid the country's climate mitigation plans and attract tourism.
The airport itself will be expanded to allow for up to 14 million passengers a year by 2040, with Iceland looking to establish itself as a major North Atlantic hub, strategically positioned between Europe and North America.
The KCAP group, which beat competition from five other international teams in the final round, led by Arup, Jacobs, OMA and Aecom, will now move to the creation of a detailed masterplan for the area.
Anouk Kuitenbrouwer, managing partner of KCAP, said, "The success of the masterplan will depend on collaboration between the public and private stakeholders," she said. "At the same time, a project of such significance requires a design approach that is both bold yet sensitive.
"Strategically located complementary areas can be developed step-by-step, while the open landscape of the Airport Corridor will be safeguarded through innovative landscape measures. We look forward to a lasting partnership with Kadeco. Our entire team is extremely excited to take on this challenge!"