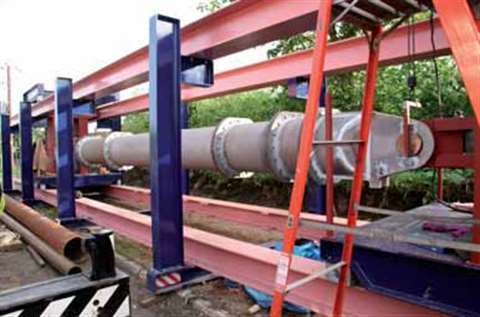 Modulift modular crane spreaders have been on the market for four years. In that time many of the world's key construction and lifting firms have used them to help ensure safe and cost effective lifting of loads of all sizes. In a bid to ensure that Modulift continues to accommodate the demands of the heavy lifting industry, Modulift Design and Consulting has upgraded its test rig to one of the largest compression test rigs in the world.
The new 30 m rig allows the company to design and manufacture larger spreaders with greater load capacities. Individual spreaders with a maximum span of 25 m can be accommodated, in capacities between 6 and 3,000 tonnes. To do this, the rig also provides an axial compression of up to 1,200 tonnes.
Testing is not restricted to Modulift spreaders as modified adapters allow the rig to accommodate other existing or new spreaders.
Nick Latham, Modulift Design & Consulting director, explains, "Modulift has gained international recognition within heavy lifting industries for its inherent versatility and its ability to lift complex loads by providing a vast number of spreader beam configurations suitable for all kinds of lifting projects. With the introduction of the new test rig we can offer both dealers and retail customers a faster, more efficient service as well as greater lifting capabilities. To meet existing customer requirements the test rig has also been designed to allow our original rig to fit inside and across it, effectively providing a bi-directional test facility enabling us to offer and test four way crossover spreader arrangements."
International operations
Operational since June 2007, the test rig has tested eight spreaders. The first and largest capacity spreader was a 1,250 tonner for Al Jaber Heavy Lift & Transport LLC, headquartered in the Middle East. The 9 m Modulift 700 is part of the super heavy range and was designed to work in conjunction with Al Jaber's 1,250 tonne capacity Terex Demag CC 8800-1 crawler crane, enabling it to work to its maximum capacity. It is being used during phase three of an onshore gas development project in Abu Dhabi.
Alexander Mullins, Al Jaber Heavy Lift and Transport general manager, explains, "The benefit of Modulift's flexibility sets the system apart from standard, fixed length spreaders. We have been using Modulift 600s and Modulift 250s for various lifting projects over the past couple of years but needed a larger capacity spreader with exacting lift measurements to work with our Terex Demag CC 8800-1 crane, the Modulift 700 meets our requirements and has already successfully undertaken many lifts since its arrival on site."
The Modulift range of load spreaders comprises 16 systems, covering lifting capacities between two and 3,000 tonnes and lengths from 200 mm to 53 m. Modulift has sales and rental customers in the construction, maritime, offshore, oil & gas, industrial and aerospace industries. All use the modular system to lift various loads without the need to buy or rent new spreader beams for every different job.