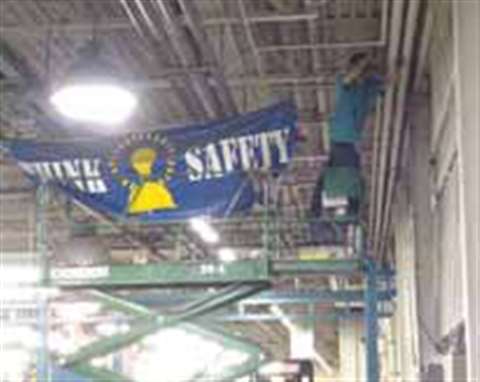 The last 18 months has seen the access industry start to build a genuine consensus on the use of harnesses with aerial platforms. Simply put, this means always wearing a harness with boom type platforms and not wearing a harness in a scissor lift.
Much of the credit for this progress has to be given to IPAF, whose now worldwide Clunk Click campaign has driven home the message of the importance of wearing a harness in boom–type platforms. It is only fair, too, to give credit to the UK rental companies whose response to a number of boom accidents is what originally prompted IPAF's campaign.
The consensus, however, is so far restricted to the wearing of harnesses in boom lifts, where there is universal acknowledgement of the need to protect operators from the catapult effect in booms.
With scissor lifts, however, any idea that there is complete agreement on the issue should quickly be banished from your mind. In fact, there is currently a major debate on the topic in the US, which – to remind you – is the world's biggest access market and home to the industry's two largest manufacturers. The issue is polarized to the extent that these two manufacturers, Genie and JLG, hold quite different views.
This is worth talking about, because although the case against wearing harnesses in scissors seem to have won through in Europe, the debate continues in the US. And as long as the US can't agree, there is no guarantee that a simple safety message will be communicated to the rest of the world.
The debate in the US has been carried out in many forums for many years, but particularly so recently in the pages of American Lift & Handlers (ALH), Access International's sister publication in North America.
As ALH has reported, North American manufacturers do not agree on whether scissor lift operators should wear harnesses. Some, like Skyjack, Snorkel, MEC, Custom Equipment and Genie Industries, take the view that the guardrails offer sufficient protection.
Typical of the comments is this from Skyjack's director of product safety, Brad Bohler; "Ultimately, our position is defined by what the standards state and on scissor lifts there is no requirement to wear a harness, as the guardrail is the primary fall protection system."
Genie Industries says harnesses are not required in addition to the scissor's guardrails. Luke Webber, Genie's product manager, told ALH that where an employer or local authority required the use of a harness on a scissor, then only dedicated harness anchor points should be used, and never the guardrails.
Custom Equipment takes the same view that the guardrails provide the necessary protection. "With my product I recommend not having safety harnesses on," says Steve Kissinger, president and CEO of Custom. "I think they restrict you. With a fully enclosed cage, I feel the operators are safe."
JLG Industries, however, take a different view. It requires the use of a full body harness and lanyard at all times, including for scissors, and without exception. And it is not only JLG that takes this view. Sunbelt Rentals, one of the largest rental companies in North America also supports the wearing of harnesses in scissors.
Jeff Stachowiak, Sunbelt's national safety director – and a prominent figure in access standards and safety in the US – says it is company policy to wear a harness and lanyard with a scissor. "We require all Sunbelt team members to use a full body harness and shock absorbing lanyard attached to the manufacturer anchorage point at all times when operating an aerial work platform, including scissor lifts and push–around personnel lifts."
He says Sunbelt as a company feels that hooking to the anchorage point and the use of personal fall protection outweighs other hazards related to the harness and lanyard.
Differing advice
The difference in opinion is reflected in the advice given by IPAF and its US training subsidiary, AWPT. Outside North America, IPAF states unequivocally that scissor operators do not need to wear harnesses, while AWPT's advice, although similar, adds the proviso that operators should follow the platform manufacturer's recommendations.
AWPT's stance is clearly against wearing harnesses in scissors. The organisation's membership development director, Tony Groat, says; "I will begin with the position that the use of harness and lanyards began to mitigate the risk on boom type lifts from the risk of catapult effect on operators. This risk does not exist with scissor lifts."
Mr Groat points to some safety issues regarding the use of harnesses in a scissor; "The size of a platform for a scissor lift can be exceptionally larger than that of a boom type lift. If you have a large platform, normally a higher capacity, there are two or more individuals operating off this platform and they have on these long lanyards that are crossing one another. [This presents] a tripping or tangling hazard or they become restricted and cannot move. Otherwise they will have a short lanyard that will restrict movement and the use of the platform."
Another example he cites is if a worker is tied off and the lift has a relatively narrow platform with a horizontal side load that is very low (some machines can go as low as 45 kg capacity) and if he reaches over the guardrail too far, his own weight could tip the machine over. And because that operator is tied off, he could literally go out of the lift and have the machine fall on top of him.
Other arguments against wearing a harness include that it provides a false sense of security, especially for untrained users; it inhibits the mobility of occupants; and that this lack of mobility can restrict the operator's view of what's happening on the ground when driving.
The real world
The debate prompted one experienced US training professional, Robert Vetter of the IVES Training Group, to write in support of wearing harnesses. He wrote that "scissor lifts operate in the real world where there are bumps, potholes, grades, moving vehicles, and other obstructions. Any of which may cause the unit to lurch, move abruptly or tip over. In many instances where this has occurred, the guardrails were rendered useless as the occupant(s) sailed over them."
He says operators need to be protected from making bad decisions; "a supplemental fall protection system to augment the primary guardrail system ostensibly protects us from ourselves. This type of pro back–up system thinking has become evident in technology as close to us as automobiles fitted with brakes that engage automatically under certain conditions ...These types of automatic override/backup systems are what I think of a harness as being, in a metaphorical sort of way. They will (arguably) allow you to operate the unit as you please but will prevent you from falling if you should do something wrong."
Mr Vetter concluded that, if an accident risk is real, then a supplemental protection device is the best way forward; "I have heard most all of the arguments against the use of harnesses on scissors and actually agree with some of them. However, I do feel that supplemental fall protection for scissor lift occupants is warranted and at the moment, a personal fall restraint system (harness and lanyard) seems to be the best way to get it done. Ultimately, I firmly believe that harnesses will save more lives than not."
Skyjack's Brad Bohler (writing in the Sept–Oct issue of ALH) chose to respond directly to Robert Vetter's views. He disputed that many workers were falling out of scissor lifts; "as the director of product safety for a company that has specialized in the manufacture of scissor lifts for more than 20 years, I would expect to have received many reports of accidents resulting in death or serious injury to operators as the consequence of falls from the platforms of scissor lifts."
He reviewed the data on accidents and concluded that "very few people have actually fallen from height while appropriately operating or using a scissor lift and, furthermore, that the vast majority of the 'falls' that I am aware of have been the result of occupants deliberately and inappropriately leaving the confines of the work platform, standing on the guardrails or utilising some other means to attain additional elevation while within the boundaries of the platform."
Mr Boehler believes that most 'falls' from scissor lifts are actually misreported tip overs, and writes; "The outcome of being strapped into a falling scissor lift is an unknown, but it is nearly certain that the occupants will be injured regardless of their fall protection choice. Properly trained operators know how to keep their lifts upright by avoiding 'bumps, potholes, grades, moving vehicles and other obstructions,' as well as a variety of other hazardous conditions, and this is where we, as an industry, should concentrate our efforts, rather than endlessly debating the scissor lift fall protection issue."
He thinks that the industry should instead focus on what he believes are the real problems, scissor tip overs and incidents where operators are pinned to an object by the scissor platform. "As an industry, we have a moral duty to concentrate our efforts on the elimination of [these] avoidable hazards, which for the most part can be accomplished with proper operator training."
It is a viewpoint that is likely to find favour with many users and manufacturers. However, you can't help but feel that it would be a good idea to agree on harnesses, even as the industry moves on to what Mr Bohler thinks should be the main priorities.