Time elevates in Copenhagen
By Euan Youdale12 February 2015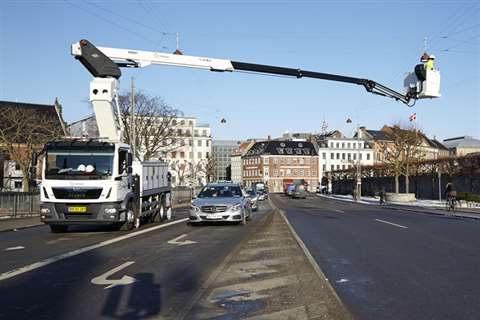 Citelum has taken delivery of a unique Versalift vehicle mount from Time Danmark to help replace and service thousands of street lights in Copenhagen.
The more environmentally friendly LED fixtures are expected to cut energy expenditure by more than half, greatly reducing the operating costs for the municipality.
The Versalift VT-66-LFE, mounted on a 15.5 tonne MAN truck, is from the Versalift HD (heavy duty) range which features strong booms fabricated from high strength steel.
It is tailored to the requests of Citelum, including an elevator capable of raising the turret of the AWP up to 3 m bringing the total working height up from 22 to 25 m. A significant feature of the elevator is its ability to reach 6 m up and over traffic or obstacles, inaccessible to traditional AWPs as their straight boom movements would ultimately obstruct traffic, said the company.
The elevator has been produced by parent company Time Manufacturing since 2008, but the Citelum project marks the first time it has crossed the Atlantic into the European market.
Capable of running on a noise reduced electrical engine powered by a battery pack, it is a hybrid suitable for the strict environmental requirements imposed on vehicles working in the inner city of Copenhagen.
It is fitted with an electro-hydraulic control system with automatic functions including automatic packing. The Time Smartbox tool boxes on both sides of the chassis are foam covered with fiberglass for durability and condensation resistance.
"The ground clearance of 6 m combined with the impressive outreach of 17 m allows the AWP to reach otherwise inaccessible worksites located behind obstacles, on flat rooftops or on the other side of the road," said a company spokesperson.
"But routine tasks like replacing an entire series of streetlights on a straight road is also efficient due to its ability to work in a limited area without outriggers and the option to drive the vehicle with the cage still elevated."