TopLift 2020: against the odds
By Christian Shelton16 November 2020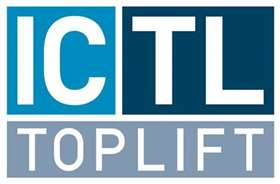 Our annual TopLift competition gives you the opportunity to vote on your favourite lift from our selection of ten impressive lifts featured in the magazine over the last year. To determine the winner, simply pick your preferred lift from our selection of 10 outstanding projects by either simply clicking your choice on the embedded form at the botton of the page or completing and returning the editable form which can be downloaded here.
Entry 1
Refinery record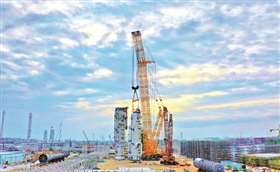 Equipment user: Gulei refinery
Equipment used: XGC88000 double lattice boom crawler crane
Location: Zhangzhou, Fujian Province, China
A 2,000 tonne, 102 metre refinery vessel on the Gulei refining and chemical integration project was erected in May 2020 using a 4,000 tonne capacity XGC88000 double lattice boom crawler crane from Chinese manufacturer XCMG.
In the final part of the assembly, the XGC88000 was used to hoist the upper section of the wash tower of what is claimed as the world's largest EO / EG (ethylene oxide and ethylene glycol) production vessel. The two-section tower has a diameter of 9 metres.
Entry 2
Overcoming adversity
Equipment user: Fagioli
Equipment used: SPMT, crawler cranes with capacity up to 600 tonnes, strand jacking system
Location: Genoa, Italy
Italian heavy lift and transport specialist Fagioli installed the final section of the new Genoa road bridge using self propelled modular transporter (SPMT) for the transport to site and crawler cranes with capacity up to 600 tonnes and a strand jacking system were used for the bridge installation. The three main sections, with spans of 100 metres, weighed up to 2,000 tonnes each.
Entry 3
Towering triumph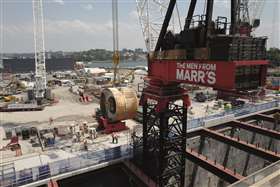 Equipment user: Marr Contracting
Equipment used: Favco M2480D luffing jib tower crane
Location: Sydney, Australia
Marr Contracting claimed as the world's heaviest tower crane lift during the boring of a new subway tunnel in Australia. It used its 330 tonne capacity Favco M2480D luffing jib tower crane to lift a 225 tonne section of a tunnel boring machine. The M2480D was rigged with a 55 metre boom and a six fall 330 tonne hook block. The crane was operated from inside a station box measuring 4 x 4 metres, located next to the TBM's retrieval point.
Entry 4
Power boost
Equipment user: Tiong Woon
Equipment used: Demag CC 8800-1 lattice boom crawler crane with Boom Booster kit / Demag CC 2800-1 lattice boom crawler
Location: Jurong Island, Singapore
To lift a 100 metre, 510 tonne C3 splitter column a 1,600 tonne capacity Demag CC 8800-1 lattice boom crawler crane was used with a Boom Booster kit. A 600 tonne capacity Demag CC 2800-1 was used for tailing. At first the load was shared between the two cranes until the column was manoeuvred into a position where the CC 8800-1 could take the entire load.
Entry 5
A perfect fit
Equipment user: Strabag
Equipment used: Palfinger PCC57.002
Location: Eugendorf, Austria
The modular Palfinger crawler crane allowed it to be separated from its crawler chassis and then the outriggers were used to 'walk' it through a small entrance (2.2 x 2.2 metres). The crane was followed by the crawler chassis connected via hydraulic lines. It lifted two 5 tonne escalators at a height of 12 metres and a reach of 7 metres.
Entry 6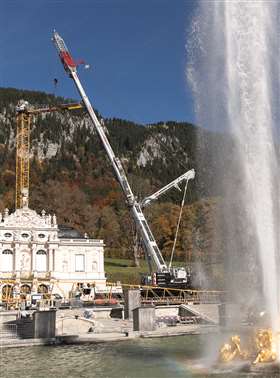 Fit for a king
Equipment user: BKL Baukran Logistik
Equipment used:Liebherr 90 EC-B flat top tower crane and a Liebherr 32 TTR fast erecting tower crane on crawler track undercarriage
Location: Linderhof Palace, Bavarian Alps, Germany
Lifts don't need to be big to be beautiful. Site conditions resulted in an LTM 1350-6.1 and a Liebherr 32 TTR fast erecting tower crane being located on opposite sides of the Linderhof Palace to lift elements of the Palace's façade and waterfall, which weighed up to 3 tonnes.
Entry 7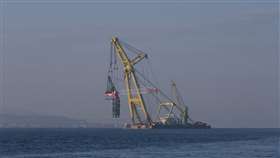 Crane lifts cranes complete
Equipment user: Boskalis
Equipment used: Taklift 4 floating heavy lift barge crane
Location: 1915 Çanakkale Bridge project, offshore Turkey
Dutch dredging and heavylift company Boskalis's Taklift 4 floating heavy lift crane transported two fully assembled Favelle Favco M2480D tower cranes, one at a time, each weighing 600 tonnes and lifted them into position. The 330 tonne capacity cranes are owned by specialist Marr Contracting from Australia who said this was the first time cranes of this size had been lifted into place in one piece.
Entry 8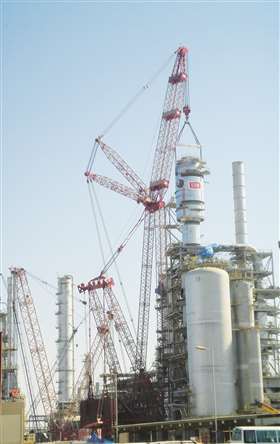 Positive reaction
Equipment user: Mammoet
Equipment used: 1,600 tonne capacity PTC-35 ring crane
Location: Sohar Refinery, Oman
Mammoet used a 1,600 tonne capacity PTC-35 heavy lift ring crane to remove the original reactor at the oil plant, owned by Oman Oil Refineries and Petroleum Industries Company (ORPIC). It was then used to install a new 740 tonne reactor measuring 37 metres long in its place. Lifts were carried out within a lifting height of 99 metres with small clearances of just 500 millimetres.
Entry 9
Sleipnir sets a record
Equipment user: Heerema
Equipment used: Sleipnir crane vessel
Location: Noble Energy Leviathan gas field, Mediterranean Sea off Israel
Dutch marine contractor Heerema claimed a lift of 15,300 tonnes while installing a topsides module as a new world record lift by a crane vessel. In total two lifts were conducted in under 20 hours with a total weight of 24,500 tonnes being lifted. Sleipnir is a semi-submersible super heavy lift crane vessel with a capacity of 20,000 tonnes on two revolving cranes.
Entry 10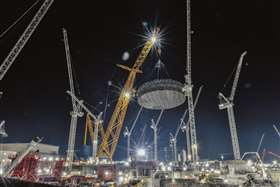 On point at Hinkley
Equipment user: Sarens
Equipment used: SGC-250 super heavy lift ring crane
Location: Hinkley Point C, Somerset, UK
Big Carl, the 5,000 tonne capacity super heavy lift ring crane owned by heavy lift and transport company Sarens, dominated the skyline when we reported from the nuclear power station jobsite at Hinkley Point C in the UK. This is the crane's first job and rigging it took ten weeks. It is scheduled to be there for four years and it will lift more than 600 prefabricated components, including the dome over the reactor. The heaviest load will weigh 1,600 tonnes.
Supporting documents
Click links below to download and view individual files.