Toronto expressway restoration
By Christian Shelton11 August 2020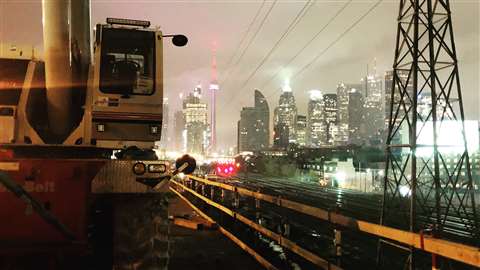 Canadian construction company Aecon is currently working on a $248 million project for the City of Toronto. The contractor is working on the first phase of the F.G. Gardiner Expressway Rehabilitation Project. The F.G. Gardiner Expressway is an 18 km east-west expressway running alongside Lake Ontario.
The job involves the complete replacement of steel girders and concrete for existing on-ramps and the installation of road decking. Aecon is utilising bridge building techniques (like pre-fabrication) to accelerate construction and lessen noise and environmental impact. Poured-in-place deck panels are being built on-site in quality- and climate-controlled canopies. Approximately 400 sections of deck panel will be constructed and lifted into place.
Deck pannels are being constructed on site in quality- and climate-controlled canopies
In order to remove the existing steel and concrete expressway deck sections and replace with new fabricated deck panels Aecon is using two of its 145 tonne Link-Belt RTC-80160 Series II rough terrain cranes which lift the new panels into position in tandem. The new concrete deck panels being lifted weigh between 45 to 100 tonnes and span 20 to 42 metres.
Aecon says reasons why it selected the Link-Belt RTC-80160s for the work include their agility, manoeuvrability and ability to turn under a small footprint. Their easy setup, compact yet sturdy nature and good sight lines, particularly for early morning and overnight work were also cited by Aecon. This is important as Aecon is working on the project on a 24/7 basis to reduce the length of construction. In roughly 8 months, the contractor has logged 1,200 hours on both RTC-80160 Series II. The project is expected for completion in 2021.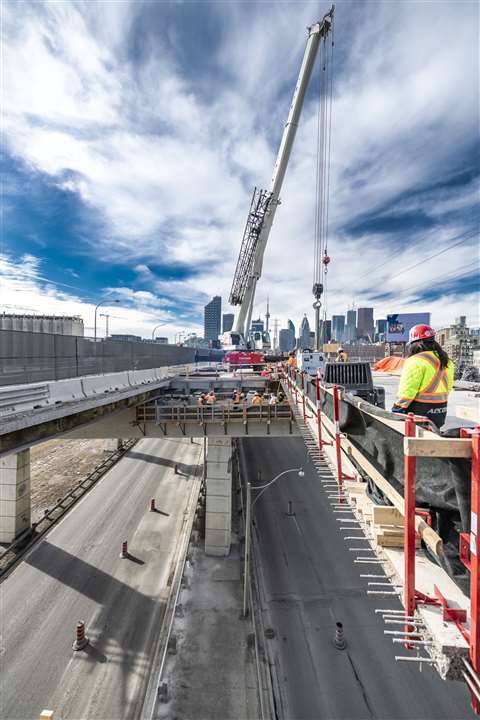 The total cost of the project is $248 million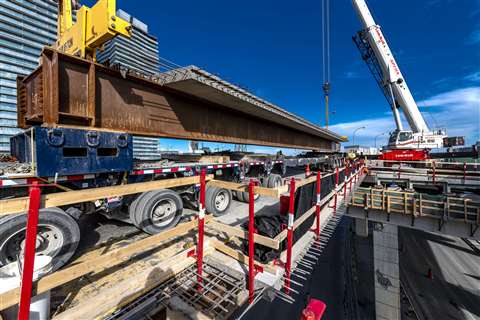 Their agility, manoeuvrability and ability to turn under a small footprint were some of the reasons Aecon gave for using the Link-Belt RTC-80160s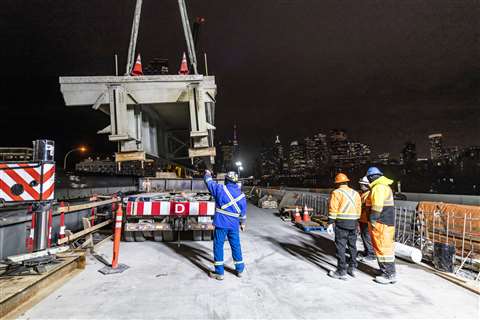 Existing steel and concrete expressway deck sections are being removed and replace with new fabricated deck panels