Trending upward
By Lindsey Anderson01 May 2018
With a healthy market propelling sales and ANSI/CSA Standards requiring updated or new equipment, the telescopic boom industry is, well, booming.

Manufacturers are reporting robust market conditions for telescopic booms in North America, with a high proportion of the demand coming from the rental industry, driven by positive activity in the non-residential and residential construction sectors.
"In most of the world, the telescopic boom market in general has remained flat over the past few years, however in North America there was significant growth in 2017," says Corey Connolly, product manager for Skyjack. "We expect the 2018 market to keep pace with 2017's numbers. The U.S. economic outlook is healthy based on a number of key indicators so the market is not expected to change much over the next 12 months."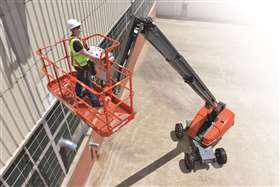 Haulotte sees the market as blossoming, too. Maxime Girard, marketing product manager for Haulotte Americas, says 2017 was a growth year for telescopic booms. "The telescopic segment is one of the most important segments, almost every size class is increasing today, except the big booms which are experiencing a slow-down," Girard says. "The market has been at a very high level for years now, but the economic outlook is still very positive and we can expect that it will remain more or less the same in 2018."
Genie is a bit more conservative with its stance on the industry.
"The market for telescopic booms is in flux because we are still anticipating the changes required by the new ANSI and CSA standards to be approved and to go into effect; however, the pressure for improved rental return on invested capital (rROIC) continues to increase," says Sean Larin, Genie product manager, Terex AWP. "Each manufacturer is likely to approach this in a slightly different way. Genie believes the key to being successful in 2018 will be satisfying both requirements — meeting the compliance demands of the new standards, while improving the value that our products deliver to our customers."
In response to the pending changes, Genie introduced a new generation of Xtra Capacity (XC) telescopic booms — Genie S-60/65 XC, S-80/85 XC, SX-105/125 XC and SX-135 XC modes — which are all compliant with the new standards in North America, as well as European EN280 and Australian AS 1418.10 standards, the company says.
Across the Genie XC family of booms, operators can expect a dual lift capacity — 660 pounds (300 kg) unrestricted range/1,000 pounds (454 kg) restricted range with up to three occupants in the platform to maximize productivity.
Larin says boom operators and the rental businesses that serve them have an increasing need to get more work done, quicker than ever.
"With higher capacity machines, more operators and more tools can be in the air, finishing tasks with less need for frequent trips to the ground to gather more supplies," Larin says. "With smarter machines, rental businesses can get ahead of service issues, and solve them more quickly when they arise, resulting in more up-time and a better performing business."
Genie says it focused on the needs of these two groups in developing the Genie XC boom lifts, which includes a next generation CAN-based control system.
"The next generation CAN-based control system is smarter, simpler and more straightforward to use for both operators and service technicians," Larin says. "The new system now features a clear display of gauges on the display controller, new full error code readouts with text and an in-depth service mode that makes machine updates and modifications a quicker process with no need for a laptop. These changes keep Genie booms out on jobsites, getting more done every day."
Updated products
Girard with Haulotte says the new CSA and ANSI standards were a springboard for the company's launch of its new HT80/85 range.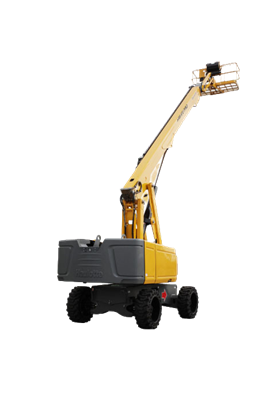 "Haulotte has always been a pioneer when it comes to safety," Girard says. "We were first to introduce a load-sensing system to the marketplace in the late '80s which is one of the big design changes for MEWPs that is part of the new regulations in North America. That's why we chose to launch our new HT80/85 range already compliant with new CSA/ANSI standards. All new machines will follow the same pattern."
The company recently launched the new HT80 RT O and HT85 RTJ O & PRO. The units are a part of Haulotte's brand new telescopic generation, "providing impressive performance and integrating all the continuous quality improvements and innovative features that we have developed to better serve both rental companies and final users," Girard says.
The new range comes standard with the Haulotte Activ'Screen, an on-board system that allows diagnosis and troubleshooting of the machine. The machines also come standard with the Haulotte Stop Emission System, which reduces engine runtime by 20 percent by shutting it down after 90 seconds of inactivity.
"It is an eco-friendly innovation that also decreases the total cost of ownership," Girard says.
As Europe and North America continue to be the major markets for telescopic booms, within those two areas the 40-foot and 60-foot machines continue to be the most popular classes for Skyjack.
"With the 60-foot class in particular, the demand continues to stay steady because of the versatility they offer," says Connolly. "The lower classes can encompass a variety of applications and subsequently a variety of end users renting them. Obviously a 60-foot machine can do pretty well everything a 40-foot machine can but not vice versa.
"Due to the overall machine size not being much bigger, from a both transportation and jobsite navigation perspective it makes sense that we see a higher demand for 60-foot machines. From a rate perspective a 40-foot machine doing a 40-foot job is more desirable but, if utilization is high, a 60-foot machine can still provide coverage."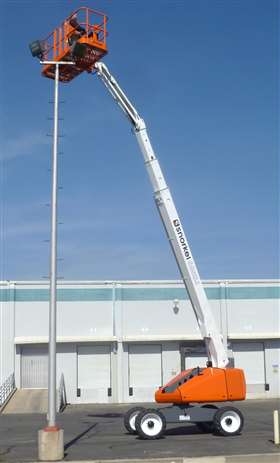 Snorkel will add to this range in 2018; the company will launch its 400S and 460SJ telescopic boom lifts. The Snorkel 400S delivers a working height of up to 46 feet and an outreach of 35 feet. It offers a working height of 52 feet and outreach of up to 42 feet. The 460SJ features a 6-foot, 6-inch jib boom for additional flexibility. Both models are part of the new family of mid-size telescopic boom lifts that Snorkel introduced in 2017.
In late 2017, Snorkel released the 600S and 660SJ telescopic booms into full U.S. production. The Snorkel 600S provides a maximum working height of 66 feet, and is also available as the 660SJ with a 6-foot, 6-inch jib boom added for additional flexibility. All four models feature Snorkel's 8 foot by 3 foot tri-entry platform.

Elvin says most boom categories are experiencing strong levels of demand, but the highest volumes for Snorkel are the mid-sized booms in the 40-foot and 66-foot sectors. The company is also seeing an increase in requests for higher-capacity lifts."Snorkel boom lifts have long set the gold standard for durability, performance and low cost of ownership," says Matthew Elvin, chief executive officer of Snorkel. "The new mid-size models bring that philosophy up to date in an all-new design that delivers additional features to the owner and operator, such as all proportional boom controls, higher lift capacities and on-board diagnostics."
"As demonstrated by our latest line of mid-size telescopic boom lifts, we are already designing our new lines with higher than industry standard capacities," Elvin says. "The new Snorkel 660SJ, for example, has a lift capacity of 600 pounds. We anticipate that this trend will continue, and as such we are giving greater focus within our research and development process as to how we increase capacity without increasing dimensions and/or weight."
MEC Aerial Work Platforms is also noticing a focus on higher capacity booms, but says the market demand does not yet seem clear. "It would be interesting to understand the true customer demand prioritization and value of this additional cost feature," Gary Crook, vice president of engineering with MEC, says. "MEC offers a high capacity option on our 60-J boom but the market response has been luke-warm."
MEC has plans to expand its telescopic range in the future, it says, due to market optimism that has been occurring for 12 months.
"A trend we saw in 2017 and continuing in 2018 is a focus on consistency in fleet configurations nationally," Crook says. "Machine specifications seemed to have a more singular configuration with weld ready generators instead of standard AC generators as well as cold packages regardless of original machine destination. This standardization allows for better movement of product throughout the fleet."
This year brings another production model to the horizon. JLG's 600S/660SJ is a new model that replaced the previous version which had been in production with only model year upgrades since its launch at The Rental Show in 1996.
"The new version features higher platform capacities, faster function speeds, better multi-function capability, speed dependent engine RPMs for less fuel consumption and less engine noise and wear," says Bill Dovey, senior product manager, aerial work platforms, JLG Industries, Inc. "It is also ready to comply with the new ANSI standards when required."
Dovey says the upcoming ANSI standards required JLG to take a look at our booms from the ground up, so it was a perfect time to design the new 600S.
"Customers also told us the importance of maintaining a low GVW so that we could continue to ship two units on one flatbed trailer," Dovey says. "Customers also desire increased productivity, hence the faster function speeds and multi-function capability. We also maintain operator comfort and confidence with features like end-of-cylinder stroke dampening so operators can fully elevate without worrying about a sudden stop at the top."
JLG expects 2018 to remain strong for telescopic boom sales, and, like other OEMs, Dovey says the 60-foot class of booms "leads the way."