US sees dramatic increase in supply chain challenges
By Andy Brown and Jenny Lescohier15 October 2021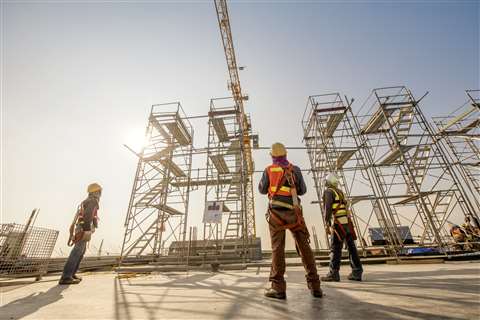 A survey of contractors, engineers and owners shows 92% of civil contractors have had projects impacted by fluctuating materials prices this year.
The latest issue of the Civil Quarterly (TCQ) from Dodge Data & Analytics reveals a dramatic increase in supply chain challenges faced by civil contractors. However, contractors remain optimistic about the state of their industry in the near future despite adversity.
The report, based on a quarterly survey of civil contractors, engineers and owners, shows that 92% of civil contractors (92%) have had projects impacted by fluctuations in the cost of construction materials in 2021.
The latest report also found that 89% expressed concerns about cost increases for materials over the next six months, including prices for steel, piping, paving materials, lumber and aggregates.
Echoing those survey results is a report from Associated Builders and Contractors (ABC) from its own survey which noted the ABC Construction Backlog Indicator fell slightly to 7.6 months in September. The reading is down just 0.1 months from August 2021, and is up 0.1 months from September 2020.
"Nonresidential construction backlog declined for a second consecutive month as skills and input shortages hammer the industry," said ABC chief economist Anirban Basu. "A growing number of contractors are indicating shortages of materials such as copper and PVC pipes.
"Input prices also continue to increase as global supply chain disruptions persist," said Basu. "Rising shipping and trucking costs are further exacerbating the situation by placing additional upward pressure on input prices. Working in conjunction with skills shortages and attendant higher wages, rising input prices are resulting in lofty bids, inducing certain project owners to delay work and even cancel projects altogether in some instances."
Despite these concerns, the Dodge survey said over half (53%) of respondents expect to see increases in revenue and nearly two thirds (63%) expect to see their profit margins hold steady or grow in the next year. This is likely due to the fact that 71% are highly optimistic about the volume of work they expect in the next year.
"The good news is that demand for construction services remains elevated," said Basu. "Many projects, whether those in health care, public education or data management, must move forward, and the data indicate that this is disproportionately benefiting larger contractors."
Basu also noted that, "Despite all the challenges facing the nonresidential construction industry, contractors collectively expect sales, staffing and profit margins to expand over the next six months, though the level of confidence has been diminished in recent month."