Utilities: High demand
By Katherine Weir25 March 2020
Katherine Weir looks at new construction equipment in the busy utilities sector, as well as the technologies used to make the job easier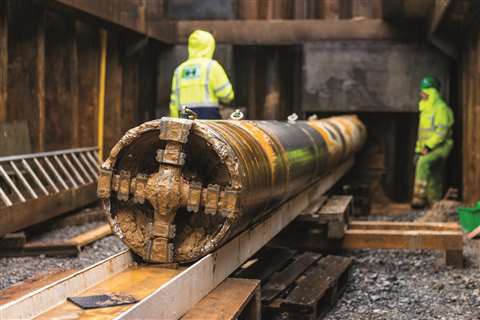 The installation of utilities – power cables, water pipes, sewers or fibre optics – needs to be quieter and less pollutive than ever, especially in low emission urban environments. Regulations, such as emissions restrictions, are driving change to more efficient machines with huge amounts of investment going into new machinery and technologies to forward this goal.
According to the European Commission, 83.7% of Europe's population is expected to be living in urban areas by 2050. To keep up with demand, construction projects involving the installation of utilities are expected to increase significantly, while equipment manufacturers must rise to the ever-changing challenges of these complex needs.
Germany-based underground construction specialist Herrenknecht has developed a compact hybrid horizontal directional drilling (HDD) rig with a crawler base, the HK80CK. The rig can push or pull 80 tonnes and has a torque of 60,000 Newton metres (Nm) powered by a 250 kilowatt (kW) electric engine.
Simon Herrenknecht, a product manager at Herrenknecht, said, "Several measures have been implemented for a small footprint and low transportation requirements. It comes in a space-saving design and fits into cramped environments where eliminating emissions, low noise and minimal use of space are essential. The unit is autonomous and runs all equipment from one electrical source."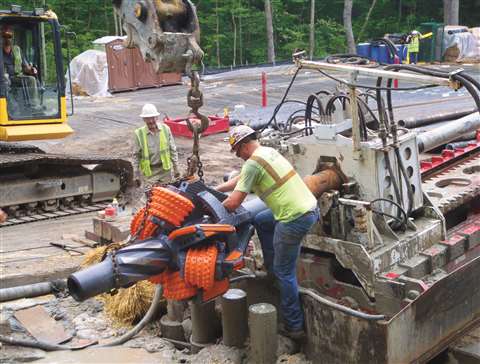 The electrical power for the HK80CK can come either directly from the grid or from a separate generator, that not only runs the rig but also the recycling system, transfer or mixing tanks, breakout wrenches and even high-pressure mud pumps, the company said.
Another development for Herrenknecht is its downhole tools for 'fast, safe and cost-effective installation of pipelines with the HDD method': the full-face hole opener, the downhole jet pump and the Weeper Sub.
According to the company, used individually or in combination, the patented tools make the drilling process both more efficient and safer.
It says, "The full-face hole opener – for excavation diameters of 30 inches to 72 inches [76cm to 183cm] – allows the contractor to drill and realise the enlargement from pilot bore to final diameter in a single step. In soft ground as well as in hard rock up to 350 megapascal [MPa]. For smoother rotation, it has an automatic toolface centring mechanism."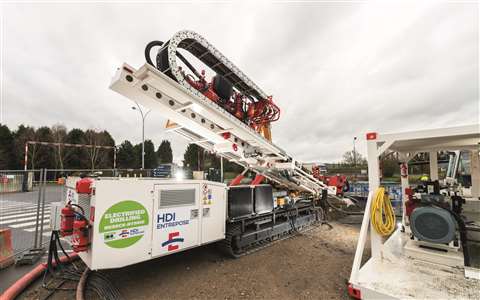 Herrenknecht's Downhole Jet Pump cleans the borehole and removes the cuttings directly inside the drill string, which the company says is a completely new method for soil conveyance in HDD. It also significantly reduces the risk of frac-outs by being installed directly behind the full-face opener, Herrenknecht said.
The weeper sub (particularly with longer drilling distances) is said to also reduce the risk of frac-outs by gradually increasing the volume flow in the borehole so less drilling fluid is required at the drill bit.
Eco credentials
New from Volvo Construction Equipment (CE) is the L25 electric compact wheeled loader, said to be quiet, emission-free and easy to maintain.
The machine is powered by lithium-ion batteries that Volvo says can cover an eight-hour working shift on a single charge, given the machine's regular applications, which include light infrastructure work such as moving earth for utilities. The L25 also incorporates two dedicated electric motors – one for the drivetrain and one for the hydraulics. Decoupling the subsystems has led to higher efficiency across the entire machine, Volvo CE said.
Paolo Mannesi, global compact wheel loader product manager for Volvo CE, said, "We are really satisfied with the machine performance when it comes to the power, the very low noise level and driver comfort. In some areas it even exceeded our expectations."
The Volvo L25 electric compact wheel loader is currently being tested by tree farm and landscaping company Leick Baumschulen in a pilot phase. The machine will be available for general sale from mid-2020 when Volvo CE will stop the development of new diesel-engine-based L20 to L28 compact wheel loader models, the company said.
Another new method developed by Herrenknecht is E-Power Pipe to 'quickly and securely' install small-diameter cable protection pipes underground with drive lengths of over a kilometre.
"The trenchless technology can be precisely controlled and used with only small overburdens, thus offering a ground-conserving alternative to the conventional open-cut method," said Simon Herrenknecht. "The fully remote-controlled AVNS350XB (with an excavation diameter of 505 millimetres) has a jet pump as the slurry pump as well as a hydraulic unit integrated into the tunnelling machine. The use of jet pump materials handling for the excavated material means it is now possible to achieve drives up to 10 times longer in the small diameter range – that means drives of more than 1,000m with a shallow installation depth of 1.5m."
The E-Power Pipe is also said to have high precision, crossing under existing infrastructure such as pipelines, roads, railways or smaller bodies of water.
In terms of trends emerging in the utilities sector, the manufacturer has seen an increase in long crossings. Its Pipe Thruster, with pulling forces of up to 750 tonnes, can be used flexibly as a main power reserve.
Simon Herrenknecht said, "It increases the versatility of the HDD method towards even longer pipelines with large diameters or under difficult geological conditions."
European demand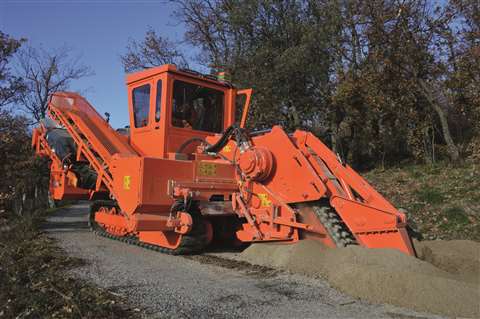 UK-based trenching technology company Mastenbroek has responded to demand for mid-range compact rock trenchers in Europe.
The company has worked closely with French utility contractor customers to update its range of rock trenchers, re-engineering its 20/14 and 17/17 models. The updated models meet the demand for compact but powerful rock trenchers, which will off-set trenches in single carriageways and the narrow streets typical of European towns and cities, Mastenbroek said.
Machine criteria for the updates includes an EU Stage V emission engine, slewing undercarriage for curved trenching, a load control system to regulate track speed according to trenching load, and a side discharging conveyor to operate independent of the forward conveyor.
Both models have a maximum trench depth of 1.4m. With a weight of 21.5 tonnes, power of 210kW and a maximum trench width of 0.55m, the 17/17 model is the largest of the two. The 20/14 trencher weighs 14.75 tonnes, has a power of 160kW and a maximum trench width of 0.45m.
Utilities urged to share data with suppliers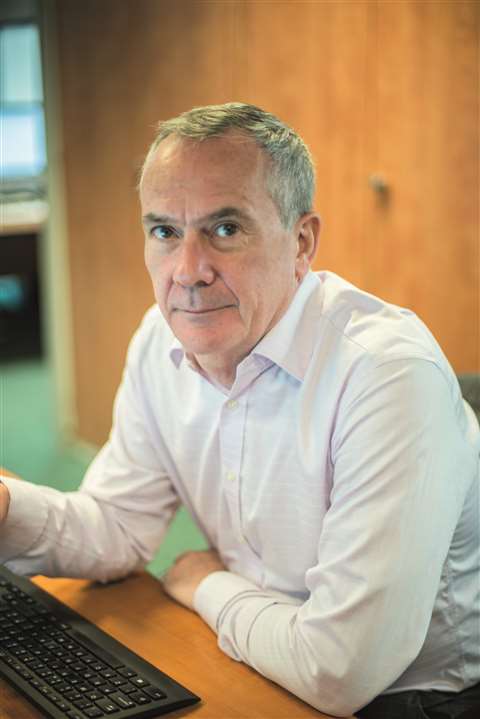 Wastewater solutions company WPL, based in the UK, is urging water companies to share data with wastewater treatment providers to not only support the design, build and operation of their own plants, but to help reduce costs and drive innovation.
Andrew Baird, technical director at WPL, explains that by closer collaboration, utilities could get even more from their suppliers.
He said, "In most cases, treatment plant design is based on theoretical criteria; usually generic data that can be up to 20 years old. If water companies made it possible for designers to base their designs on actual data, significant savings could be made, particularly around sizing and power consumption."
The Water Services Regulation Authority (Ofwat) – the body responsible for economic regulation of the privatised water and sewerage industry in England and Wales – is calling for collaboration between the utilities and supply chain so "now could be the time to review processes so comparable data, such as final effluent quality and power consumption, can be shared more easily," Baird said.
WPL's biggest data-led research project is at Petersfield wastewater treatment works' environmental technology field station and is being carried out in conjunction with Portsmouth University.
"We are supporting a three-year PhD research project examining the data around energy consumption and process efficiency in WPL's Hybrid-SAF wastewater treatment technology," he said. "The researcher is exploring how much power could be conserved at night when flows are low. Could smaller blowers be used? Information like this has real value - if a blower half the size could be fitted, significant savings could be made, savings that water companies are potentially missing out on by not sharing their own power consumption data."
Electric mini excavators driving down emissions
Electricity North West in the UK has invested in two new JCB electric mini excavators to help maintain 44,000km of underground cables. The two 19C-1E fully electric models are said by JCB to be five times quieter than its diesel counterpart and ideal for use by the company's engineers who work 24-hours a day to maintain the network.
The electricity provider – bringing power to five million people – is building on its eco credentials by charging the two machines using electricity generated from renewable sources at its depot across the region. The investment is part of a multi-million-pound initiative by Electricity North West to drive down its carbon emissions.
The two machines are already hard at work across the region installing underground power cables.
In March 2019, the power company made a commitment to phase out diesel mini diggers as part of its 'Leading the North West to Zero Carbon' plan. This is part of a £63.5 million investment over the next four years to drive down its own carbon emissions and help businesses and customers do the same.
Tim Burnhope, chief innovation officer at JCB, said, "I'm delighted to see Electricity North West lead the way by purchasing two of the electric machines. It reaffirms the company's commitment to being at the forefront of transitioning to a zero-carbon future."
Research from JCB claims that as well as lower emissions, the 19C-1E model is more cost effective. Over the first five years, charging costs will be 50% cheaper compared to using red diesel, it says. Fully charged, the model can put in a typical full day's shift for a mini excavator.
Visualise underground utilities with Trimble's SiteVision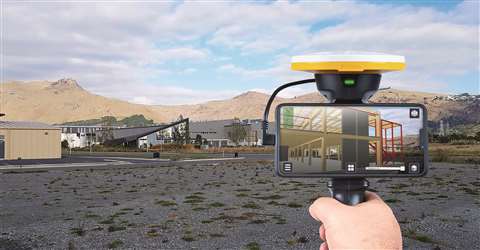 Technology firm Trimble has brought augmented reality to the jobsite with its SiteVision system, which allows operators to check the viability of new designs and alterations, as well as checking progress and identifying issues during the construction phase.
SiteVision uses GNSS (satellite) location to orientate itself in the real world, as opposed to requiring any fixed point or local marker. The software combines the satellite system with Google's location-based app, ARCore.
Scott Crozier, general manager of Trimble's civil engineering and construction division, said, "With it you can better visualise complex plans, visualise underground utilities and proposed infrastructure, and find design conflicts early in the process. And perform cut and fill checks. You'll also be able to tap on elements visualised on the screen and get a pop-up box with detailed information about those components.
"We see it being used in the civil environment, but also across a cross section of all kinds of construction applications."
Initially, a BIM (building information modelling) or CAD (computer aided design) model is imported into the Trimble Connect platform. From there it is simply loaded onto an Android mobile phone, which is then attached to an antenna with a custom bracket. Users can view planned works – potentially including below-ground works – overlaid onto the real-world construction site.