Volvo's 75,000th
By Sandy Guthrie14 July 2017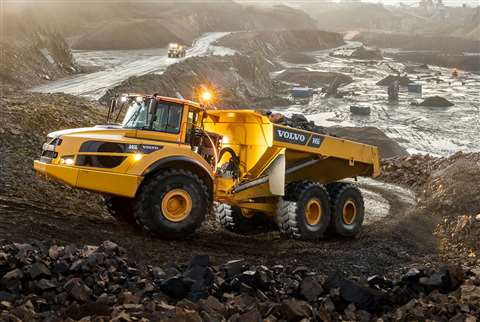 Volvo Construction Equipment has produced its 75,000th articulated hauler, claiming that more than half a century after it invented the concept, 50,000 Volvo haulers are still in regular use around the world.
The 75,000th machine was one of the new generation A45G full suspension models, and it rolled off the production line recently at the factory where the first machine – the DDR631 or Gravel Charlie – was made, in Braås, Sweden.
The 75,000th machine is staying relatively local, going to Norwegian customer Leonhard Nilsen & Sønner.
Volvo CE said that over the last 51 years, the models had increased in size and sophistication. The first 15 tonne capacity machine built in 1966 can fit into the haul body of the A60H – Volvo's flagship 55 tonne articulated hauler.
Esbjörn Fritzell, vice president of Volvo CE's trucks business platform, said, "The fact that so many of our haulers are still working around the world is a testament to their usefulness and durability – it's almost impossible to kill a Volvo articulated hauler."
Håkan Ask, business platform leader for trucks, added, "There's not many companies can say that they are still the market leaders half a century after they invented a concept."