Wheeled loaders: Loads of potential
By Joe Sargent25 October 2019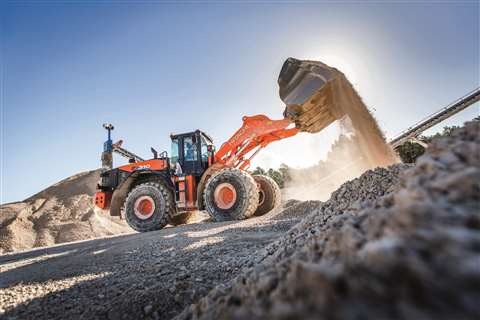 According to data specialist Off-Highway Research, the global market for wheeled loaders reached almost 200,000 unit sales last year. Though these machines may move the Earth, the pace at which they are evolving is moving at different speeds around the world, as different markets have distinct requirements.
Japanese manufacturer Hitachi is a global original equipment manufacturer (OEM) that has seen different trends in customer demand from region to region, and often country to country.
When asked about the use of wheeled loaders on jobsites around the world, Vasileios Drougkas, product manager, medium and large wheeled loaders, Hitachi, said, "In Europe, we are monitoring several segments and several applications of the way wheeled loaders are working. We have seen a significant trend towards the waste handling industry, and the demolition segment is picking up very fast."
Regarding different regions in the world, Drougkas comments that, "I have joined several meetings in the Middle East. Over there the owners are saying, 'I need a machine that will run, bring it simple. Don't overload it with specifications. No electronics. Make it simple and durable.'" He adds that sometimes those buying the wheeled loaders in the Middle East even request the most basic air conditioning for their operators.
Wheeled loader customer demands
Drougkas emphasised that the focus for Hitachi is to, "make it good but adapt". He said that the company cannot send its European machine variations to Africa or to the Middle East. Instead it must adapt its equipment to suit the local region.
Although some markets want the machines to be simple, Drougkas said that new technology is a focus for many regions. "In Europe they are asking about electrification of wheeled loaders even if it's still very hard. From my perspective we still have years to go for electric medium and large sized loaders," he said.
"Customers are also asking for hybrid. Perfect, the technology is there. However, the price is higher due to the cost of components. We have the technology available, however we still need to know if the market is ready."
Another company focused on meeting the customer need is South Korea-based Doosan. The OEM has recently launched its latest wheeled loader, the DL280-5.
The firm offers a range of machines with operating weights from 12 to 36 tonne, with its latest addition weighing in at 16.5 tonnes. As standard, an auto shut-down feature has been implemented to reduce the idle time of the engine, preventing the over-consumption of fuel and wasted operating time.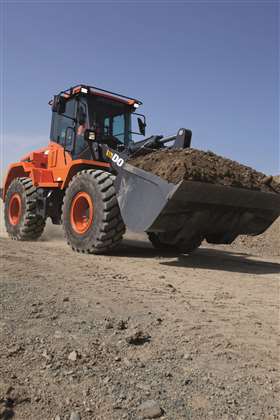 The machine now also has a 'maintenance-free' air pre-filter which the company says automatically removes debris and separates more than 99% of particles 20 micron and larger and extends air filter life.
The transmission is composed of a torque converter linked to an automatic powershift transmission to produce a high output to deliver solid traction force. The gear ratios have also been optimised, which the company says, results in smooth and shock-free shifts for operators.
Limited slip differential locks at the front and rear automatically ensure maximum traction and easy driving over soft and muddy ground with no need for a manual differential lock, said to reduce the risk of skidding.
In the purchase of construction equipment, such as wheeled loaders, one of the key differences is the amount of influence an operator may have on buying decisions. Although this varies around the world, with operators having more influence in some markets of the world than others, the lack of skilled workers means that operators are increasingly important when it comes to the purchasing decision.
For this reason, Doosan has designed the cab of its new machine to be as comfortable as possible for the operator. The company says that the new machine offers generous headroom and full seat movement to provide adequate leg room. A Grammer seat is installed as standard; offering vertical and horizontal suspension, heating and full adjustability.
Inside the cab, there is a new ergonomic joystick control with a progressive thumb wheel added for the auxiliary hydraulic line often used to power high tip buckets and grapples commonly used in the waste and recycling market.
Chinese demand for construction equipment

Although Off-Highway Research believes the market peaked for wheeled loaders last year for this cycle, the company says that the most important driver for global wheeled loader demand is China. The country is responsible for almost half of wheeled loader sales around the world.
LiuGong used the stage provided by BICES 2019 — the 15th Beijing International Construction Machinery Exhibition & Seminar — to launch its first purely electric loader, the model 856H-EV.
The company also showcased its electric 5G remotely-controlled 'intelligent' wheeled loader, the model 856H, which was co-developed and supported by China Telecom and Huawei technology.
The new electric machines use lithium-ion battery systems for energy storage with the power directed to permanent magnet electric motors to create the power to drive the machines.
LiuGong said that a typical electric vehicle will have a peak power output equating to two times that of a conventional machine.
These first generations of electric construction equipment are equipped with fast charging technology and energy-saving technologies, which reportedly require one hour to charge the battery to 80%.
Moving across to Europe, there has undoubtedly been a general trend in this region for electric equipment. However, it should be noted that there are some concerns that the construction industry is not ready for this change in power source, espeically for larger equipment which requires more power.
Slovakian engineering company Kovaco has been working on developing its version of an electric skid steer loader – the Elise 900. Kovaco began designing its loader in 2014 with the aim of building a modern styled loader that was fit for purpose.
The company has produced multiple attachments for this type of machinery over the years, but this is said to be the first prototype machine it has produced in an attempt to tackle problems it sees with other wheeled loaders.
The loader can travel at a maximum speed of 13km/h and, as its name indicates, has a maximum load capacity of 900kg. This prototype has also been designed with tow eyes, meaning it can also be hitched up to trailers or other towable kit.
Electric construction equipment
Volvo Construction Equipment (Volvo CE) is adamant that electric technology is now mature enough to deploy in its compact machines. Melker Jernberg, president of Volvo CE, said that the company is looking to create the electric market. "We really believe in this," he said. "We believe that the technology is now mature enough."
The company is so confident in the electrification move it is going to stop the development of new diesel-powered compact loader models. The L25 is currently undergoing tests by customers in pilot projects before production begins in mid-2020, when Volvo CE will launch its wheeled loaders range from L20 to L28.
The electric variants of the machines promise to deliver zero exhaust emissions, significantly lower noise levels, reduced energy costs, improved efficiency and less maintenance requirements, compared with their conventional counterparts.
Using lithium-ion batteries, the L25 can operate for eight hours in regular applications. It has an onboard charger that enables overnight charging via a regular household socket. A fast-charging option will be available, but requires more powerful grid access.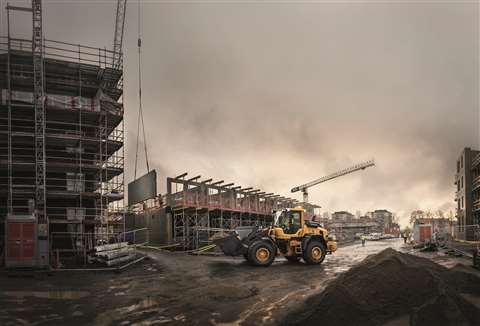 In response to questions about the L25's return on investment (ROI) capabilities, Fares Beainy, Volvo's electromobility strategy and business development manager, said, "Much like with today's diesel products, a lot can depend on usage and application, so will be very customer specific.
"That said, experience shows that batteries and motors could well outlive the machine itself, but again this will be conditional based on the life the machine leads. As with any new technology, the key will be to offer differing business models to the customers to minimise possible risks they may perceive in moving into an electric machine, therefore providing similar TCO's (Total Cost of Ownership) but with the many added benefits of the electric machine."
When asked where Volvo believes the key markets lie for these machines Beainy said, "If we look at how consumers have taken to other comparable products in recent times, then there are obvious trends as to the countries where early adopters reside, and environmental legislation and incentives exist.
"But, rather than be solely market driven, we expect that this will also be application led, exposing us to not just our current customer base, but to others for whom the clear advantages of this product fit perfectly with their business."
New wheeled loader prototype
Komatsu Europe presented a new prototype wheeled loader at Bauma, a new Stage V compliant machine. Known as the WA475-10, the machine is soon to be made commercially available to the European market.
On board the WA475-10 is Komatsu's new hydraulic mechanical transmission (KHMT) a new technology in the transmission field, which makes the WA475-10 wheeled loader more powerful and fuel-efficient, according to the OEM. A variable speed control is also part of the design along with adjustable variable traction control to limit wheel spin in difficult ground conditions.
The wheeled loader fits into the 24 tonnes class and comes with an EU Stage V engine. Built on the same framework as its predecessor, the WA475-10 is said to be up to 30% more fuel-efficient for any moving, transport or loading job.
The aftertreatment system combines a Komatsu Diesel Particulate Filter (KDPF) and Selective Catalytic Reduction (SCR). The SCR system further reduces NOx emissions using AdBlue. The engine's advanced electronic control system manages the airflow rate and the fuel injection, combustion parameters and aftertreatment functions: performance is optimised, emissions reduced, and advanced diagnostic capabilities are provided.
A global wheeled loader perspective from OEM giant
Industry insight from wheeled loader product specialists at Liebherr-Werk Bischofshofen
What are the main countries in the world in which Liebherr sells wheeled loaders?
Liebherr wheeled loaders are designed for highly-regulated markets, meaning for Europe and North America. In Europe, Germany is the most important market for Liebherr wheeled loaders, followed by France. The US market is also of utmost importance for Liebherr and wheeled loader sales in the US have been growing steadily for years. Despite the focus on Europe and North America, Liebherr has also established a separate wheeled loader series for less-regulated countries, which has become more successful in the last few years.
What markets do you expect to see strong growth in the future?
According to the latest projections, global economic growth is expected to continue to slow slightly during the current year. However, based on our healthy order books, we are optimistic about the future. In 2018 we have seen a strong growth in the US, with the Liebherr earthmoving division following this trend. We still perceive the US market as very dynamic and we expect further growth.
What are some of the newest features and technology on your wheeled loaders?
We are still the only manufacturer offering a power-split driveline for large wheeled loaders as standard equipment with our XPower wheel loaders. Our customers value the low fuel consumption of these wheeled loaders, reducing their total cost of ownership.
Secondly, we have presented a new set of different assistance systems for our mid-size and large wheeled loaders recently. With these systems, we aim at increasing comfort and safety and reducing the burden on the machine operator, whose everyday work brings with it a significant weight of responsibility.
How do you see new technology impacting on wheeled loaders?
The construction equipment industry faces many challenges, such as continuously increasing safety and exhaust emission regulations. Today, we are able to gather a vast amount of machine data, providing us with information to develop our wheeled loaders further and to offer new services.
We expect the improving digital infrastructure, above all the 5G network, to have a tremendous impact on the construction industry.
Within the next five years, our wheeled loaders will be even smarter and more interconnected, communicating with a control centre or other machinery. Monotonous routine jobs of a wheeled loader might be replaced by assisted and semi-autonomous operations.