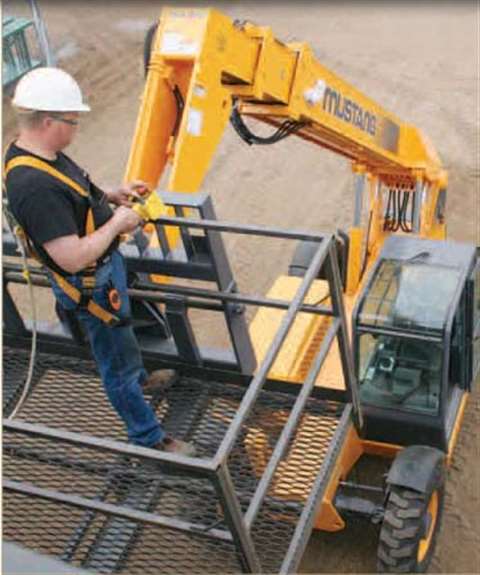 "We do offer them but I don't particularly like having them," says Gary Riley, AWP Safety Specialist at St Louis–based Midwest Aerials & Equipment. "But it's what the market dictated. If they are used properly, they are safe. But when merging two pieces of equipment that weren't originally intended to go together, there can be problems."
His apprehension stems from the fact that with non–integrated machines – so–called "dumb baskets" – the person in the work basket is relying solely on the ground level operator to position the boom. Riley says he still would rather see personnel baskets go out than the contractors fabricating something themselves, or standing on a palette or a piece of plywood.
Perhaps it is to their credit that many dealers were initially hesitant to offer personnel baskets, either as a rental piece or for sale. It wasn't because they saw the baskets as poorly manufactured equipment, but because they know how contractors can misuse them. Furthermore, ASME/ANSI B56.6 standard mandates, "A rough terrain forklift truck shall not be used to lift people unless there is no other practical option."
A "practical option," of course, is to use a boomlift or scissor if one is on site: Midwest's Gary Riley is not alone when he tells ALH tha the has seen scissor lifts and booms sitting idle while a rough terrain forklift is used to hoist a person up.
Other rental companies also fear misuse of baskets. "We rent safety baskets and it's been a struggle," says James Goldsmith, sales manager for Equipment Depot, who runs the dealer's Waco location, one of 12 the company has throughout Texas. He says the company did not want to rent man baskets because of concerns about how they would be used. "We rent slip–on forks [baskets that attach via the handlers forks]. We've always discouraged our customers from using them, because with one person in an [aerial platform], you can do everything – the operator in the air isn't depending on the guy in the cab to get him down safely."
Chip Gibbs, sales manager for ABC Rental & Equipment Sales, of Bozeman, MT says many of the local contractors in his area own telehandlers and he sells and rents a lot of 8 foot baskets (all the state allows for use). But Gibbs's isn't convinced that all his rental equipment going out the door is being used to strict OSHA guidelines.
"If equipment is used improperly, you're going to have an accident," says Gibbs. His client base is mostly subcontractors (masons, drywallers, remodelers, custom home builders) who he suspects may oftentimes remove the front guardrail of the man basket to manage material easier. Depending on the application, he says the guardrail can be seen as an obstruction/hindrance by many end users. So, while the worker should not remove guardrails, sometimes they do to give themselves better access.
Be smart
"Guys taking off the guardrails are virtually excusing the manufacturer," says Gibbs, who says manufacturers and dealers shouldn't be responsible once the equipment leaves the rental yard. "Those we rent to are instructed to leave the guardrails on."
Paul Kelly, sales manager at basket manufacturer Star Industries, also makes the important point that handlers with basket attachments are not meant to carry personnel across a job site. Workers should only enter the basket when the boom is lowered, he says, and by no means should anyone be transported around the job site in a basket, whether the boom is lowered or raised.
Equipment Depot's Goldsmith does admit it makes sense from a monetary standpoint for contractors to rent and/or purchase man baskets. He says that while it is the end users responsibility for the operator to be certified, it is Equipment Depot's responsibility to offer training. And the company does. The dealer has staff that will train on–site and work with any contractors that have questions or concerns.
It can be a lucrative business, and can offer contractors an attractive option. Pete Bell, vice president of Highlift Equipment – a dealer and rental company based in Cincinnati, OH, which sells baskets made by Star Industries – says the profits from selling platforms are excellent. "It's a good part of the market, the reason being the end user is able to multi–function two pieces of equipment," he says, "With these, they can multi–task with one piece."
Goldsmith explains that since JLG has offered baskets with its telehandlers, he feels a lot better about offering them.
"We allow any slip–on work basket that complies with B56.6 regulations," says Brian Boeckman, product parent, North America Telehandlers with JLG. "There had been some changes in B56.6 that more clearly defined the proper use of slip–on work platforms, which prompted JLG to investigate the ability to offer it, as well as the ability to offer our own."
Other manufacturers take different approaches. Manitou North America provides baskets with its MRT and MT models, but it is company policy not to allow third–party baskets on its machines. Ingersoll Rand, meanwhile, does not allow work baskets to be used on its machines.
New players to the telehandler market MEC are looking into offering some type of work basket, says its Engineering Manager David White. "We have an interest in offering it as an option but we do not have a schedule for that at the moment," says White, who says there is a possibility of providing a work basket with the option of a remote control in 2008.
All the rough terrain vehicle manufacturers spoken to in this piece agree that if a project requires continual need for elevating workers, the logical machine is a scissor lift or self–propelled boom.
"A telehandler equipped with a personnel basket offers the end user the ability to rent one machine which can place both personnel and materials at height," says JLG's Boeckman. "This method is often employed on smaller job sites where a small percentage of the job requires lifting personnel to a given height. Job sites that require placing personnel at height on a regular basis often times utilize an aerial work platform, which is specifically designed for this purpose."
There is no doubt that baskets can make money for rental companies and dealers and make life easier for contractors on site. But it is a product that demands to be used carefully and in compliance with regulations. And in the end, everyone using a handler with an attached basket should be asking themselves if they could pass the "ANSI test" – is there really "no other practical option"?