A handle on dust
By Lindsay Gale16 March 2009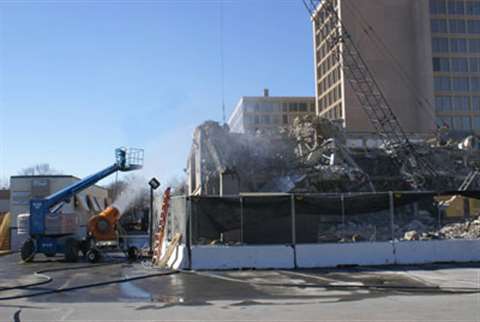 A four storey, heavily reinforced shopping mall provided a major challenge for Wrecking Corp of America when it demolished the Waterside Mall in the south west Washington DC area. Covering an area of 111,484 m2 (1.2 million ft2), the building was located in a heavily built-up area and close to a Metro station that remained open during the demolition, the Waterside Mall had been built with 51 cm (20 in) thick floors instead of the more normal 23 cm (9 in). The demolition was made even more complex because of the need to preserve adjacent structures on three sides, including a delicatessen attached to a grocery store that sat underneath portions of the structure to be removed.
Wrecking Corp used a mix of techniques, from a high reach excavator and a wrecking ball wielded by a 90 tonne truck crane through to hand held sawing equipment. A DustBoss DB-60 from Dust Control provided dust suppression during all demolition activities.
An Extec C10 crusher was used to process the concrete debris, with a total of 53,510 m3 (70,000 yd3) being processed that was used for non-structural fill and backfilling.