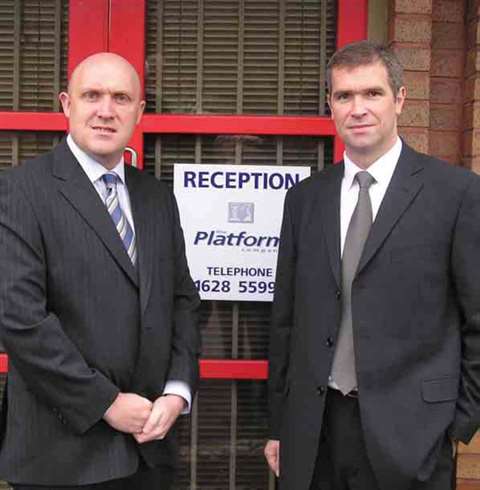 With a fleet in excess of 2000 machines, eight depots and 200 employees, The Platform Company can legitimately claim to be the third largest UK provider of access rental and the largest independent in the game.
The Platform Company was formed as the result of a management buyout of MITIE Powered Access in February 2002 and is headed up by managing director Grant Woodward and sales and marketing director Lee Perry.
Growth has been rapid, says Mr Perry: "We have just ordered 300 Genie machines for 2005 delivery and spent £1 million with Niftylift in the last six months. This is to top up the fleet, not for replacement. When we bought the company, the fleet totalled 650 but reached 1000 machines in the first year. Then we acquired the Meek Group, with 970 machines, in December 2003 and bought a further 250 from Independent Access in 2004."
"We expect further growth by additions to our fleet and, possibly, further acquisitions. Who knows what companies might run into difficulties? Anything that becomes available at the right price and the right profile would be of interest. We are strong enough-finance is not a problem," says Mr Perry.
His mood is upbeat: "We are dealing with a lot of big users now. That was a big factor behind the acquisition of Meek. All that was wrong with that company was that it was not a well run business-the management were not sufficiently focussed on rental, " according to Mr Perry. "They had an excellent customer base, which they perhaps were not exploiting to the full. We feel we can."
However, there is a limiting factor that will constrain both The Platform Company's growth and consolidation of the industry generally in the UK, Mr Perry believes: "This industry is still totally a people industry. Customers buy from people. If you have not got the right people, you will not do business."
"We would ideally like a fleet of around 3000 machines with 10 or 12 depots around the UK. Personally, I think it will be difficult to open green field sites because of the people issue. Our branches each have a fleet of 200 machines as an absolute minimum that have to be utilised properly at the right rates. The issue is not the machines, the sites or the finance, the issue is the people and we will not establish new locations without the right people."
"You walk a tightrope in this business. In the past, rental companies were given everything they wanted by manufacturers. They did not need to understand that their balance sheet was not in good order, the finance costs and the implications of the deals they were taking on. They did not need to understand the rates they had to achieve and the types of utilisation they needed. You have got to get every single aspect right. There does not seem to be any middle ground between success and failure," believes Mr Perry.
Meek's machine and depot mix fitted well with The Platform Company, and some machines, such as the Liftlux scissors, have subsequently shown high utilisation. Indeed, The Platform Company will be in the market for more once JLG recommences production. "It will be interesting to see what JLG does with them," Mr Perry observes. "Hopefully they will not do too much."
"We are also looking at adding some large booms. Currently, we have around 20 booms over 100 ft (30.5 ft), and we are looking at the JLG 125 AJP and the Genie Z-135. The choice will come down to price and availability, as there is little difference when it comes to quality," says Mr Perry.
He does have some concerns, however. "Manufacturers have now cleaned up their act, and strong rental companies will prosper and weak ones will not. However, manufacturers do not seem to have a forward-looking outlook to UK market needs. We know what work will be coming up in the next three to four years-it is going to be huge, and if we win the Olympic bid as well, the potential will be even greater."
"Manufacturers, however, are now so focussed on not having any kit standing in stock. They have gone too far and availability has now a major concern. One told us that if we were to place an order now for 19 ft (5.8 m) electric scissors or 45ft (13.8 m) diesel booms, we would not get delivery this year. Others are saying that delivery times could be up to six months," says Mr Perry.
One might think that this supply problem might be a good opportunity for smaller manufacturers, but this is not the case, at least as far as The Platform Company is concerned. "You will not run a viable powered access rental business unless you have the very best equipment there is. Rental rates, in the majority of cases, are now at a sensible, standard level in the UK. Quality and reliability are therefore become key requirements, and to be honest you cannot really look past JLG and Genie. You have to have rental workhorses that can cope with the demands of the sector," says Mr Perry.
Full refurbishment
The company has recently opened a 1500 ft2 refurbishment facility where its fleet will be maintained in peak condition. Mr Perry says: "we did this because the kit that we inherited from Meek, in particular, was mechanically fine but was cosmetically 'challenged'. Perception is the name of the game in rental and the appearance of machines is an important consideration, irrespective of mechanical condition.
He says: "Eventually the facility will run 24 hours a day, seven days a week, in which case it will take us two and a half to three years to do our entire fleet. Quality levels are high and the kit coming out is fabulous. We are getting a better paint job than we get from manufacturers."
"Working in the air is not a natural thing to do, and customers have to have confidence in the machine they are using. Physical appearance is one factor in generating this confidence." Mr Perry goes on to say that once the company's fleet has all gone through the facility, The Platform Company may look at using the facility on a commercial basis, perhaps refurbishing end-users' or other smaller rental companies' equipment.
In addition to its self-propelled machines, the company started up a truck mount rental operation towards the end of last year. "We have been working with Italian manufacturer Oil ' Steel for around two years, but as of the 1st January 2005, we became their sole UK distributor," says Mr Perry.
The Platform Company was rerenting truck mounts on a regular basis, and as a result ordered 40 self-drive truck mounts all fitted on 3.5 ton GVW chassis. Mr Perry went on: "We will be purely self-drive in the 14 m to 21 m sector. Currently we have taken delivery of 25 units, with the balance due by the end of May,".
The Platform Company also has 20 Oil ' Steel Octopussy 12 and 14 m (39 and 46 ft) tracked machines, which are proving a big hit, according to Mr Perry: "We never see them. They are always out earning fantastic money. We have another five on order, due to be delivered in April."
Mr Perry reiterated his belief that access rental is a people business. "Without our eight branch managers and all our other staff, we would not have a business. We have recently invested over £1 million for nine new Mercedes Benz rigid and articulated low loaders. We have to give our people the right equipment to allow them to do their job. Our mobile service people even have their names on the side of their vehicles. A good corporate image is essential but to have that, you have must have the best people. We believe we do."