A-Plant Accommodation supplies shipyard
By Sarah Ann McCay26 April 2014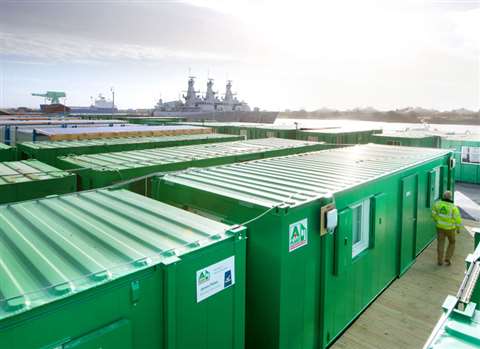 A-Plant Accommodation is supplying 124 accommodation units to James Fisher Marine Services (JFMS) for a ship refurbishment project in Barrow-in-Furness in the north of England.
Three offshore patrol vessels are being sold to the Indonesian Navy, and are being refurbished and upgraded before they sail as fully-fledged naval vessels. The work is scheduled to last until September 2015.
The accommodation units will house Indonesian Navy and JFMS staff at a temporary purpose-built site during the refurbishment phase of the project.
The site includes a series of modular buildings to be used as office and administration facilities, catering and dining rooms, and sleeping accommodation. The complex also includes prayer rooms and two launderettes.
A number of the units will be used as training rooms by JFMS to provide training to the Indonesian Navy crews on the ships' systems and their safe operation at sea, as well as familiarising the three crews with the vessels prior to departure to their new home.
At the project's peak more than 80 Indonesian Navy personnel will be on-site and working on the vessels.
A-Plant's director of accommodation, Ian Needham said, "Our extensive experience in delivering accommodation facilities on major projects such as this has been a key component in meeting James Fisher's specific requirements.
"Being able to successfully specify, design, deliver and install this many units is down to good communication and the excellent working relationship developed by the A-Plant and James Fisher project teams."